Joseph Mariathasan finds both general and limited partners striving to break free of traditional fund structures to find more flexible and efficient ways to commit to private equity
What does it mean to invest in a 10-year private equity fund? The fund buys a business at some point during its investment period, and at some point between then and the end of the fund's 10-year life cycle, it sells that business on. But what if it bought a business in 2004 and year 10 of the fund happens to be 2007 or 2008? Why on earth would anyone want to sell a business into that kind of environment, unless they themselves were experiencing some kind of stress?
At a glance
Traditional fund structures are felt to be inefficient by both general and limited partners.
Investors are becoming more aware of the potential benefits of managed accounts, especially at the fund-of-funds level.
There are potential conflicts to be managed, and the trend is less clear at the direct fund level, but pressure is building on private equity firms to be flexible in the investment structures they offer.
The traditional 10-year, fixed-life private equity fund does seem an odd beast for long-term institutional investors, which might have time horizons of the order of decades. As Mark Calnan, head of private equity at Towers Watson, points out, alternative models for private equity investment such as evergreen funds and managed accounts allow high-quality, cash-generative businesses to compound in investors' portfolios for a much longer period of time. And this is all before we come to the growing incidence of 'secondary buyouts', where one private equity firm sells a business to another: if investors happen to be committed to both funds, they could be paying transaction fees to pass that business from one hand to the other.
"For a sub-set of assets, there is no reason why an institutional investor with a very long time horizon should really wish to sell them," Calnan reasons.
At the fund-of-fund level, the arguments against traditional structures are even more overwhelming. "Funds of funds are pretty inefficient," says Paul Newsome, head of private equity at Unigestion. "Investors have to commit a certain amount that will be drawn down in the funds, which are themselves drawn down over a period of time."
As a result, demand for plain-vanilla funds of funds has softened as larger investors have sought more control over their fund commitments, or weighted their private equity programmes towards more direct investment, and the established fund of funds groups have started to react to this by repositioning themselves as more than just sellers of 'products', seeing themselves as partners to institutional investors with the capability to advise them on asset allocation, fund commitments, risk management and direct private equity investment.
Burdensome
Separately managed accounts (SMAs), long an established feature of the hedge fund world, have been gaining in popularity with private equity investors over the last few years, explains Eamon Devlin, managing partner at law firm MJ Hudson.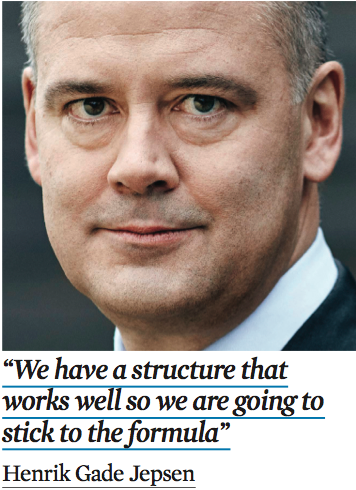 "Accordingly, private equity managers, and especially funds of funds, are perhaps reluctantly having to grapple with how to structure such arrangements, which typically are more administratively burdensome and command lower fees than traditional funds," he says.
One reason for the lower effective fees is that SMA fees are typically based on the NAV of invested rather than notional committed capital. But other efficiencies become viable, too.
"The manager can target a certain exposure so if a client wishes to have $200m, we can model that and it may mean over-commitment to a number of underlying private equity funds such that the cash returned from older investments is funding the drawdowns for new investments," says Devlin. "So it can be a very efficient structure for a large client."
SMAs also lend themselves to a more holistic approach to private equity investment that may include secondary investments as well as primary funds, co-investment and even portfolios tailored to specific themes.
"We sit down and discuss with our clients how they want to structure the mandate which could, for example, include between 10% and 50% as co-investments," says Newsome at Unigestion, 60-70% of whose private assets business comes in the form of SMAs. "We were raising traditional funds of funds from 1997 to 2007. After that, we decided not to continue launching generalist funds of funds but only raise niche funds where we can really add value. So far, we have raised three secondary funds and an environment sustainability fund of funds. We are about to launch a direct small and middle-market fund."
Sven Lidén, CEO at Adveq, similarly reveals that SMAs already account for 50% of his firm's new business.
There are difficulties, however. Devlin points out that there can be misalignments of interest as, unlike in a fund, the manager does not commit its own cash to an SMA – although those interests can, of course, be more closely aligned by having the manager co-invest alongside the SMA. Running SMAs alongside traditional funds investing in the same companies can create conflicts of interest, as some investors may wish to hold the assets for a longer period than the typical 4-5 year life of a fund investor.
"This conflict may manifest itself in, for example, decisions on capital expenditure in the fourth year of an investment, where the SMA investor might prefer long-term focused capital expenditure, whereas the fund might not agree, given its shorter-term perspective," Devlin explains.
Other potential conflicts can occur when it comes to allocation of investments among clients, in the cases where the manager has not received the full allocation required by a new private-equity fund. This typically occurs with the most popular venture funds, for example.
Lidén outlines the rules Adveq cleaves to in order to avoid this problem. "Each mandate has a specific portfolio manager assigned to it and the main driver towards allocation in cases of limited capacity is 'grandfathering', so clients who were first to invest in a manager have first choice on future funds," he says.
Dividends
Despite what seems like a significant move for the industry, it appears unlikely that SMAs will drive out funds of funds altogether. Some long-term investors such as Denmark's ATP are happy to continue with the traditional structure.
"The bulk of our private equity exposure is through a funds of fund set up with ATP Private Equity Partners," says CIO Henrik Gade Jepsen. "They have done very well over a long period. We have a structure that works well, so we are going to stick to the formula."
But ATP is flexible in its approach and has also set up SMAs for other private asset classes. For smaller investors, however, there are good reasons why an SMA might not be possible. The minimum size for an SMA is dependent on the nature of the mandate, but is unlikely to be less than €30m.
"There will always be investors of a size where a fund of funds makes sense," says Newsome. As he points out, that minimum could be even larger if a client wants diversification across the globe and across asset types.
He adds that the simple fact is that the market tends to move in cycles. "Funds of funds are out of favour now," he says. "Many investors believe the fees do not justify the added diversification. Smaller investors want to make direct investments into a handful of funds themselves but that may swing back in a few years' time when they find they have not got the results they were hoping for."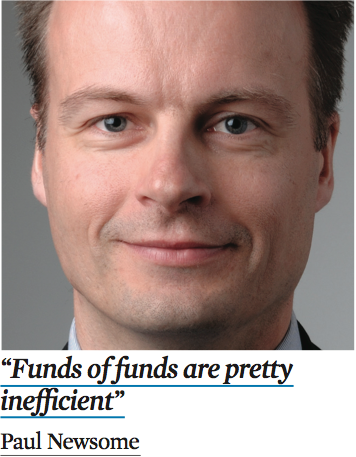 And while the traditional 10-year general partner (GP) fund structure is becoming a minority speciality in the fund of funds world, the same cannot be said for primary funds, where things are moving, but much more slowly. A few private-equity firms that have arisen out of the family-office environment, such as the long established General Atlantic and the more recently launched White Cloud Capital, have eschewed the fund structure and, instead, pride themselves on providing patient capital with the ability to have longer time horizons. But, in the main, institutional investors seem happy with the 10-year fund that holds individual investments for between 3-5 years – long enough to allow the manager to invest at a prudent rate and sit on the sidelines during periods of market overheating, but not so long as to scare off illiquidity-averse investors.
Still, the received wisdom is being challenged and limited partners have started demanding greater innovation from general partners, especially in order to avoid situations in which managers are perversely incentivised either to invest at the top of the market, or to dispose of assets that have yet to realise their full potential. Calnan sees two clear scenarios pushing firms in the direction of more innovative structures.
"Some firms have no choice. For whatever reason, they are unable to raise a traditional new fund. They can continue in business through other structures"

Mark Calnan
"The first is that some firms have no choice," he says. "For whatever reason, they are unable to raise a traditional new fund. They can continue in business through other structures such as the 'pledge fund' concept, whereby they receive an ongoing de minimus commitment fee to keep the lights on, and only receive full fees on completion of a transaction."
3i has faced immense challenges over the past decade and in 2013 it announced that it would not be launching a traditional buyout fund for several years but would focus on managed accounts instead.
Calnan's second scenario is the situation facing the very large managers with significant scale across a range of investment strategies. They can allow investors to pick and choose how they invest across the platform, and SMAs are becoming much more prevalent for these players as the most efficient way to offer that approach.
Investors clearly need to address the rules of the game in detail with their private equity managers before committing to an SMA that might last decades. But both the sell-side and the buy-side in this industry are recognising that, in the right circumstances and for the right investors, breaking the bonds of the traditional fund structure can pay dividends in terms of costs, efficiency and specificity of risk exposure.