Digitalisation has profound implications for how corporates do business. It affects the way goods or services are invented, produced, marketed and consumed.
Digital innovation is driving corporates to rethink, if not reinvent, global value chains and such disruption is taking place across the board. As a result, platform companies or 'cloud corporates' that are asset and/or capital light are emerging. The business model of these companies is to create value by facilitating exchanges and interactions between consumers and producers. To make this happen they set up large networks and markets of users and resources. These can be accessed on demand and facilitate such interactions. The advent of connectivity and mobile technology enables these businesses to scale their ecosystem in ways a traditional company cannot.
Cloud corporates do not own production or handle inventory, they just facilitate the means of connection by reducing transaction costs and/or enabling third-party innovation. The largest taxi company (Uber) does not own a car; the largest content provider (Facebook) does not produce content; the largest room booker (Airbnb) does not own any rooms. Yet, these companies dominate in terms of equity market capitalisation (see The new titans of industry).
In the 21st century the supply chain is no longer the centre of business value, as what a company owns matters less than what it can connect and how it can innovate. This is not to say that traditional businesses cannot aspire to a less asset-heavy business model by embracing all aspects of innovation. Indeed, the bulk of platform companies can emerge from global (asset-heavy) conglomerates that embrace digital transformation but also learn to harness platform ecosystems.
As global value chains change, corporate decisions are likely to have profound implications on investment. They will also alter the balance between new equipment, equipment upgrades or research and development (R&D), running inventory and commercial real estate requirements.
Changes in industrial manufacturing owing to digitalisation are material enough to justify the declaration of a third industrial revolution. Mass production is becoming mass customisation thanks to advances in software, materials, robotics, 3D printing and web-based services. The demand for new manufacturing equipment is bound to decline, as older equipment is upgraded and operated at higher utilisation/efficiency rates.
While some of the decline in factory equipment demand may be offset by other advances (for example, autonomous robotic assembly lines), the drive for ultra efficiency could reduce equipment spending as a percentage of revenue from low teens currently to high single digits.
The need to maintain competitive advantage suggests that R&D spend as a share of revenue will rise during the next decade. North America is likely to lead, followed by Europe and Japan but it is probably China that needs to take the bigger strides.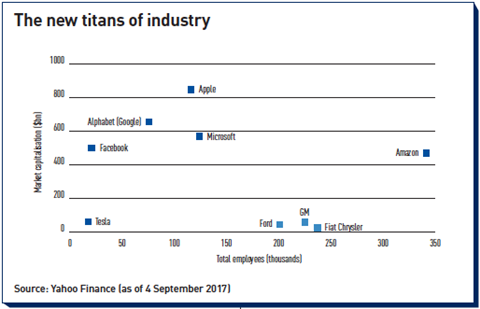 Looking at sectors, software and internet, computing and electronics and healthcare are likely to maintain high R&D, which can be up to 20% of revenue. It is perhaps sectors such as aerospace and defence, automotive, chemicals/energy and telecoms that need to grow R&D spending well above the mid-low single digits of revenue share.
Increasing demand for customised products and breakthroughs like the digital thread in the factory and 3D printing mean ever leaner inventories. According to some estimates, 3D printing could substantially reduce the sale of both consumer goods and components over the next decade.
Leaner inventories and lower demand for new equipment and factories means that there will be less demand for industrial real estate. The asset-light evolution can manifest itself in many ways. A fully robotic factory can have more machinery if fewer people are required. Continuing onshoring of production as well as demand for data/server farms may partially offset the trends of declining real estate demand but are unlikely to reverse it.
Organisations need to constantly adapt their business models to navigate our era of technological and sociopolitical evolution. According to Cap Gemini, 52% of Fortune 500 companies of the 2000 cohort have merged, been acquired or gone bankrupt. To manage disruption, corporates are investing in innovation centres to optimise and transform the way they operate.
There are four broad categories of innovation centres, which differ in aim and investment needed: in-house innovation labs (such as Walmart); academic centres (such as Volkswagen Stanford auto lab); start-up accelerators; and innovation outposts (such as Renault-Nissan in Silicon Valley). Start-up accelerators followed by in-house innovation labs dominate.
The sectors with the highest innovation centre penetration are manufacturing, telecoms and automotive. Financial services are leading in new innovation centre openings, followed by electronics/IT and manufacturing. Their growth is fastest in Asia and the US, but US venture capital investment in innovation outstrips the rest of the world combined. Interestingly, big data is no longer the main focus for innovation as the 'internet of things'. The latter shot up to the top of the list with applications spanning the consumer and industrial aspects.
Innovation centres allow corporates to take risk in the pursuit of disruptive evolution by bringing together talent, techniques, tools and best practices from across the business to maximise employee engagement and creativity. There are pitfalls, however, such as predicting thinking too far into the future or getting bogged down in routine projects that lead to failure and wasting resources. The key prerequisites include: the spirit of innovation must permeate the corporate culture/structure, with senior stakeholders directly involved; and when a project is not working, it must be abandoned regardless of the time and money spent on it.
A key attribute of innovative companies is dexterity, which gives them the ability to harness digital technologies. This allows them to respond to change and seize opportunities by redesigning operations much faster than competitors. Digital dexterity comprises many aspects, such as a digital-first mindset in prioritising digital solutions, digitalising operations and encouraging collaboration, talent, digital IQ and intelligence sharing.
It is clear that the changes to businesses and business models resulting from digitalisation should be a key point of reference for all investors, particularly when considering the sustainability of their investments in the long term.
Greg Venizelos is senior credit strategist at AXA Investment Managers