The ESG project is well beyond its childhood, even its teenage years. PRI has been going for 13 years and SRI activity pre-dated it by a decade. 
When foundations and wealthy individuals launched their Rapid Response-Able Fund (RRAF) in spring 2020, commentators sneered at the "save the world" motivation while others said it would distract attention from the political changes that were needed.

The president of Japan's €1.3trn Government Pension Investment Fund (GPIF) reflects on the challenges of century-long stewardship

Is there any merit in functional finance versus classical economic theory? 
Digital Edition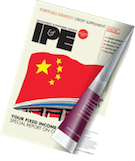 Subscribe to the digital edition of IPE magazine to view the latest issue directly in your browser.