Every so often I come across a paper which I think is a 'must read' and Duncan Austin's 'Greenwish: the wishful thinking undermining the ambition of sustainable business'* is one.

Everyone knows about 'big oil' and how much influence the global agribusiness sector has. But there is less awareness about the negative impacts of meat producers – the 'global meat complex'. 

Is there any merit in functional finance versus classical economic theory? 

Around the beginning of the 2000s enthusiasm for pension funding was at a high. As Germany took measures to unwind the cosy 'Rhineland capitalism' cross-share-holdings, book reserve pension liabilities seemed like yesterday's solution
Digital Edition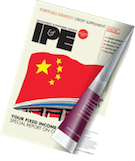 Subscribe to the digital edition of IPE magazine to view the latest issue directly in your browser.