The former CEO of the Investment Association, the trade body that represents UK investment managers, has made a disruptive proposal on CEO pay
Sadly, investors too often see, hear and speak no evil. Their failure to protest at Donald's Trump's entry ban is only the latest example. 

Around the beginning of the 2000s enthusiasm for pension funding was at a high. As Germany took measures to unwind the cosy 'Rhineland capitalism' cross-share-holdings, book reserve pension liabilities seemed like yesterday's solution
This spring marks 20 years since the first issue of IPE. Our founders Piers Diacre and Fennell Betson started this publication with an assumption that funded pension systems would become more widespread in time, leading to increased diversification and a need for clear, well-researched and well-presented information.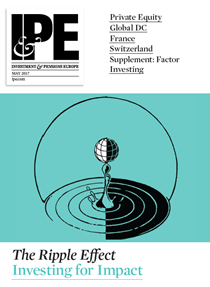 Digital Edition
Registered users are entitled to the first digital issue of IPE with the compliments of the IPE.com team.