The travails of defined benefit pension schemes and insurers are well known as they seek to meet liabilities made in previous decades in today's ultra-low-rate environment
The current vogue for optimism about the prospects for the developed economies is overdone. There may be a slight cyclical upturn but its significance is limited
The system-level implications of shifting from defined benefit to defined contribution pensions systems could be dangerously misunderstood

Around the beginning of the 2000s enthusiasm for pension funding was at a high. As Germany took measures to unwind the cosy 'Rhineland capitalism' cross-share-holdings, book reserve pension liabilities seemed like yesterday's solution
The controversial Dakota Access Pipeline (DAPL) has split opinion in the US and divided pension funds in the Nordic region.
This year's occupational pension conference hosted by the German daily newspaper Handelsblatt became an impromptu tribute, of sorts, to the influential pensions pioneer Bernhard Wiesner.
It is widely known that EIOPA is studying the possibility of a new EU legal framework for a pan-European occupational defined contribution pension regime
We at Wasserdicht Pension Funds have been using BIG Asset Management for what seems like an eternity. I have learned two things about BIG over the years
Picking the right approach to global equities can prove more valuable to selecting managers
The former CEO of the Investment Association, the trade body that represents UK investment managers, has made a disruptive proposal on CEO pay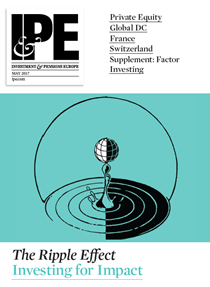 Digital Edition
Registered users are entitled to the first digital issue of IPE with the compliments of the IPE.com team.