The remarkable reversal in the outlook for official interest rates over the past few months has received relatively little attention. Until recently it was widely accepted that rates could only move upwards. It looked almost certain that quantitative tightening (QT) would supplant quantitative easing (QE). Now the balance has reverted to further monetary accommodation.

Italy's anti-establishment, eurosceptic coalition government has partly delivered on its promise to reform the pension system. 'Dismantling' the 2011 pension reform that curtailed benefits and raised the retirement age was key for both coalition partners – the Five Star Movement and the Lega. Previous governments had raised the retirement age. 

How do you measure success when it comes to pension reform? In the UK, it is clear that the government measures the success of auto-enrolment by some numbers, but not others. 
Last month's three doorstop reports from the EU's 35-strong technical expert group (TEG) on sustainable finance have the potential to radically repurpose capital markets.
The European Commission's expert group on sustainable finance last month published its long-awaited final recommendations for a taxonomy of environmentally sustainable activities, which is at the heart of the EU executive's plan to harness the finance sector for its fight against climate change.

Social partners have agreed compromises relating to the state pension age and early retirement Many crucial aspects are yet to be confirmed and could still derail efforts to reform the system

Everyone knows about 'big oil' and how much influence the global agribusiness sector has. But there is less awareness about the negative impacts of meat producers – the 'global meat complex'. 
"The Brumadinho dam tragedy causes us to question if we have created the conditions for a set of disasters"

English evangelical protestants allied with the Quakers initiated the campaign to abolish the UK slave trade in the early nineteenth century. Two centuries later, the Vatican has said that climate change is a "moral and religious imperative for humanity". Will the fate of fossil fuel companies be defined by public, sovereign and religious investors? And can other investors watch from the sidelines?

A striking indication of ESG's importance in Switzerland is that Ueli Maurer, the country's president, will be the keynote speaker at the Swiss Sustainable Finance annual conference in Bern
Digital Edition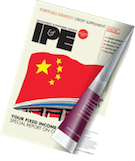 Subscribe to the digital edition of IPE magazine to view the latest issue directly in your browser.