Many people start their new year with diets, exercise, or perhaps a dose of self-help. Bookshops are well stocked with guides to better working, living, thinking, sleeping and even breathing.
The clouds darkened last month. Forecasts of the world's economics prospects became distinctly gloomier.

This year could turn out to be a lucrative one for lawyers in the pension and investment sectors. Deciphering Brexit implications, ensuring compliance with IORP II and localised rulebook changes will keep the legal profession busy 
No wonder the discussion of trade is in such a tangle. The terminology around the subject is almost designed to cause confusion.
The rampant bull market of the past decade could already be a thing of the past and institutional investors are understandably nervous about the future
"Pension funds, insurance companies and policymakers should limit choices to 6-22 option"

Mark Zuckerberg "is a bigger threat to American democracy than Donald Trump", says David Runciman, professor of politics at Cambridge University

The statistics on public market participation by corporations over the past two decades make grim reading. The US had 14% fewer exchange-listed firms in 2012 than in 1975 
In October, I wrote that investors would soon have to choose between backing social justice or going along with authoritarian- ism. I was not expecting that the choice would come so quickly
Digital Edition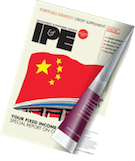 Subscribe to the digital edition of IPE magazine to view the latest issue directly in your browser.