There is a live debate in the Netherlands with regard to the pensions (or lack of them) of the million-plus group of self-employed, or zzp'ers in Dutch
An unintended consequence of Donald Trump's accession to the US presidency is a surge in Mexico's profile among Europeans
Pension fund consolidation remains among the most significant trends in the UK and the Netherlands

The Trump administration maintains that some of the Dodd-Frank legislation brought in following the financial crisis should be repealed or amended
Dutch pensions experts and the actors Gijs Scholten van Aschat and Jacqueline Blom shared the stage of theatre Stadsschouwburg in Amsterdam for a theatrical debate about pensions last month

European pension providers have begun reporting full-year returns for 2016, with several having fared better with their investments than the year before.

Volatility driven by currency and fund flows means EM investors should steer clear of passive
Sadly, investors too often see, hear and speak no evil. Their failure to protest at Donald's Trump's entry ban is only the latest example. 
Pensions are by their nature long-term and this can often lead to an acceptance of inertia because "this is how we have always done it". But in today's world this is no longer good enough
Rolf, our chairman of trustees is having a reception to mark his 30 years working for Wasserdicht. An engineer by profession, he was worked for us all over the world and has many stories to tell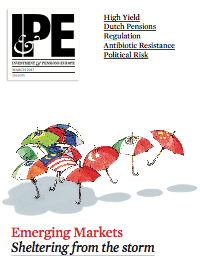 Digital Edition
Registered users are entitled to the first digital issue of IPE with the compliments of the IPE.com team.