It has become fashionable to insist on the importance of taking a long-term view but few achieve it in practice

The recent controversy about factor investing has probably not caused any distress to the investment industry, let alone the wider public, but it is a fundamental one

There has been much hand wringing among UK actuaries and pension scheme managers about the impact of a recent court ruling requiring certain pension benefits to be paid equally to men and women

Efforts to increase scale and improve efficiencies across the European pension fund sector are gathering pace, new data shows – but schemes still face hurdles.

Trustees, consultants and other pension professionals gathered in Edinburgh in early March for the annual investment conference of the Pensions and Lifetime Savings Association (PLSA).

The IASB is looking at IAS 19. Will the project run into the sand?
Fund management is a pretty opaque profession, and no aspect more so than the way investors hold the management of investee companies accountable

"Time to invite brown corporates to the green bond party"

Donald Trump is not the only US leader to ignore the climate emergency. BlackRock's 2019 letter to companies, timed to coincide with Davos, it was equally silent on the crisis

The deadline for national implementation of the IORP II directive passed this January
Digital Edition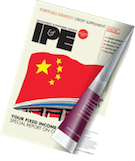 Subscribe to the digital edition of IPE magazine to view the latest issue directly in your browser.