Outside the realm of US public pension plans, where generous return assumptions and inflated discount rates are common, the medium and long-term outlook for asset classes is of serious importance to most pension funds. 

Anyone who back in 2008 had accurately predicted what monetary policy would look like today would certainly have been regarded as unhinged. 

Our report this month on management and outsourcing discusses how pension funds must increasingly rely on external organisations to analyse their portfolios, particularly from a cost perspective. 

At a press briefing last month, Bill Galvin, chief executive of the UK's £68bn (€77bn) Universities Superannuation Scheme (USS), emphasised the importance of improving its communication policy. 

France and Germany are the two countries that stand out the most for their comprehensive state pension systems and for underdeveloped second-pillar framework

It is the most fundamental premise of investing yet it is increasingly redundant: invest your money rather than hiding it under the mattress
When foundations and wealthy individuals launched their Rapid Response-Able Fund (RRAF) in spring 2020, commentators sneered at the "save the world" motivation while others said it would distract attention from the political changes that were needed.

"Principles 3.0 is intended to offer a road map to optimal partnerships in the private equity industry"

Every so often I come across a paper which I think is a 'must read' and Duncan Austin's 'Greenwish: the wishful thinking undermining the ambition of sustainable business'* is one.

The financial services industry is one of the least trusted in the UK. The Purpose of Finance project aims to address issues of trust and reform
Digital Edition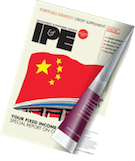 Subscribe to the digital edition of IPE magazine to view the latest issue directly in your browser.