The rise of blockchain architecture coincides with a period of falling trust in institutions
The current discussion of monetary policy is in some respects reminiscent of that of the mid-2000s
Italy's new populist government has taken power thanks to an agenda that had pension reform among its priorities. However, the programme underpinning the coalition agreement does not contain a single word about supplementary pensions

By the time you read this, football's World Cup will be into its latter stages. 
Is there a crisis brewing in the asset management industry? Such questions are heard more at conferences and events, reflecting disquiet as the euro crisis recedes and we approach the tenth anniversary of the collapse of Lehman Brothers.
The asset management arms of JP Morgan and Goldman Sachs have bolstered their European exchange-traded funds (ETFs) teams with a series of senior hires, throwing a spotlight on a sector overlooked by pension fund investors.
It is impossible to know how today's CIOs will look back on their actions in the 2010s. But, we still have time to avert the worst of runaway climate change

Incorporating changing behaviour and technological trends in retirement planning is essential

In fixed income, no-one has ever really known how the research impacts on investment costs

Private responses to my recent article about investors who do 'BS' stewardship have raised two key questions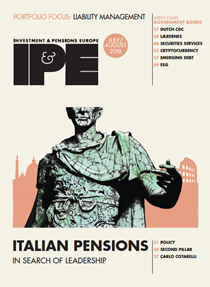 Digital Edition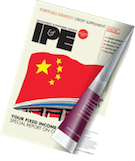 Subscribe to the digital edition of IPE magazine to view the latest issue directly in your browser.