"The UK local government pension investment regulations are a step in the right direction"
"Successful managers are hard to find but those that do exist generally share some common characteristics"
The pensions world is constantly changing. In the UK, more DC savers, coupled with recently introduced flexibility of access, will increase the levels of risk and complexity for many
Pension funds are not about politics, but their investment portfolios include political risk
"It is time the authorities addressed the serious side effects of monetary policy on UK pensions"
Trump and I agree on one thing: liberals and centrists love to whinge. If we are clever, we engage in intellectual self-gratification, showing how well we understand the complexity. If now isn't the time for a big pivot in how we show up in the world, in actions and not just sophisticated banter, when would be?
Last month I met with my old friend Thijs, who is CIO of a large UK corporate pension scheme, working in a small investment office in the UK with an enlightened CEO
Early on Wednesday 9 November we learnt that Donald Trump would be president of the US, and two days later I heard I may have a cancer.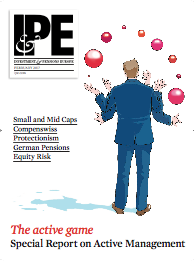 Digital Edition
Registered users are entitled to the first digital issue of IPE with the compliments of the IPE.com team.
"The UK local government pension investment regulations are a step in the right direction"
"Successful managers are hard to find but those that do exist generally share some common characteristics"
The pensions world is constantly changing. In the UK, more DC savers, coupled with recently introduced flexibility of access, will increase the levels of risk and complexity for many
Pension funds are not about politics, but their investment portfolios include political risk
"It is time the authorities addressed the serious side effects of monetary policy on UK pensions"
"Easier, cheaper fund distribution would help build stronger capital markets"
"The cost for a German young person to provide for a pension has roughly tripled since 2008"