Some 59% of US defined contribution (DC) plans' assets and 47% of Individual Retirement Accounts (IRAs) are invested in mutual funds, with a total of $8.8trn (€7.5trn). Overall, the US mutual fund industry manages about $22trn on behalf of more than 100m investors. 

It has been a busy 18 months for NP 'Narv' Narvekar, who became CEO of Harvard Management Company (HMC) in December 2016. At the end of this month, he will complete HMC's first fiscal year completely under his responsibility 

The US pension fund sector is looking at how Oregon progresses with its OregonSaves programme

Could the massacre at a Parkland, Florida, high school be the turning point in the debate about state pension funds' investments in gun makers? 

ESG investing is a hot topic in the US pension fund industry. "One dollar out of five from institutional investors is going into ESG investing"

The tax reform signed by President Donald Trump last December is having quite an impact on the US pension industry
It is impossible to know how today's CIOs will look back on their actions in the 2010s. But, we still have time to avert the worst of runaway climate change

Incorporating changing behaviour and technological trends in retirement planning is essential

In fixed income, no-one has ever really known how the research impacts on investment costs

Private responses to my recent article about investors who do 'BS' stewardship have raised two key questions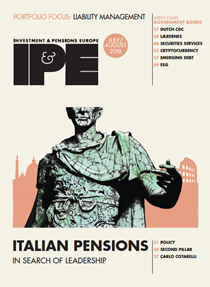 Digital Edition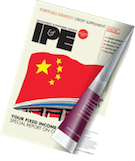 Subscribe to the digital edition of IPE magazine to view the latest issue directly in your browser.
Another step by Brussels to ease financing to business across the EU comes with measures to facilitate the cross-border distribution of investment funds
PensionsEurope is concerned about a Brexit 'no deal' and is calling for negotiators to pay heed to the €3.54trn sector's interests
Radical upgrades to the EU's corporate tax base norms have never been so close to fruition
Europe's asset management industry is lobbying against any mandatory guaranteed default option in the third-pillar PEPP proposal
As the risk of a no-deal Brexit comes into focus, attention is turning to ways to mitigate the damage across financial services, including asset management and pensions
The EU's securitisation package has finally passed through the European Parliament and Council. However, the new rules will not be applied until January 2019