One of President Donald Trump's promises has been to loosen regulation on all businesses to boost the economy. A casualty could be shareholders' right to vote on executive compensation 
Some US pension funds say they may be paying too much for their investments in private equity and are seeking different approaches

With interest rates rising, the US pension risk transfer market is expected to grow substantially
The US retirement industry faces uncertain times after the Department of Labor decided in March to delay by 60 days the implementation of the so-called fiduciary rule. But many companies have already executed the new rule, and will not go back
In the US, the oldest baby boomers recently turned 70. That is also a turning point for the US pensions industry. In fact, Americans at that age have to start withdrawing from tax-deferred savings plans, or face a penalty

Global pension funds are looking with interest at the $1trn (€960bn) Trump Private Sector Financing Plan for infrastructure construction. It could offer an opportunity for investors seeking stable, cash-generating investments.
"At present, UK trustees do not have the right governance framework in place to be effective or accountable" 
Generally missing from the discussion on climate change is an identification of the incentives that can drive change
"Fiduciary management has turned into a sophisticated exercise of managing increasingly complex investment value chains" 
It is widely known that EIOPA is studying the possibility of a new EU legal framework for a pan-European occupational defined contribution pension regime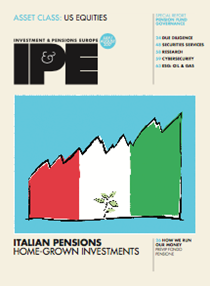 Digital Edition
Registered users are entitled to the first digital issue of IPE with the compliments of the IPE.com team.
The European Commission's "further steps to drive forward the Capital Markets Union (CMU)" outline nine new priority legislative actions to solve the EU's long-term cross-border investment challenge
Strong words on Brexit are flying in political circles. But behind the theatre, concerns about the future of London's fund management sector are emerging
In contrast to complaints that Brussels's legislation burdens the financial sector, the European Commission may be gratified by the positive response to its flagship Capital Markets Union (CMU) programme. 
Nothing could be clearer. For the financial sector, at least, there is nothing to fear from Brexit. All the UK has to do is to apply to the EU's rules – the crucial term 'equivalence'
The European Commission's project to set up a pension scheme for research and development professionals whose careers take them across EU borders has finally reached its first stages of operation.
The prolongation for 18 months of pension funds' exemption from posting collateral when trading over-the-counter (OTC) derivatives is leading PensionsEurope to seek clarification.