Since their launch in 1981, 401(k) plans have become the preferred employer-sponsored defined contribution retirement plan

Will the movement in favour of divesting from fossil fuels slow down among US pension funds?

Will HSAs become the new IRAs? Some operators in the US retirement industry say so
One of President Donald Trump's promises has been to loosen regulation on all businesses to boost the economy. A casualty could be shareholders' right to vote on executive compensation 
Some US pension funds say they may be paying too much for their investments in private equity and are seeking different approaches

With interest rates rising, the US pension risk transfer market is expected to grow substantially
As an investment professional I am used to traditional risk categories like equities, interest rates, inflation and the like. Now it seems we will have to add information security risk to that list
Decent folk in the investment world are beginning to ask why our sector is so slow to change. Why can't it function as a fit for purpose enabler of human prosperity?
"The selection of a benchmark is secondary to many other provisions for encouraging long-term behaviour"
Digital Edition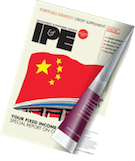 Subscribe to the digital edition of IPE magazine to view the latest issue directly in your browser.
International investors in the EU have for decades been suffering from woeful dispute settlement proceedings when involved in cases against public authorities
Discussions over the payment of social costs for workers from central and eastern European countries posted temporarily to wealthier EU countries are playing a major role in the attempt to update existing directives
At first sight, the benefits of the European Commission's Pan European Personal Pension (PEPP) regulation proposal seem clear. But it did not take long for commentators to point out the considerable hurdles
The European Commission's "further steps to drive forward the Capital Markets Union (CMU)" outline nine new priority legislative actions to solve the EU's long-term cross-border investment challenge
Strong words on Brexit are flying in political circles. But behind the theatre, concerns about the future of London's fund management sector are emerging
In contrast to complaints that Brussels's legislation burdens the financial sector, the European Commission may be gratified by the positive response to its flagship Capital Markets Union (CMU) programme.