Generally missing from the discussion on climate change is an identification of the incentives that can drive change
The former CEO of the Investment Association, the trade body that represents UK investment managers, has made a disruptive proposal on CEO pay
Sadly, investors too often see, hear and speak no evil. Their failure to protest at Donald's Trump's entry ban is only the latest example. 
Trump and I agree on one thing: liberals and centrists love to whinge. If we are clever, we engage in intellectual self-gratification, showing how well we understand the complexity. If now isn't the time for a big pivot in how we show up in the world, in actions and not just sophisticated banter, when would be?
Early on Wednesday 9 November we learnt that Donald Trump would be president of the US, and two days later I heard I may have a cancer.
An explosion of providers and events promise to turn investors into low-carbon heroes. Even campaigners use it to benchmark managers. What will it deliver? Raj Thamotheram writes
Generally missing from the discussion on climate change is an identification of the incentives that can drive change
"Fiduciary management has turned into a sophisticated exercise of managing increasingly complex investment value chains" 
It is widely known that EIOPA is studying the possibility of a new EU legal framework for a pan-European occupational defined contribution pension regime
We at Wasserdicht Pension Funds have been using BIG Asset Management for what seems like an eternity. I have learned two things about BIG over the years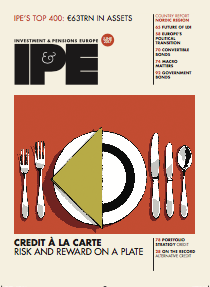 Digital Edition
Registered users are entitled to the first digital issue of IPE with the compliments of the IPE.com team.
"Fiduciary management has turned into a sophisticated exercise of managing increasingly complex investment value chains" 
It is widely known that EIOPA is studying the possibility of a new EU legal framework for a pan-European occupational defined contribution pension regime
One of the objectives of the European Commission in the revision of the IORP Directive was to enhance the information provided to prospective members, members and beneficiaries of IORPs
Pensions are by their nature long-term and this can often lead to an acceptance of inertia because "this is how we have always done it". But in today's world this is no longer good enough
"Asset managers are from Mars, asset owners are from Venus"
"The UK local government pension investment regulations are a step in the right direction"
"Successful managers are hard to find but those that do exist generally share some common characteristics"
The pensions world is constantly changing. In the UK, more DC savers, coupled with recently introduced flexibility of access, will increase the levels of risk and complexity for many