The current reforms risk repeating some of the mistakes of the Riester plan. Devolving responsibility to social partners for creating new sector schemes risks passing the buck
Times have changed since the Society for the German Language chose Alternativlos (without alternative) as its Unwort (literally 'unword' or ugliest word) of the year for 2010
The review of the UK's asset management market by the FCA may or may not result in tighter regulation of investment advice. But the regulator would do well to continue focusing on investment consulting firms that offer fiduciary management services
This spring marks 20 years since the first issue of IPE. Our founders Piers Diacre and Fennell Betson started this publication with an assumption that funded pension systems would become more widespread in time, leading to increased diversification and a need for clear, well-researched and well-presented information.
Norway's Government Pension Fund Global (GPFG), arguably the world's most watched institutional investor, is considering adopting a risk-factor approach.
On 28 February came the news for which 19,000 former staff of the collapsed high-street chain BHS had been waiting: its former owner, Sir Philip Green, was to pay £363m (€414m) to prop up the company's two pension schemes.
Picking the right approach to global equities can prove more valuable to selecting managers
The former CEO of the Investment Association, the trade body that represents UK investment managers, has made a disruptive proposal on CEO pay
One of the objectives of the European Commission in the revision of the IORP Directive was to enhance the information provided to prospective members, members and beneficiaries of IORPs
Can you guess the topic of discussion of the latest Wasserdicht global investment committee? You probably can: it was political risk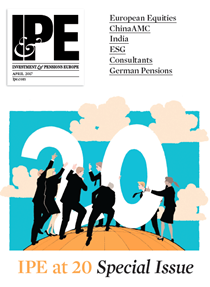 Digital Edition
Registered users are entitled to the first digital issue of IPE with the compliments of the IPE.com team.
One of the objectives of the European Commission in the revision of the IORP Directive was to enhance the information provided to prospective members, members and beneficiaries of IORPs
Pensions are by their nature long-term and this can often lead to an acceptance of inertia because "this is how we have always done it". But in today's world this is no longer good enough
"Asset managers are from Mars, asset owners are from Venus"
"The UK local government pension investment regulations are a step in the right direction"
"Successful managers are hard to find but those that do exist generally share some common characteristics"
The pensions world is constantly changing. In the UK, more DC savers, coupled with recently introduced flexibility of access, will increase the levels of risk and complexity for many
Pension funds are not about politics, but their investment portfolios include political risk
"It is time the authorities addressed the serious side effects of monetary policy on UK pensions"