Lay representation on pension fund trustee boards is one of the hallmarks of occupational pensions in Europe and other parts of the world
President Trump's aggressive protectionist rhetoric has raised concerns. Many fear that the measures he is advocating could lead to an all-out trade war
The turn of the year is a time for the asset management industry to discuss its views on how markets will fare in the year ahead. Unfortunately, too often these views are of little value to investors.

In 2001, the Myners report raised the issue of the investment value chain and how pension funds could improve outcomes through their governance structure. It also highlighted market inefficiencies in areas like peer-group herding and investment consulting. The interaction between fiduciary duty and the provision of institutional investment services had not been explored so extensively before and the report resonated widely outside the UK.
Almost all Dutch pension funds, including the largest five, have made a miraculous escape. For the majority of 2016 they were headed for widespread rights cuts
The Norwegian government is having to make up the rules for the NOK7.5trn (€826bn) Government Pension Fund Global (GPFG) as it goes along. One of the principles appearing to guide lawmakers in this process is building up as much expertise as possible before doing something new.
Trump and I agree on one thing: liberals and centrists love to whinge. If we are clever, we engage in intellectual self-gratification, showing how well we understand the complexity. If now isn't the time for a big pivot in how we show up in the world, in actions and not just sophisticated banter, when would be?
Last month I met with my old friend Thijs, who is CIO of a large UK corporate pension scheme, working in a small investment office in the UK with an enlightened CEO
Early on Wednesday 9 November we learnt that Donald Trump would be president of the US, and two days later I heard I may have a cancer.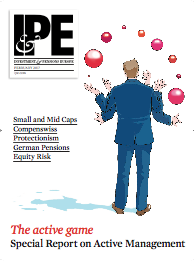 Digital Edition
Registered users are entitled to the first digital issue of IPE with the compliments of the IPE.com team.
"The UK local government pension investment regulations are a step in the right direction"
"Successful managers are hard to find but those that do exist generally share some common characteristics"
The pensions world is constantly changing. In the UK, more DC savers, coupled with recently introduced flexibility of access, will increase the levels of risk and complexity for many
Pension funds are not about politics, but their investment portfolios include political risk
"It is time the authorities addressed the serious side effects of monetary policy on UK pensions"
"Easier, cheaper fund distribution would help build stronger capital markets"
"The cost for a German young person to provide for a pension has roughly tripled since 2008"