AP1 – one of Sweden's five state pension buffer funds – has signed a deal with private markets manager Hamilton Lane allowing it to make up to $1.5bn (€1.3bn) of private equity investments over the next three years.
The Stockholm-based pension fund said it was planning to lift its overall private equity exposure across its investment portfolio.
AP1's head of private equity Jan Rådberg told IPE: "We aim to increase our private equity exposure from 5% to a maximum of 6%, of AP1's total assets."
Based on the fund's SEK324bn (€30.6bn) portfolio at the end of 2018, a one-percentage-point increase would mean adding SEK3.2bn.
"It is a very flexible investment service solution which allows AP1 to commit $1.5bn to private equity over the next three years," Rådberg said.
He said recent revisions to the investment rules for the four main AP funds had opened up the possibility of increased exposure to illiquid investments.
"As a consequence, we are planning to increase our private equity exposure slightly," he said.
The investment rules for AP1, AP2, AP3 and AP4 were revised by the Swedish government last year, with the changes taking effect at the beginning of January.
AP1 deal with Hamilton Lane followed a SEK300m investment in a private equity fund committed to aligning with the UN's Sustainable Development Goals.
Stockholm-based private equity firm Summa Equity said it had raised SEK6.5bn in total to invest in Nordic and European companies working for solutions to global challenges.
Further reading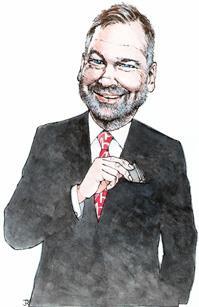 More changes to AP funds' investment rules on the horizon
Sweden's AP funds should be allowed to invest directly as part of a continued modernisation of their investment rules, according to a government-commissioned report from consultancy group McKinsey
How We Run Our Money: Första AP-fonden (AP1)
Mikael Angberg (pictured), AP1's chief investment officer, speaks to Carlo Svaluto Moreolo about the buffer fund's investment philosophy