Argentina has had to seek a $50bn rescue package from the IMF in its latest crisis after just two years of a boom period
Key points
• Argentina has again fallen from grace after two years of excitement about its reforming government
• That was despite the new government having generally done things by the book from a financial markets perspective
• Part of the problem was the result of factors outside the government's control including a drought and the economic plight of neighbouring Brazil
• Some contend that recent difficulties could provide investors with opportunities
Argentinians are famous for their asados, a gargantuan kind of barbecue that can satiate the appetite of the most demanding hedonist. They also thrive on writing tangos that sing the sadness of loss, rejection and despair.
Investing in Argentinian equities can replicate the extreme feelings provided by those local specialties. In 2017, companies listed in the country delivered to investors some of the best returns in the world; this year, share prices dropped almost half their value in the first six months alone. This may have created opportunities for investors, but only those with a penchant for strong emotions will be able to take advantage of them.
Argentina's fall from grace earlier this year followed a plot that could have been put into rhyme and verse by an economist's version of Carlos Gardel, a legendary figure in the history of tango. In the past two years, the country has done everything that the investment community demanded in terms of economic reforms. But its efforts were met with its capital market suitors running away at the first sight of problems. Feeling dejected and alone, Argentina ended up back in the arms of a despised beau – the International Monetary Fund (IMF). Will tragedy ensue?
That is the question that observers of Argentine markets are now making. Experience suggests that the next logical step for the country is to look for a messianic leader who will promise to make things good again by rejecting the tyranny of the market. That is what happened in the early 2000s, when Argentina suffered a dramatic financial crisis that resulted in the election, in 2003, of Nestor Kirchner, a somewhat obscure populist politician who triggered a period of heterodox policies that spooked the market for 12 years. The whole experience, to the surprise of few, did not end well.
Macri's legacy
When current president Mauricio Macri was elected in December 2015 he had to deal with hyperinflation, fiscal deficits, growing unemployment, a lack of food in supermarkets and other issues, while trying to recover the confidence of investors in the government. He adopted a set of orthodox measures that managed to reverse the worst sins of the previous regime and brought Argentina back onto the radar of global investors.
Macri's team even removed some hurdles that had traditionally kept equity investors away from the Buenos Aires Stock Exchange, encouraging many institutional players to dip into the local market. "Capital controls and a very restrictive capital gains tax were hurdles for to the participation of foreign investors in the local market," says Asha Mehta, a portfolio manager at Acadian Assset Management. "These constraints were removed last year."
In 2016, money started to flow back into the economy, and last year, Argentine stocks appreciated by a world-beating 73.5% in dollar terms, according to MSCI. The enthusiasm went so far that the Macri government was able to place $9bn (€8bn) of sovereign bonds in international markets, while paying the lowest yields in Argentina's history, according to the ministry of finance.
MSCI has also decided that it had seen enough from the Macri government to justify the reclassification of Argentina to emerging from frontier market status, to which the economy has been relegated since 2009. The reclassification will take place in 2019, enabling more institutional investors to allocate a bigger share of their portfolios to Argentine assets.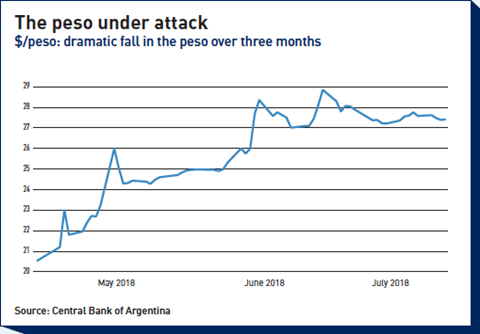 "Argentina has mostly done everything by the book," said Peter Kisler, an emerging market portfolio manager at North Asset Management. He was somewhat surprised, therefore, to see how quickly things took a turn for the worst in the second quarter. The favourable bond issue, which was 2.4 times oversubscribed by investors, took place in January 2018. By April, Argentina's currency, the peso, had been the target of a speculative attack, and the government had to beg for a $50bn rescue package from the IMF.
"Expectations have changed dramatically in Argentina's markets," says Diego Carlos Martinez Burzaco, an equity analyst in Buenos Aires. "A series of mistakes made by the government have dramatically changed expectations, and the problems were compounded by the worsening of global financing conditions for emerging markets."
To a certain extent, Argentina was hit by a perfect storm. A record-breaking drought affected the vital agriculture sector, causing losses of $6bn in exports, and inflation remains persistently high, with forecasts putting it at 27% by the end of the year. Argentina's main trading partner, Brazil is to going through a period of economic difficulty, depressing demand for manufactured exports.
"The problems were compounded by the worsening of global financing conditions for emerging markets"

Diego Carlos Martinez Burzaco
The global environment does not help either, as investors fell out of love with emerging and frontier markets after the US started to raise interest rates, and the spectre of an all-out trade war has depressed their currencies.
But observers like Martínez Burzaco contend that the government also bears some degree of guilt. The Macri administration has lost some of its reforming zeal after facing strikes and protests from sectors affected by the reforms. A much needed fading out of energy subsidies has been decelerated, and fiscal discipline has become laxer, according to analysts. The decision of the government to borrow more money in international markets, when a spike of interest rates by the US Fed was widely expected, has also drawn criticism, as it meant that, by March, 70% of the federal debt was denominated in dollars. Consequently, the federal debt burden has become much heavier after the peso, which became overvalued last year, came crashing down tin April (see figure).
Negative outlook
All things considered, expectations for the Argentinian economy have worsened significantly. To fight inflation, the government has increased interest rates from 27.25% to 40%, depressing economic activity. The IMF's aid package has set out some tough saving targets, with the government committing to reduce the federal fiscal deficit from 4.2% of GDP in 2017 to 2.8% this year and 1.3% in 2019. As a result, investment in infrastructure and other public services will have to be contained, and the IMF has reduced Argentina's 2018 GDP growth forecast from 2% to 0.4%, which may even be over-optimistic. In the second quarter, the economy shrank by 5.8% on an annual basis, according to IDEC, the official statistics agency.
The gloomy outlook was not missed by equity investors, who rushed to sell off their Argentine exposures. In the first half of the year, the MSCI Argentina index lost 45.2% of its value, and trade volumes at the Buenos Aires Exchange have come to a halt.
"Listed equities are not particularly interesting in Argentina right now," says Dominic Bokor-Ingram, a frontier and emerging markets investment manager at Charlemagne Capital. "I don't see where the growth drivers for the economy in the short term are."
The current difficulties could, however, become the basis for opportunities if the economy manages to escape from its malaise. Andrea Salvatori, the head of emerging market equity research at Amundi, points out that this year's drop in asset prices at least helped to correct some excess from the market, when a lot of "tourist money", in his words, flowed into the country to take advantage of the boom.
"Late last year there was some excessive enthusiasm about Argentina and valuations looked a little stretched," he says. "Right now, Argentina provides a mixture of a lot of political risk and very attractive opportunities."
"Argentina is going through a pretty big correction and it has experienced broad peso weakness," adds John Malloy, manager of RWC Global Emerging Markets strategy. "The next few months could see this weakness in equity markets continue, but valuations are now pretty reasonable."
"Last year's rally was driven by sentiment. Valuations were excessive, reaching 70 to 80 times trailing price to earnings"

Asha Mehta
Mehta, however, says the correction has not ended, and that there is still some way to go before a return to Argentina assets is on the books. "Last year's rally was driven by sentiment. Valuations were excessive, reaching 70 to 80 times trailing price to earnings," she says. "Valuations still do not look attractive, relative to Argentina's own history. And they remain very expensive compared to emerging and frontier markets."
Anyway, analysts agree that the political risk side is where worries lie right now. Any positive outlook for Argentina lies on the continuity of the reform process initiated by the Macri government, which faces a tough re-election battle in October next year.
In 2017, Macri obtained an important victory in a mid-term election that seemed to validate his reformist drive. Since then, the government has faced a growing volume of protests and an ever more strident opposition, which is taking full advantage of the return of the IMF, a body that is reviled in the country.
"The fear is that the elections brings back to power the current opposition that ruled the country between 2003 and 2015 and did great damage to the private sector," Martínez Burazco says.
The IMF itself seems to have acknowledged the risk of derailing the reform momentum, and has included in the deal agreement provisions that allow the government to keep social programmes safe from the cuts that will have to be made to meet fiscal targets.
"In the long run, if Macri wins the election next year and manages to put the reform process back on track, there is a huge upside for Argentina," Bokor-Ingram says. "But, at the moment, Argentina is not an equity-analysis game anymore. It is a political game. There is too much that politicians can do that can hurt companies right now."
If politicians get out of the way, however, things could once again become interesting for equity investors. "The outlook for Argentinian companies is quite positive," says Alejandro Quelch, head of research at Capital Markets, a Buenos Aires-based asset manager. "Company fundamentals are solid, but the problem is that market feeling is negative, and shares face tough competition from sovereign bonds, which are delivering very high yields."
Emerging Market Equities: Resisting a tantrum
1

2

Currently reading

Argentina's dramatic change of fortunes

3