A handful of Australian superannuation funds are committing their members' savings to the future world in terms of energy, water, technology and ideas. There will be successes and failures as ideas are developed and marketed.
The outstanding successes will create unicorns. And exponential returns will follow for investors who have shown early faith in the windmills of future minds.
Many other start-ups will not become billion-dollar enterprises, but they will form part of the bedrock of tomorrow's economy.
"If all you do is invest in the technology of today, you can never position yourself for the technology of the future," says Sam Sicilia, chief investment officer of Hostplus, the A$50bn (€30bn) industry fund for sports and hospitality.
"That's why we make the additional effort – and take the additional risk – to invest in less-known start-up companies.
"Yes, you do expect a great return, but at the same time, you get a great benefit for society. And that is a wonderful thing."
The future for Australia's economy is expected to require more intellectual rather than physical effort. Think healthcare, biomedicine, advanced computing and manufacturing – meaning robotics, precision manufacturing, and automation, as Australia retreats from mining and construction.
In Australia, most capital funding for start-ups now comes from high-net-worth individuals, private groups and government, the latter through grants and R&D incentives.
Half a dozen names – Square Peg Partners, Blackbird, AirTree Ventures, Main Sequence Ventures, OneVentures and Brandon Capital Partners – dominate the venture capital landscape. The first three focus on platform developers, the fourth on deep tech, the fifth and sixth on healthcare and medical start-ups.
According to KPMG, Australian start-up funds raised US$1.145bn (€981m) last year – the second year in which the sector has crossed the billion-dollar hurdle.
Today, AustralianSuper, Aware Super (formerly known as First State Super), HESTA, Hostplus, Statewide Super and Sunsuper are investing, often alongside each other, in start-ups. Australia's sovereign wealth fund, the Future Fund, and Queensland Investment Corporation have also pivoted to private equity, including venture capital.
Hostplus is currently the largest super fund investor in start-ups, with more than A$2bn (€1.2bn) committed to venture capital (VC) funds. Of that, some 75% is invested in Australian ventures, with the balance in markets such as the US and China.
Out of its allocation, Hostplus has co-investments of A$300-400m in start-ups. Venture investing takes up a quarter of the super fund's allocation to private equity, which is about 8% of its A$50.2bn under management.
"We need four or five or even 10 other super funds to come on the road with us," says Sicilia.
"We have had conversations with super funds to introduce them to venture capital managers, to let them know of capital raisings so that they can participate. Together, we can build an ecosystem here, rather than force our start-up companies offshore.
"What is different this time is that super funds have capital that can be directed towards venture capital. That was not the case 15 years ago."
Yasser El-Ansary, chief executive of the Australian Investment Council, says Australian institutions are generally underweight when it comes to private capital.
"My objective is to expand the universe of institutional and super fund investors into high-growth-potential Australian businesses," he tells IPE.
Over the next five years, El-Ansary expects a consistent expansion of asset allocation to private capital in Australia. This, in turn, will help drive expansion of the innovation ecosystem, which relies to a significant extent on the availability of funding.
As the innovation ecosystem grows, it will become more closely matched with the size and scale of Australian institutional capital, he says. "In Australia, we have a small universe of increasingly large super funds and, in order to be meaningful for them, they need to be able to put big amounts of capital to work in long-term investment assets."
AustralianSuper, the country's largest industry fund, admits that one of its difficulties is finding start-ups of scale.
Craig Blair, co-founder of Sydney-based AirTree Ventures, has been raising capital for start-ups since 2004. He is now seeing a change in mindset among super funds.
AirTree attracted more than A$600m in offerings last October, when its latest fund looked to raise A$275m.
"There is a lot of capital out there, much of it from super funds," Blair tells IPE. "The LP base and investor appetite for venture capital in Australia has transformed fundamentally over the last 20 years.
"In our first decade, we didn't speak to super funds. Then, around 2015, things started to change."
Blair credits the change to the success of Australian starts-ups, with some actually having a global impact.
He says: "A number of companies in our portfolio are leaders in their markets. They are profitable and stable, so they are definitely candidates to go public."
Australia's best-known tech company is Atlassian, a workplace software solutions provider. At the time of writing, it was valued at US$42.4bn.
The hottest name in town is Canva, the Sydney-based start-up behind a free-to-use online design platform. Based on its latest funding round in June, Canva is valued at A$8.7bn.
Another favourite is Pet Circle, one of the world's largest online pet shops, and Airwallex, the Melbourne start-up is now a unicorn.
Sicilia says: "We do not expect every investment will end up being an earth-shattering unicorn like Google, Apple, Atlassian, or Canva.
"You only need two or three investments in a venture fund to be outstanding for the returns to be outstanding. The others will be medium-sized companies that employ people and become an important part of the economy."
Blair says returns from Australian start-ups have been in the top quartile in global rankings.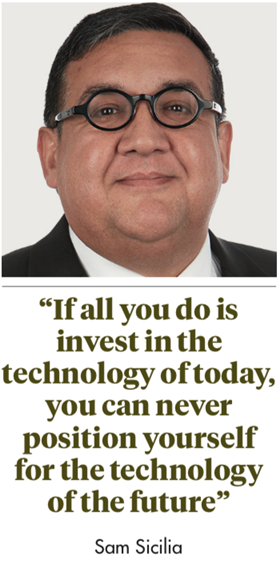 "In Australia, the top VC funds are producing two to five times your capital, plus a further 30% to 40% upon the retirement of a fund."
Back in the late 1990s, when Google was a young start-up, Hostplus was an investor in a private equity fund-of-funds run by IFM Investors, which included the search engine company in its portfolio.
Sicilia claims no credit for picking Google, but he is invested currently in two companies with huge potential in their own fields, through a US$125m mandate with Boston-based Safar Partners.
Safar has holdings in a water treatment business, Gradiant, and a fusion energy developer, Commonwealth Fusion Systems.
Sicilia explains the Gradiant technology, simply: "Think of a shipping container. It houses a membrane that can be transported to a polluted water site anywhere in the world. Its technology powers pumps which force the polluted water through a membrane, removing the contamination."
Commonwealth Fusion Systems, based in Massachusetts, is working on MIT technology to create new fusion energy that promises zero pollution. If successful, its product will potentially make existing forms of energy production redundant."
Sicilia has seen how the fusion reactor works at small scale in a laboratory, but agrees that large-scale commercialisation may take 15 or 25 years. "It doesn't matter [how long it takes]," he says. "Along the way you get other new technologies which can be commercialised. And from these you also get returns. But delivering fusion energy to the world is the most desirable end-game."