Australia's once-dominant retail super funds are witnessing the end of an era as they wrestle with loss of consumer confidence in their brands. Hastening change has been the rise of industry supers, which benefitted from damaging evidence provided to the Hayne Royal Commission in 2018.
The Hayne Commission into misconduct in the banking, superannuation and financial services industries found wrongdoing by retail funds. These resulted in remediation measures that may take another 18 months to complete. The retail super business model itself was called into question.
Wealth groups reacted by divesting their financial planning businesses. Meanwhile, three of Australia's four largest banks, each of which had invested in superannuation, bowed out. Together they left a trail of financial costs and reputational damage.
Even Australia's conservative national government, previously staunchly supportive of retail superannuation, seems to have abandoned the sector, says Alex Dunnin, director of research at Rainmakers.
Commonwealth Bank, ANZ Bank and National Australia Bank exited both superannuation and wealth management. The fourth bank, Westpac, has appointed an investment bank to gauge market interest in its superannuation business, which is part of the BT Financial Group.
The Hayne Commission weakened AMP, a name synonymous with superannuation and investment. Dunnin says AMP historically had advantages as the main incumbent financial group with a big platform and a financial planning network.
"Every dollar that Australia's largest super fund, AustralianSuper, now gets used to be a dollar that went to retail legacy incumbent brands like AMP," he says. "AMP is a legacy brand in Australia. But it has struggled to bring a lot of key elements in its business together, as evidenced by the recent takeover bid."
Ares Management, the US private equity group, last November offered to buy AMP for A$6.36bn (€4bn). The deal is still in due diligence.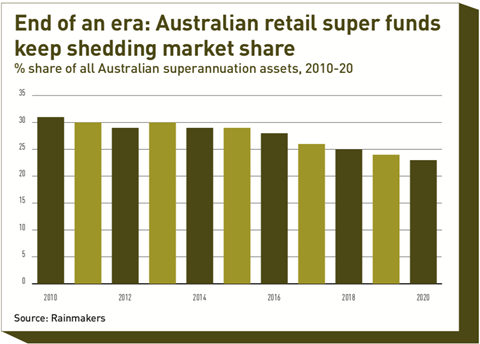 Ares is not the only foreign entity attracted by the distressed state of the Australian superannuation market. In May 2020, KKR bought a 55% stake in Colonial First State (CFS) from Commonwealth Bank for A$1.7bn.
A KKR spokesperson told IPE that CFS was one of the most respected providers of investment and superannuation services in Australia, and that KKR believed this was a great time to support "this iconic business" in its role managing the superannuation and personal wealth of over one million Australians.
"KKR has been a responsible investor of public pension funds for nearly 40 years. Today, more than 50m worldwide retirees and pensioners have exposure to KKR investments."
David Bardsley, a partner at KPMG, describes KKR as "a very interesting investor with a track record of bringing technology and efficiencies to scale businesses in financial services".
He says: "The evidence points to good buying opportunities in Australia's wealth and super management sector. This suggests to me that there is room for a couple more transactions of sizeable note."
Such opportunities have not been lost on IOOF, a benevolent fund. Renato Mota, chief executive of IOOF, told IPE: "The mere fact that we are seeing some private equity in this space tells us that private equity has a strategy to extract value from the Australian market.
"As an incumbent in this market, we certainly saw strategic rationale to benefit from opportunities arising from dislocations that are occurring in the market."
This January, Australian competition regulators allowed IOOF to take over MLC Wealth from National Australia Bank for A$1.4bn. A year earlier, IOOF bought OnePath Pensions and Investment business from ANZ Bank for A$825m.
Once ranked fifth among retail funds, IOOF has now leapfrogged CFS (A$104.3bn AUM) and AMP (A$102.6bn), to become the nation's largest with A$173bn AUM and 2.5m members. Australia's current largest super fund is AustralianSuper, with an AUM of A$200bn.
"When you are dealing with a compulsory saving system, as you are in Australia, being cost-effective is really important. Size and scale do matter," Mota says.
Bardsley sees a further concentration of super business in the hands of the top dozen industry and retail funds. These will attract 85 cents in every dollar going into super, he says.
Mota agrees. "There is a natural drive towards consolidation to increase cost efficiency that comes from economy of scale. In future, four or five mega funds, represented by both retail and industry funds, will dominate."
He adds: "We are consolidating and crystallising as one of those four or five funds in Australia. The rationale for us is to ensure we take one of the two top spots in the industry."
KPMG forecasts that the number of retail funds will fall from 118 today to 74 in 2024 and to 52 by 2029. Rainmaker says retail funds' 31% market share in Australia in 2010 shrank to 23% in 2020 (see figure).
Assets under retail funds' management totalled A$622.5bn at the end of June 2018. By the end of September 2020, this had reduced to A$596.7bn, according to the Australian Prudential Regulation Authority. During the same period, industry funds' AUM rose from A$631.4bn to A$761bn.
Dunnin told IPE: "Retail super has just lost the strategic superannuation race to industry super. The market has decided that its preferred model is the not-for-profit sector." About two-thirds of annual inflows in super (up to A$150bn) go to industry funds today, he says.
Dunnin sees the shift to industry funds as a "long-run" trend, not the result of Hayne.
"It is not because industry super is better. It is because not-for-profit industry super funds are simpler products, with lower fees and directly distributed. Industry super, as a group, has also delivered higher returns in default investment options that are used by most Australians, partly due to exposure to real estate, private equity and infrastructure."
Ilaine Anderson, AMP's acting managing director, superannuation, retirement and platforms, says AMP is in the process of simplifying, allowing it to reduce costs and to take advantage of its scale as a large retail super provider.
"We are reinvesting the benefits of simplification back into our members through lower fees and other member benefits, such as intra-fund advice, education services and our digital capabilities, including our whole-of-wealth portal, My AMP," she says.
Dunnin says the retail sector is intertwined with the financial planning sector, which is facing disruption. Financial planners face pressure on both professional standards and commissions, following a number of government inquiries.