When you've spent as much time around superannuation as I have, you get to see a lot of eggs," says senior corporate regulator Helen Rowell. "Images of eggs, usually in nests, often painted gold, frequently laying on a bed of $100 notes."
It's called marketing. Yet, for all the ubiquity of the nest egg as a symbol of planning for a comfortable retirement, Rowell tells an industry conference: "I can't recall ever seeing an image of the egg hatching."
Rowell is deputy chair of the Australian Prudential Regulation Authority (APRA). Her colleague, Margaret Cole, who is charged with oversight of superannuation funds, observes that superannuation members in the accumulation phase are "spoilt for choice". It is in the retirement phase that they are starved of choice.
The Australian superannuation industry's post-retirement phase remains very much a fledgling sector, APRA says.
Over the next five years, an estimated 1.8m super members in Australia are likely to move A$300bn (€19bn) – roughly a tenth of the current savings pool – into the decumulation phase.
Acutely aware that decumulation is the last piece of the retirement jigsaw, the government in July 2022 will legislate what is known as the Retirement Income Covenant.
Andrew Boal, convenor of the Actuaries Institute's Retirement Strategy group, says the new legislation will require trustees to formulate a strategy for members approaching retirement. He points out that Australians generally start to think about retirement only when they get to about 50 years of age – and in some industry funds the majority of members are still under 50.
Two key factors will help determine the type of retirement solutions a fund might offer its members, Boal says. One is age and the other is the balance of the member's account on retirement. In the absence of all the information needed, this is a useful starting point for determining the person's eligibility for the government age pension, he says.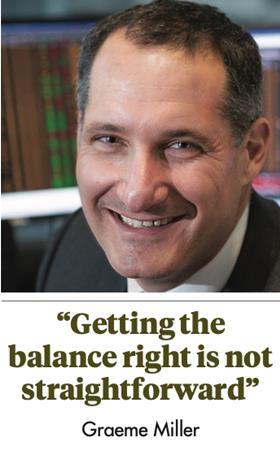 The Australian market is bookended on one side by people retiring with low savings (about 20-30% of retirees) who will predominantly depend on the government pension in retirement. A number of industry fund members still retire with less than A$100,000, which they draw down on periodically during retirement.
At the other end, 10-20% of retirees will have more than A$1m in savings, including savings outside the super pension schemes, with little, if any, state pension.
Middle Australia (the remaining 50-60%) will live on a part age pension for most of the retirement phase. As Australia's super system matures, Boal says the number of retirees with savings of between A$250,000 and A$1m is expected to double.
Currently, retiring members can opt to switch to what is known as an account-based pension. Essentially, their savings are invested in the same pool of assets. Income from account-based pensions is tax free, but there are rules requiring a minimum drawdown of at least 5% every year – increasing as members get older.
As an actuarial expert with Deloitte Australia, Boal says the government's proposed Retirement Income Covenant will require super fund trustees to help members in three areas: to maximise income in retirement; to manage risks to achieve sustainable and stable income during retirement; and to have some flexibility in investing assets in the decumulation phase.
Today, only a handful of funds offer retirement products. These invariably are born out of schemes serving state and federal public service or former government-linked entities such as Qantas and Telstra, Australia's largest telecom company.
Luigi Ricco, Sunsuper's manager for investments and advice, says that 2% of its 1.4m-plus members hold a pension product. "The basic average account balance is A$335,000," he says.
Members are automatically switched to a retirement income account upon turning 65 to take advantage of the tax-free investments. But this is optional. Some members choose not to switch.
New lifetime pension
Sunsuper recently merged with QSuper, and the enlarged entity, with combined AUM of A$230bn, will rebrand as the Australian Retirement Trust this month.
QSuper in 2021 launched its version of a retirement option, Lifetime Pension, which is designed to give members a lifetime income regardless of how long they live. The minimum age to start the product is 60 and the maximum is 80. Members can put in as little as A$10,000 or their entire balance, capped at A$1.7m.
Like QSuper, TelstraSuper has recognised the need for retirement products, in part driven by Telstra's older and higher-earning membership. Graeme Miller, TelstraSuper's CIO, says it is not unusual for people to retire from TelstraSuper with A$500,000 or A$1m or more.
TelstraSuper has long offered an allocated pension account, but with the number of retirees and the amount of assets in retirement growing in tandem, there has been a need for the fund to design a customised investment strategy to meet retirees' needs.
TelstraSuper in November unveiled a suite of products, branded Lifestyle Options, allowing retirees to have an automatic cash distribution paid monthly while continuing to be invested in a strategy which is likely to outperform inflation.
"Equally, they can progressively receive income to enable them to meet their daily living needs," says Miller. "We try to have the best of both worlds – to have an investment strategy that is going to perform strongly but be exposed to less volatility than our accumulation strategy, yet provide a regular income."
Miller says: "Retirement products have higher allocations to property and infrastructure. We will also be differentiating the underlying investments within equities, for example with more focus on income and tax efficiency."
The main challenge with retirement products is balancing the need for strong growth in the assets with strategies that are likely to exceed inflation (to generate real returns) and strategies that are not excessively volatile. "Getting the balance right is not straightforward," he adds.
Mark Spring, head of strategic implementation at Active Super (previously known as Local Government Super), says the fund began to offer members both guaranteed life and term annuities in 2016. It had been offering account-based pensions since 1977.
Spring says that changing demographics – and the fact that Active Super has a significant percentage of members over the age of 50 – means there will be an increase in demand for retirement.
As Australians live longer, questions around annuity and longevity products are also looming. The next priority for TelstraSuper is to introduce longevity solutions. "We have a team exploring ideas and opportunities right now," Miller says.
Spring believes longevity products are an important element to include in the retirement products mix.  "These are more complex, and require members to consider the outcomes regarding initial investment, ongoing benefits and potential loss of access to the money," he says.
Over the longer term, the key to success for the super system is good liquidity management, according to Miller. "Over the past three decades, with compulsory superannuation in Australia, the focus has been on accumulation," he says.
"Over the next 30 years it is going to be more about decumulation – in other words, paying those assets back to members. This is the whole point of superannuation."