Asset allocation review for the largest Dutch pension funds
ABP sticks to its strategic asset mix
ABP, the €387bn Dutch civil service scheme, wants to increase its domestic investments – currently 15% – in particular in projects for energy transition and investments aimed at improving the sustainability of residential property and schools. It has raised its commitment for financing startups from €200m to €500m, and committed €180m to the acquisition of 1,700 units of residential rental property in the mid-market segment.
However, lack of scale is a serious obstacle as ABP requires projects to be at least €50m to be investable. It says the government must also provide certainty through a consistent policy for the long term, and take on part of the investment risk in addition.
The scheme stuck to its strategic investment mix of 40% fixed income and 60% equities in 2016. However, it increased its investments in North America by three percentage points to 38%, moving from 100% euro-denominated bonds to global and euro-denominated government paper with a 50-50 split.
The allocation adjustment came at the expense of investments in Europe and is intended to improve liquidity and diversification. ABP reduced its overall holdings in Europe by five percentage points to 22%, in part in favour of Asia Pacific and developed markets. Also, to improve diversification, it has started investing in global inflation-linked bonds, with a full currency hedge.
ABP returned 9.5% on investments in 2016. Nevertheless, it has reduced its assumptions for future returns. Rather than drawing its expected returns from the maximum permitted assumptions – equating to 3.6% in real terms – it has reduced its expected future return to 2.8%. As a consequence it has raised its contribution rate by 2.3 percentage points to 21.1%.
ABP has encountered some headwind in its efforts to reduce its carbon footprint by 25% in 2020, as a pressure group claims that its fossil fuel investments increased by €2bn to €10.4bn last year. ABPFossilfree – which includes participants of the pension fund – said it had based its conclusions on ABP's quarterly statement of its holdings.
The civil service fund suggested that its stake in fossil fuel companies had risen, thanks to improving equity markets. It could neither confirm nor deny whether it had also made new investments, and said that it had only gained a clear view on carbon emissions halfway through last year, when it introduced a measurement tool for carbon output. However, the fund made clear that its primary goal was to reduce carbon emissions through engagement rather than to divest from fossil fuel firms.
In July, ABP acquired 48 infrastructure projects in western Europe from the Dutch Infrastructure Fund in a €700m transaction. Some of the projects are solar and wind farms in France and Germany. The deal also included cross-shareholdings of projects in the US and Canada.
ABP has also taken a full €327m stake in the construction of the largest wind farm in mainland Sweden. It comprises 80 turbines that are to generate power to 300,000 households. ABP said the 100% stake cut out external managers as well as their fee, and would give it increased control over the project.
Last spring, ABP announced that it would offer its participants a visual representation of their accrued pension rights, by showing – through a simple graph – how much is available for future benefits for each individual participant.
It will also show how much the employee and employer have contributed, and how much the amount has increased through returns on investment. The main aim is to restore faith in pension fund participation.
ABP's funding has steadily improved to 96.3% during the past two quarters. However, it has warned that rights reductions are still possible if it fails to raise its coverage to 104.2% by 2020.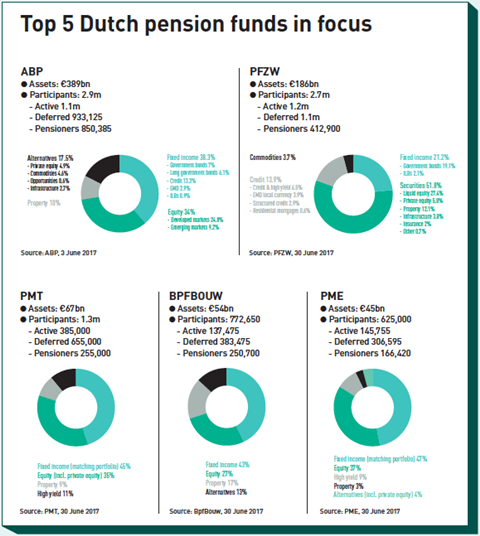 PFZW starts investing in green bonds
PFZW, the €186bn Dutch healthcare scheme, has started investing in green bonds through ABN Amro and Alliander, as part of its plan to quadruple its sustainable investments to €20bn in 2020. The managers will invest in energy-efficient buildings and thermal grids.
The second-largest Dutch pension fund has also invested in food security through fertiliser manufacturer Eurochem, via its credit portfolio, as well as in green projects in Brazil through a Latin American paper producer. The scheme is also taking part in a joint venture with Vantage London, which redevelops offices and aims to significantly increase energy efficiency.
The healthcare scheme has started implementing a 50% reduction in carbon emissions from its equity holdings, to be completed in 2020. It is currently looking at the reduction potential of its alternative equity, property and its credit allocations.
PFZW's carbon reduction plans focus on off-loading about 200 holdings in energy, utilities and materials, which account for roughly 70% of the CO2 emissions produced by the equity portfolio. The fund is to reinvest the proceeds in companies that outperform in these sectors. For the tenth consecutive year, PFZW ended in first place on the responsible investment benchmark of the Dutch Association of Investors for Sustainable Development (VBDO).
"PFZW's carbon reduction plans focus on off-loading about 200 holdings in energy, utilities and materials, which account for roughly 70% of the CO2 emissions produced by the equity portfolio"
PGGM, PFZW's asset manager, has invested €150m in the construction of two large sustainable distribution centres in Japan. The decision came in the wake of a €200m purchase of similar properties elsewhere in the country. Last year, it entered a €250m French office joint venture with Foncière Atland, targeting office markets in Paris and the Ile-de-France region.
PGGM has also entered into a joint venture with American Tower Corporation aimed at building telecommunications towers in Europe and leasing out telecom capacity. In addition it has increased its commitment to a joint venture for infrastructure projects with Royal BAM by €140m to €620m. Together with BAM, it has taken a "considerable" stake in the N25 New Ross Bypass in Ireland. Previously, the joint venture participated in a consortium tasked with developing, financing, building and maintaining new sea locks in IJmuiden.
However, PGGM has abandoned its plans to join in the construction of a large wind farm in Mexico due to resistance from local communities. It said it would not take part in any other wind project in the country.
Despite lower interest rates, PFZW decided to leave its 2017 contribution rate unchanged at 23.5% with expected returns of 2.63% per annum. The healthcare scheme returned 12% last year and has generated annual results of 8.2% on average since 1971. It also pointed out that the current contribution level contained ample margin relative to the legally required cost-covering premium.
A trigger for a contribution rise would be the funding ratio dropping to less than 87%, which would require immediate rights cuts. By the end of June, however, the ratio improved to 94.2% on the back of steadily rising interest rates, despite a 0.3% loss on investments during the first six months.
As of 2017, the healthcare scheme also changed from indexation based on salary developments to inflation compensation drawn from the consumer index. This has become a trend among Dutch pension funds, and PFZW was the largest scheme still following the salary index. It also lowered the priority of indexation in arrears from "target" to "intention".
PFZW intents to improve confidence among its participants by increasing the number of "contact moments" following a survey suggesting participants are more satisfied if they are in greater touch with their pension fund. This is aimed in particular at younger participants, to whom the fund wants to explain its sustainable investment policy. Last year it had found that loyalty among its participants had dropped from 81% to 64%.
PMT refrains from setting carbon target
PMT, the €67bn pension fund for the metal and mechanical engineering sector, will not set a target for the reduction of carbon emissions from its equity holdings – going against a trend among the largest schemes in the Netherlands.
The fund says its investment policy is closely linked to its sector of operation, which comprises 33,000 employers of predominantly manufacturing companies as well as garages and fitters. "The industry is carbon-sensitive, with many firms emitting CO2 as well as using fossil fuels. Our rank and file comprises of companies that are ahead in energy transition, but also firms that are about to start the transition to low carbon management."
PMT – the third largest pension fund in the Netherlands – says it wants to monitor carbon emissions closely, and prefers engagement with high emitters as a way to achieve reductions. Last year, it started a dialogue with ten of the largest emitters in its equity portfolio.
It says it considers exclusion to be a last resort for companies that do not introduce a climate strategy within two years. It also favours what it calls "inclusive energy transition", which takes into account the impact on staff.
PMT also wants to increase its holdings of affordable rental residential property to benefit its participants. This is aimed at the large proportion of its rank and file who are not eligible for social housing but cannot afford rental property in the non-regulated sector. Currently, PMT's holdings of residential property amount to €750m, which is half of its Dutch real estate allocation.
Last year, the pension fund returned 11% on investments, noting that the result did not make up for the negative effect of low interest rates. For the first six months of 2017, it reported a return of 0.3%. Thanks to rising interest rates, the funding ratio improved to 96.6% at end-June. However, to avoid rights cuts in coming years, its coverage ratio must be at least 104.3% at the end of 2019.
PMT is facing an increase in execution costs of approximately 20% following the restructuring at MN, its €123bn asset manager and pensions provider, which is co-owned with its sister metal scheme PME and the sector pension fund for the merchant navy (Koopvaardij). This year, the additional costs will be €17 per participant, and will come on top of the regular costs that total €81.50. It is aiming for a reduction in costs to less than €65 per participant as of 2018.
BpfBOUW reduces currency hedge
BpfBouw, the €54bn Dutch pension fund for the building sector, has reduced its hedge of the main currencies for its equity portfolio to 80%, deeming the currency risk on its equity holdings to be lower than that in its fixed income portfolio. For US dollar investments it has even decreased the hedge to 64%.
However, it has kept the currency risk on its fixed income investments fully hedged. It has also left its strategic investment policy and risk tolerance level unchanged, sticking to its strategic asset allocation of 42% fixed income, 27% equity and 20% property. It has maintained the level of its interest hedge at 42.5%, in anticipation of "possible stagnation as a result of the UK's Brexit decision".
"BpfBouw announced that it would extend its policy for sustainable investment to themes that are particularly relevant to its participants"
BpfBouw announced that it would extend its policy for sustainable investment to themes that are particularly relevant to its participants. For example, it will focus on supporting a sustainable environment, the transition to locally generated clean energy and property in the care sector. Last year it increased its investments in green bonds from €155m to €298m.
The fund has also made clear that it will demand investee companies pay sufficient heed to safe labour conditions. Bouwinvest REIM, its €8.5bn property manager, must require that property developers and building companies report their building sites to Conscious Builders, a local foundation monitoring safety and sustainability.
Last year, the €1bn pension fund of the construction company Ballast Nedam joined BpfBouw. The firm wanted to reduce its involvement with its pension fund, in part due to its weak financial position. The Ballast Nedam scheme's 7,000 participants increased the total number of participants and pensioners of BpfBouw to 772,650.
Recently, Bouwinvest committed €100m to the Pan-European Core fund of the asset manager Hines, extending its allocation to core retail and office markets in the euro-zone. It said it wanted to benefit from economic growth in Europe and increase diversification.
The commitment also tallies with its strategy to increase international investments to 40%. Earlier, the property investor indicated that it also anticipated strong growth in major emerging market cities. Earlier this year, it announced it had invested another €28m in upmarket student housing in Australia, taking its total stake to €80m.
The scheme reported an overall return of 12.2% in 2016, in part thanks to a 1.8% result on its interest rate and currency hedges, which generated 3.3% and -1.5% respectively. BpfBouw is still in the best financial position of the five largest pension funds in the Netherlands. At the end of June, its funding level was 110.1%. Its return over the first six months was 0.7%.
PME prioritises sustainable investment
PME, the €45bn pension fund for the metal and electro-technical engineering sector, made the implementation of its sustainable investment policy one of its priorities for 2017.
Spurred on by its participants, it aims for 10% of its entire portfolio to follow the UN's Sustainable Development Goals (SDGs) within five years. This also goes for a 25% carbon reduction through engagement with the 10 largest emitters in its investment portfolio.
It will also focus on impact investments – including in its own sector – in energy transition, recycling and access to affordable housing. For 2017, PME has committed €250m to "pure impact", and was the third major Dutch pension fund to link ESG to impact objectives.
Last summer, PME invested €25m in domestic technology startups through a new investment fund – Innovation Industries – which co-operates with local technical universities. It aims at companies developing semiconductors, ICT, cybersecurity, nanotechnology, care and food production.
The fund has maintained its strategic asset allocation through its 50% matching portfolio and 50% return holdings. It says it does want to increase the risk profile of its portfolio, either in terms of asset allocation or interest hedging, which it retained at 50%.
PME returned 10.3% in 2016 – an outperformance of 0.2 percentage points – which brought the 10-year annualised return to 6.5% on average. With gains of 13.1% and 12.3%, respectively, infrastructure and high yield bonds were the best performing asset classes.
The 2016 result included 1.6 percentage points arising from the interest-rate hedge. The scheme generated 0.7% over the first half of 2017 and closed the second quarter with a coverage ratio of 95.9%.
Dutch pensions: Aiming for full transparency on costs
1

2

Currently reading

Asset Allocation: In the mix

3

4