BlackRock continues to dominate the asset management world, managing a third more in assets than Vanguard, the second largest manager (€4.398trn to €3.091trn), according to the 2016 IPE Top 400 Asset Managers survey.
US-based managers State Street Global Advisors, Fidelity Investments and BNY Mellon Investment Management round out the five largest managers, jointly managing €12.8trn in assets – twice the AUM of the next five managers (€6.057trn) and more than one-fifth of the assets captured by the Top 400 survey.
The 2016 survey finds that most of the top 10 managers retained their rank from the previous year, with PIMCO rising one place to seventh, deposing Capital Group following a €159bn increase in AUM in 2015, compared with Capital's €105bn.
Prudential Financial, previously known internationally as Pramerica Investment Management, remains ninth, but Goldman Sachs Asset Management International (GSAM) has been overtaken by the rise of Legal & General Investment Management (LGIM), which reports over €1trn in assets for the first time, ahead of GSAM's €996bn.
LGIM's ascent*, making it the largest European manager, shifts France's Amundi into twelfth place behind GSAM, while Wellington Management's €98bn increase in AUM allows it to retain 2015's position, forcing Northern Trust Asset Management, with €805bn in assets, into fourteenth.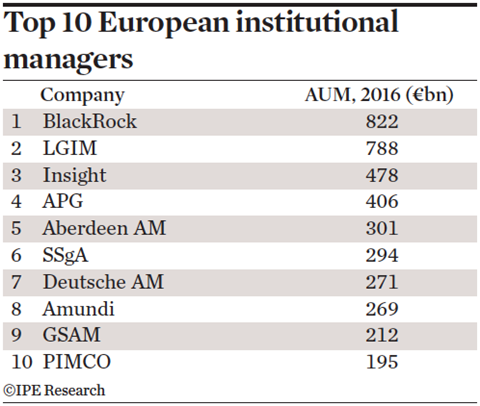 Rounding out the 15 largest companies is Natixis Global Asset Management, with €801bn in assets, an increase of €65bn year on year.
The picture is markedly different when examining Europe's largest institutional managers.
Whereas BlackRock remains atop the table, reporting €822bn in assets, followed by LGIM with €788bn, Insight Investment comes a distant third with €478bn in European institutional assets.
APG is the only dedicated pension manager within the European Top 10, reporting €406bn in European assets. Fellow Dutch manager PGGM ranks 13th with €180bn in assets, ahead of MN's €117bn, ranking it eighteenth.
Aberdeen Asset Management, reporting the heaviest net outflows of European institutional assets, falls from fourth to fifth place. It had net outflows of €33bn – ahead of the €26.4bn in net outflows recorded by BlackRock.
NN Investment Partners' European institutional AUM continues to decline, down from €54.4bn at end-2013 to €38.5bn by the end of last year. Its net outflows of €8.2bn over the course of 2015 see it fall to 50th, 12 places down compared with the previous year.
The Top 400 Asset Managers, for the first time since the survey was launched, also captures the volume of alternative indexing strategies managed by asset managers – standing at nearly €500bn globally, of which 27.7% is in mandates for European clients.
Alongside the increasing interest in smart beta strategies, exchange-traded funds account for €325bn in European institutional assets.
Active management accounts for €5.7trn worth of European actively managed mandates, compared with €1.3trn in passive mandates.
*LGIM's AUM now includes notional derivative positions and advisory assets on which the firm earns ad valorem fees.