Early in 2018, we surveyed our members in Central and Eastern Europe (CEE), to gain a deeper understanding of financial market participants' views on the regulatory issues affecting local capital markets.
Key points
The 1989 collapse of the Soviet bloc meant that the region had to make a rapid shift to a market economy
There is support for greater regulatory centralisation
Ensuring investor protection is important
The best way to foster public trust is by a commitment to the highest professional ethics
CEE-based capital markets face different regulatory standards and barriers, not to mention developmental and integration obstacles, to its western European counterparts. Following the collapse of the Soviet bloc, the region had to make an abrupt adjustment to a market economy. As a result, regional capital markets are less developed, and there is a much lower level of capital market participation and investment knowledge among the public. These issues were reflected in the survey, from which several core themes emerged.
The trend in European capital markets towards greater regulatory centralisation has broad support, with 67% of respondents agreeing or strongly agreeing that supervision should be more centralised, versus only 20% who disagreed or strongly disagreed. However, significant regional variation in support for harmonisation, was apparent, with strong backing in Bulgaria, Slovenia, Romania and Greece. Poland was an outlier voicing the lowest support, indeed it was the only country with a support rate below 50% and the most support for less regulation.
Respondents were also split on the benefits of greater harmonisation as it pertains to specific market issues such as liquidity. Some 43% of respondents say greater regulatory and supervisory harmonisation would help the CEE's capital market fragmentation and low liquidity. Concurrently, almost 30% contend that less capital market regulation would improve liquidity and facilitate capital formation.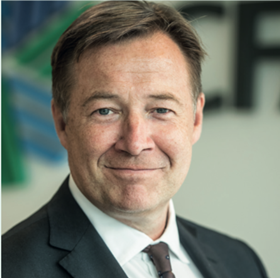 Enthusiasm for integration was also split on a directive-specific basis. The MiFIR/MiFID II, which came into effect in January 2018, had little support with almost 40% of respondents reporting dissatisfaction with the legislation: only 22% were satisfied or very satisfied. Conversely, the Payment Service Directive, which regulates payment services and providers, garnered a 39% satisfaction level among participants.
However, the most revealing metric was the low level of participant trust in local capital markets: 38% of respondents said there was little or no trust. Bulgarian participants have a particularly low level of trust in local markets (18%) and Slovenia was the only country with a trust rate exceeding 50%. Significantly, 42% of respondents say that transparency has not improved since the early 2010s.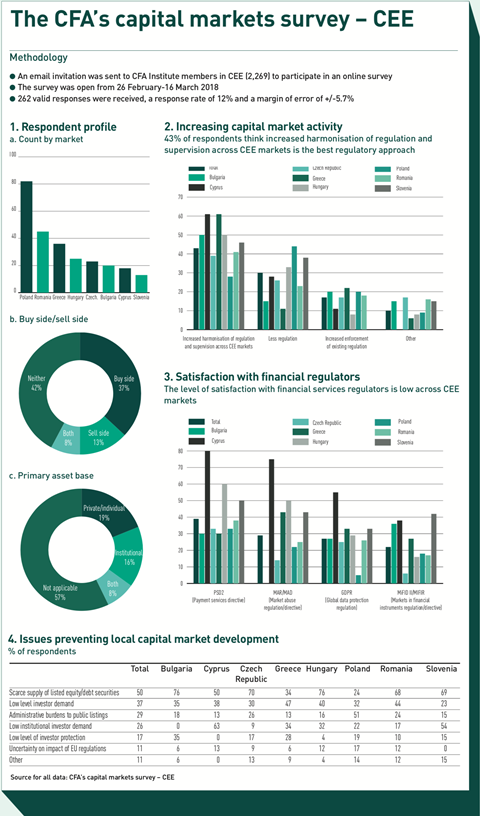 As trust and transparency form the bedrock of robust and sustainable capital markets, it is perhaps no surprise that supply scarcity of listed equity/debt securities (50%) and the low level of demand from retail investors (37%) were the main problems retarding growth of the region's nascent capital markets.
Without trust and transparency, it is hard for capital markets to flourish. This is particularly true in the retail segment. Retail investors often have limited access to information and less investment experience. Therefore, it is imperative they regard those advising them and the companies in which those advisors invest on their behalf, as trustworthy, reliable and consistent. In this respect, robust financial controls, a commitment to transparency and disclosure, independent board directors and a board and management that is representative of society, will all serve the capital markets well.
Ensuring adequate investor protection is another important aspect of trust building, and here we see improvements, with most respondents (58%) saying their local market provides a higher standard of investor protection than five years ago.
However, perhaps the best way to foster public trust in the capital markets is by a commitment to the highest professional ethics and standards. Capital markets must work - and be seen to work - for investors overseen by effective regulation and more broadly, for the communities and public whom they purport to serve. It is here that we have a vital role to play in the development of the region's capital markets via the dissemination and normalisation of the highest industry standards, ethical leadership and advocacy.
Gary Baker is managing director EMEA at the CFA Institute
Poland: A policy gear change
1

2

3

Currently reading

Capital markets: Power to the centre

4

5