---
Key points
Chinese tech firms offer exposure to rapidly expanding domestic markets
Domestic focus allows a degree of diversification within tech
Chinese firms should benefit from mean reversion following last year's EM outflows
Negative impact from US tariffs should be limited, although those reliant on US chips are negatively affected
Both tech bulls and tech bears have focused on the FAANGs over the past year – the acronym of Facebook, Apple, Amazon, Netflix and Google (Alphabet). This, certainly, has been where to look for the action in equities. By late summer 2018, the FAANGs had accounted for about half the growth of the S&P500. For the rest of the year, things were not so rosy, and they have done their fair share to drag the index down.
However, tech megacap investment does not stop at US border control. Other behemoths are available, originating in China. In keeping with the vampiric theme, these are the BATs: Baidu, Alibaba and Tencent. Baidu has been dubbed the Google of China; Alibaba is an online retailer, broadly comparable to Amazon, and Tencent has a social media platform and huge gaming business.
Does owning the BATs bring diversification benefits, or do investors simply double down on their tech bets?
Singapore-based Chetan Sehgal, lead portfolio manager of Templeton Emerging Markets Investment Trust, says these stocks "are correlated to a significant degree, so there is a doubling down on tech to an extent". However, he adds, this is not fixed. For about three years, the BATs and FAANGs were highly correlated. Then, in March 2018, they began to decouple – something that has recently reversed: "This is probably because of trade tensions, policy issues and the slowing of the BATs' local markets."
Rebecca Chesworth, senior ETF strategist at SPDR, SSGA, is bullish over the benefits of BATs: "Normally, we see greater opportunities for sector over country, but we have a clear preference for EM [emerging markets] over DM [developed markets] at the moment – and EM Asia specifically – following significant underperformance last year. The tide is now turning." This, she says, is because EM Asia equities are benefiting from mean reversion, and investors' realisation of better-quality earnings and lower gearing with the BATs, plus the fact that European investors are more underweight EM versus historic averages than any other equity region.
It is tempting to see tech as tech, but the stocks are serving different markets with contrasting business models. Richard Clode, portfolio manager on the global technology team at Janus Henderson Investors, agrees that there are diversification benefits from owning both US and Chinese internet names, stemming from the fact that "the US internet giants are very much an ex-China story, while the Chinese internet companies are domestically orientated."
"More internet regulation in the US could potentially force the break-up of some of the FAANGs"

Richard Clode
It is certainly the case that BATs' earnings are highly China-focused. Just 1% of Baidu's, 5% of Tencent's and 11% of Alibaba's revenues come from outside China. The rest tend to be focused on Asia. The FAANGs are truly global operations.
But if the BATs do not have global reach, Chinese markets matter. Forget Black Monday and New Year sales: China's Singles' Day, falling on 11 November, is the world's biggest shopping spree, with Alibaba making $30.8bn (€27.3bn) on the day last year.
Clode points to the "much weaker and fragmented offline offering" as being an advantage for Alibaba in particular. "While Amazon competes with the likes of Walmart, Alibaba has no national scale offline retail competition to speak of," he says.
Listing impact
While Tencent is Hong Kong-listed, Baidu and Alibaba list on the Nasdaq and NYSE respectively. Although Clode says that listing venue does not make a huge difference, he adds that the investor base is very different between the two markets, as Hong Kong-listed stocks have benefited in recent years from southbound Connect flows from mainland Chinese investors, while US-listed Chinese names can suffer from US investors using them as a proxy for global trade tensions or China concerns, which would have more of an impact on Baidu and Alibaba.
Sehgal is adamant that where the BATs are listed does have an impact, explaining that Tencent's Hong Kong listing gives it access to considerable investment flows from the Chinese mainland. "On the other hand," he says, "when emerging markets suffer outflows, the company is more vulnerable. But I think it's logical that Baidu and Alibaba will take dual listings eventually."
Certainly, US action is limiting the spread of the BATs. Alipay, the Ant Financial online payment platform, was blocked from buying the US's MoneyGram, while Singapore-based Broadcom's proposed takeover of San Diego-based chipmaker Qualcomm met with the same result, both on the grounds of national security. It is conceivable, however, that these actions could be net positives for investors, limiting cash burn on acquisitions and making such stocks more specific Asian plays, so enhancing diversification benefits.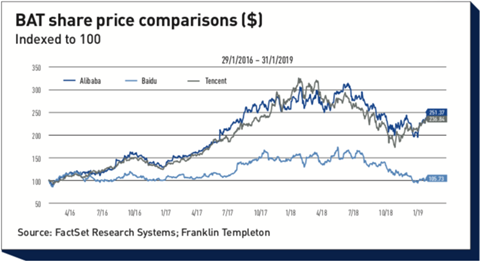 Clode says the tariffs will have a limited impact on Chinese internet companies, given that they are predominantly domestic businesses. Nevertheless, he says, they will be affected by export restrictions on semiconductors.
Apart from fundamental drivers, differences in regulation in their markets also has a significant impact, and it is working in the BATs' favour. "The political climate in the US is clearly getting more confrontational with big tech in the US," says Clode. "We expect more internet regulation in the US. This could potentially force the break-up of some of the FAANGs."
That the FAANGs face greater regulatory hurdles "makes a lot of sense", says Chesworth. "Western mega caps face political issues that their Chinese counterparties don't. The political interference that has hit Facebook is unlikely to disappear altogether, and US politicians are unlikely to want Google to get any bigger." On the other hand, while Beijing has always been interventionist, it has generally been supportive of domestic champions, creating a regulatory framework that has effectively shut out most US tech companies.
The other big plus point for the BATs is data privacy, where Chinese companies have a lot more wiggle room, just so long as they play ball with the government.
So, says Chesworth, while equities may be out of favour, "the marriage of tech and China is something that should excite investors".
China tech: Playing BATs versus FAANGs
1

Currently reading

China tech: Playing BATs versus FAANGs

2

3