Recent tax reforms and the expected inclusion in global indices of Chinese sovereign bonds has shone a spotlight on a vast, under-exploited, multi-trillion bond market.
China's bond market is the second-largest in the world. As at June 2018, the onshore bond market was capitalised at $12trn (€10.3trn), with another $1trn issued overseas – ahead of the Japanese government bond market ($11.6trn), but less than half the US bond market (see figure).
Unlocking China's bond market could be the pivotal moment for global capital markets over the next decade, according to some. Many investors see Chinese bonds as too important to ignore.
Momentum is evident in the volume of foreign inflows through Bond Connect, an initiative launched by the Hong Kong Stock Exchange a year ago.
Bond Connect allows foreign investors to access the Chinese interbank bond market from Hong Kong. A senior executive with a global firm told IPE that the monthly volume of trade through Bond Connect has risen from RMB40bn-50bn (€5bn-€6.2bn) to RMB100bn monthly.
Foreign ownership of Chinese debt remains minuscule, although non-domestic holdings of Chinese government bonds (CGBs) is close to 7%, says JP Morgan Asset Management. Average foreign ownership across all sectors of the China market, including CGBs, policy bank bonds and corporate credit, hovers around 2% .
"Such foreign ownership levels are extremely low compared to most of the other Asian bond markets which range from 10-40%," says Jason Pang, Asian fixed income portfolio manager for JP Morgan Asset Management.
Global managers point out that Chinese authorities have been preparing to internationalise the bond market – a natural progression to internationalisation of the renminbi.
This has been done by improving transparency, liquidity and, not least of all, taxation, to attract investment in renminbi-denominated bonds. In August, Premier Li Keqiang told China's State Council that, as part of government policy on tax and fee reductions to boost the economy, foreign institutions would be offered tax exemptions.
Li said levies on corporate income tax (withholding tax) and value-added tax on bond interest income obtained by overseas institutions investing in domestic bonds would be waived. The decision will be reviewed after three years. Investors describe the tax decision as a "significant" step in opening up the market, and say it will help influence the decisions of global index providers.
"Lack of clarity around taxation (in China) needed to be dealt with as a prerequisite for inclusion into the Bloomberg-Barclays Global Aggregate index," says Susan Buckley, managing director, global liquid strategies at Australia's Queensland Investment Corporation (QIC).
"In the past few days, the Chinese authorities have also solved technical issues that had prevented real-time settlements and block trading through Bond Connect."
Inclusion of Chinese bonds in FTSE Russell's World Government bond index (WGCI), and JP Morgan's Government Bond index, Emerging markets (GBI-EM), is expected to follow.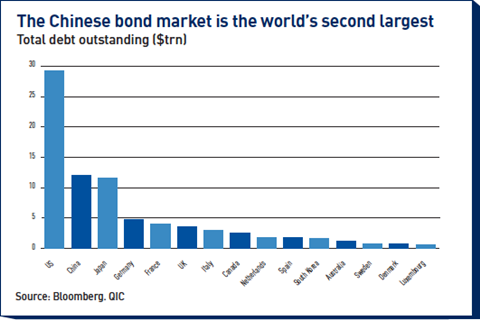 Bloomberg's move helps validate the investibility of Chinese bonds, says Pang. "If the uptick in questions and interest received from institutional investors recently is any indication, savvy investors have already heard the message about China exposure."
By 2020, Bloomberg is expected to have added more than 380 Chinese securities to its global bond index. QIC's Buckley says: "If China's bonds had been included over the last five years, we calculate that the Bloomberg index would have seen its risk-adjusted returns improve by nearly 15 basis points per annum.
"They offer diversification to fixed-income portfolios, particularly as their yields have lower correlation to global interest rates, meaning lower return volatility."
Asked about QIC's experience with Chinese bonds, she told IPE: "There are unique challenges when you participate in new markets. Consequently, it's essential that potential investors in Chinese bonds undertake extensive due diligence.
"In our case, we have chosen to work closely with a well-resourced and experienced local partner (Ping An Asset Management) with a strong track record to ensure that our exposure to default risk is minimised."
The maturity of most CGBs is 30 years, but there have been issues maturing in 50 years, says an investment banker.
CGBs carry an A+ rating, compared with AA for US bonds and AAA for Australian bonds.
S&P Global Ratings' Hong Kong-based analyst, Chris Lee points out China's Sovereign Rating is A+/Stable/A-1.
Lee told IPE that bonds issued by Chinese policy banks, such as the Export and Import Bank of China, Agriculture Development Bank of China and China Development Bank, are aligned with the country's sovereign rating.
Jason Pang says: "We work closely with our JV partners onshore in China and, from what we can understand, the liquidity of these policy banks is better than CGBs.
"Interestingly, the market cap of the bonds of these three banks is larger than the market cap for CGBs," he says. He adds that CGBs and policy bank bonds make up two-thirds of the Chinese onshore bond market.
With the potential exemption of withholding tax and waiver for value added tax, the yield from policy bank bonds will now be better than CGBs, Pang says. "We are talking about a spread of 30-50 basis points." Generally, the yield range from Chinese sovereign bonds is 3-3.5%.
But when it comes to Chinese corporate credit, the picture is different. S&P's Chris Lee says foreign investors are cautious about the credit quality of corporate bonds because of low transparency, information risks, and weak debt-servicing capacity. Also, defaults have recently started to emerge and workout is a slow and unpredictable process.
Within China, almost all domestic bonds have high ratings, he says. "Generally, something like 98% of issuance is rated at least AA- in the domestic market," Lee says, "46% of issuance is rated AAA."
In S&P's global ratings universe, AAA-rated borrowers are rare. Even within China, says Lee, bond spreads can vary widely for issuers in the AAA category. For example, S&P rates China-property developer China Evergrande Group at B+; it is AAA in the domestic market.
"However, finally the issue has been brought to the attention of investors and regulators because the default rate is increasing," says Lee.
However, some institutional investors look beyond credit or corporate bonds to the emerging Panda bond market.
To some, Panda bonds, issued by foreign corporates or foreign governments in China, present a better risk after CGBs and policy bank bonds.