Investors find cocos a good bet, especially in times of rising interest rates
Contingent convertible bonds (cocos) were invented after 2008 financial crisis as a way of protecting taxpayers from further bank bailouts. They are designed to pay attractive fixed coupons until an agreed trigger event such as a breach of capital requirements occurs or a regulatory imposition is made. Under these circumstances the cocos automatically convert into equity or are written down.
Cocos therefore improve a bank's ability to absorb loss but, depending on the terms, their holders could suffer losses even before all equity is wiped out. From a regulatory viewpoint, their attractiveness lies in that if the bank remains a going concern, it is automatically recapitalised in times of distress.
In 2017, the cocos market produced a record performance with returns of about 18% – more than European bank shares. That, says Christian Hantel, senior portfolio manager at Vontobel, makes it an asset class that investors cannot neglect.
Cocos are issued mainly in Europe although there are also Asian issuers. Cocos do not, however, exist in the US. The nearest equivalent to them on the other side of the Atlantic is US bank perpetual preferred securities, which also have non-cumulative payments and are issued by well-known names such as JP Morgan and Wells Fargo.
Almost $2bn (€1.6bn) out of a $14bn preferred security fund managed by Cohen & Steers is in cocos, says portfolio manager Elaine Zaharis-Nikas. While US preferred securities do not have the trigger event embedded in cocos, Cohen & Steers maintains that the inherent risks are similar. "If a US bank were to lose the amount of capital that would trigger a conversion in a coco of a non-US bank, then more likely than not regulators would force the US bank's preferred securities to be written down as well," she says.
"The investment analysis is similar in terms of looking at retained earnings, future prospects"

Olaf Struckmeier
The yield on cocos makes them directly comparable to the European high-yield bond market. But two key characteristics make them stand out. Firstly, despite a market size of about €180bn, cocos are not in the main high-yield indices. Secondly, the issuers are not poorly rated corporates but highly rated banks – the top four issuers are Barclays, BNP Paribas, HSBC and Santander.
The average issuer rating of the BAML COCO index is A, says Marc Stacey, portfolio manager at BlueBay Asset Management. "To get comparable yields in the US high-yield market you would need to go down to B+ and below, while the US CCC market includes the volatile oil and energy companies," Stacey says. Investors have the comfort that while the securities might be low down the capital structure, the issuers are sound.
In contrast to high yield, where the main risk factors relate to the business and financing risks of the issuer, cocos' higher coupon and the rating are not primarily related to issuer risks, says Union Investment portfolio manager Olaf Struckmeier. The issuers are usually national champions, while the coco-specific risks and the subordination of the bonds make up about half of the total risks that investors face.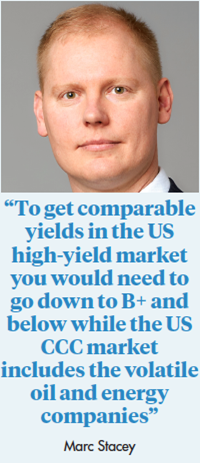 Struckmeier argues that the best comparison is European bank equity. "The investment analysis is similar in terms of looking at retained earnings, future prospects and so on, and it combines standard credit analysis with equity analysis," he says.
Coupons fell dramatically from the initial 8-9% immediately after the crisis – the latest is about 3.25% in euro terms (there is also issuance in sterling and dollars).
It is also common for them to be paid quarterly. Struckmeier says this is attractive as investors would lose only a quarter of an annual coupon if a regulator withheld coupon payments.
The drop in coupons is justified by the huge increase in bank capital since 2008. On average, European banks lost 6% of equity during the crisis, but have increased capital by 8% since then, making them a more secure investment (from a capital standpoint) for bond-holders than at any point since the crisis, says Stacey.
To get a sense of how big the cocos market can grow in Europe, Hantel says the largest banks would like to have 1.5-2% of their risk-weighted assets filled with cocos. The 1.5% minimum requirement is based on the Capital Requirement Directive (CRD IV), which came into effect in 2014 as part of Basel III. As a result, it is easy to see the European cocos market growing to over €200bn.
Cocos remain an attractive asset class for investors to consider, particularly in an environment of rising rates. The financial sector, in contrast to many others, benefits from higher rates as margins increase and profitability improves. Active managers, such as BlueBay, also benefit from a rise in dispersion – problems with issuers such as Banco Popular, Veneto Banca and Banca Popolare di Vicenza did not spread to the rest of the market. "Bonds actually rallied as idiosyncratic risk was removed from the market," says Stacey.
He also sees an arbitrage opportunity that still exists. One national champion French bank has its additional tier-1 (AT1) capital trading 200bps wider than its respective lower tier-2 securities, yet both tranches are likely to be haircut in a resolution. This discrepancy, Stacey argues, is mainly due to technical factors, for example cocos not being included in credit indices. "From a fundamental perspective we believe the differential should be closer to 75bps," he says. "So over and above the attractive yield there is still the potential for good capital appreciation and compression within the capital structure."
It is clear that cocos are here to stay. They will remain a sustainable asset class as banks continue to offer them. That should outweigh any concerns investors have about their not included in any credit index.
High Yield: New risks and opportunities
1

2

3

Currently reading

Contingent convertibles: Cocos are here to stay