Association stands ready to help determine 'the appropriate methodology to assess the future'

Some asset managers could benefit from 'first mover advantage', smaller ones could feel the pinch 
Hogan Lovells' Faye Jarvis explores what the UK's departure from the EU could mean for pension fund trustees

Prime minister Theresa May loses vote on withdrawal agreement; 'No deal' to be debated today

Government proposes powers to adopt EU-led standards beyond the UK's exit from the bloc

PLSA relinquishes board seat as it reassesses priorities in the lead up to the UK exiting the EU

Agreement is political, with further technical work needed to finalise the drafting of the text

Technical expert group proposes voluntary standard to help address barriers to growth

The euro's existential crisis subsided several years ago but it would be wrong to assume it has disappeared. The forces that could undermine its integrity have not vanished.

It is human nature to reduce the complexity of reality to simple rules, simple foci and simple decision points. In this, Brexit is no different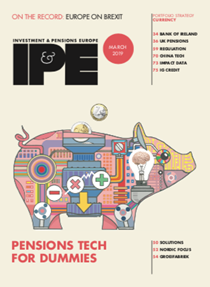 Digital Edition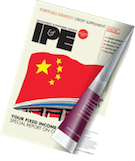 Subscribe to the digital edition of IPE magazine to view the latest issue directly in your browser.