ECB said to have agreed to discussions about the matter
MiFID II is affecting smaller company research in unexcepted ways 

Difference attributed to women entering the labour market late relative to other countries
Expert group established by trio of member states argues for next CMU phase to focus on citizens' needs

Call for research proposals launched in response to growing importance of pension and insurance sectors
If anyone in Europe was left in any doubt on 11 September about the dovishness of the European Central Bank (ECB) under Mario Draghi's leadership, by close of business on the next day their doubts were surely dispelled. On that day the outgoing president of the ECB unleashed a bout of monetary easing, in an attempt to boost euro-zone inflation from 1% to its target of "below, but close to, 2% over the medium term".

This is not a commentary on the UK within or without Europe. Brexit has been a compelling distraction but it is one macroeconomic strand in a complex world. The overwhelming coverage has also moved attention away from key internal tensions within the European project. 

IPE asked regulators and industry bodies in EU member states how they have been preparing for the UK's scheduled departure from the bloc on 31 October
Digital Edition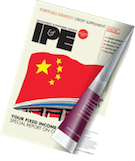 Subscribe to the digital edition of IPE magazine to view the latest issue directly in your browser.