European survey conducted by NNIP reveals 50% believe RI carries risk management challenge
IPE's Top 1000 Pension Funds survey shows that total assets under management have increased despite market turmoil

Mario Draghi's final appearance as ECB president bought a 10-basis-point rate cut and open-ended quantitative easing

The regulator has revised its timetable for the implementation of IORP II, pushing the deadline back to January 2020 – a year after it was supposed to come into force

The Law Commission was asked by the UK government to carry out a study about the system of 'intermediated securities'

Only €100bn-plus firms foresee an increase in manager numbers in the next one or two years, according to Cerulli Associates research
The EU wants to encourage environmentally friendly investment practices. Will its taxonomy stimulate the green bond market?
Will the EU Sustainable Finance Technical Expert Group's June 2019 reports on the green taxonomy, green bond standards and climate benchmarks succeed in mobilising investors and capital in support of sustainability objectives?

The Centre for Social Justice – a UK centre-right think tank – has proposed retirement policy reforms including raising the country's state pension age to 75 by 2035
Digital Edition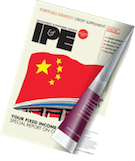 Subscribe to the digital edition of IPE magazine to view the latest issue directly in your browser.