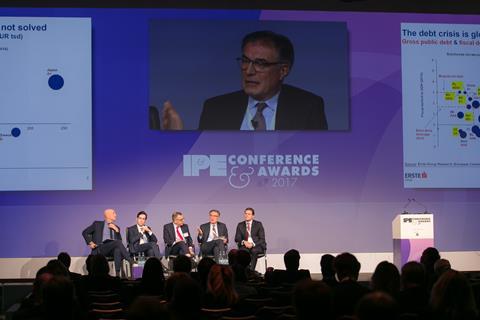 Investors missing opportunities in CEE and Greece as niche markets, delegates in Prague told
With the troubled country returning to bond markets, there may finally be reasons to be cheerful in south-east Europe

Biggest scheme in Cyprus also considering African investments
Geopolitical tensions look set to be felt across Europe in 2017. Daniel Ben-Ami and Carlo Svaluto Moreolo outline some of the most important

Plegt-Vos is the first Dutch company to relocate a defined contribution plan to Malta.Maarten van Wijk reports

Case brought by European Commission finds republic in breach of EU treaties

CFO cites lower costs than standard Dutch DC plan
Is the EU a community of states or just a trade organisation structured to stimulate demand in favour of the stronger economies? That existential question can provoke much discussion, but the relationship between the EU and Greece in the years ahead may provide the real answer.
A lot of fresh thinking is needed to resolve the European Union's existential crisis, writes Joseph Mariathasan

The re-election of prime minister Alexis Tsipras does not mean the country's troubles are at an end, warns Joseph Mariathasan

Employer group backs introduction of voluntary third-pillar system over compulsory second-pillar system

Joseph Mariathasan debates whether the euro-zone has done enough to stimuate Greek economic growth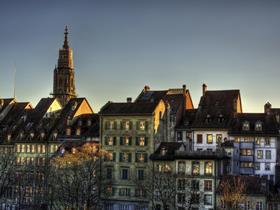 Ongoing independent oversight needed, says federal body

FRC says its voluntary levy on pension funds and insurers could increase over the next three years

Former Legal & General chairman Sir John Kingman will lead review of FRC's governance, conflicts of interest and accountability
£3bn wiped off DB scheme shortfall after an update to its discount rate model
Plus: IASB framework reintroduces prudence; FRC hits back at criticism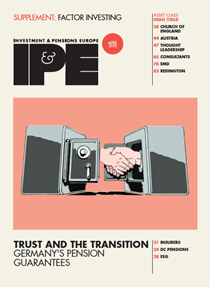 Digital Edition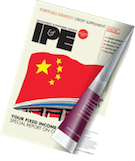 Subscribe to the digital edition of IPE magazine to view the latest issue directly in your browser.
Europe's asset management industry is lobbying against any mandatory guaranteed default option in the third-pillar PEPP proposal

As the risk of a no-deal Brexit comes into focus, attention is turning to ways to mitigate the damage across financial services, including asset management and pensions

The EU's securitisation package has finally passed through the European Parliament and Council. However, the new rules will not be applied until January 2019

The EU's controversial mandate for a radical shake up of financial supervision has received a cool reception from the pensions sector as well as smaller EU members

International investors in the EU have for decades been suffering from woeful dispute settlement proceedings when involved in cases against public authorities

Discussions over the payment of social costs for workers from central and eastern European countries posted temporarily to wealthier EU countries are playing a major role in the attempt to update existing directives

At first sight, the benefits of the European Commission's Pan European Personal Pension (PEPP) regulation proposal seem clear. But it did not take long for commentators to point out the considerable hurdles

The European Commission's "further steps to drive forward the Capital Markets Union (CMU)" outline nine new priority legislative actions to solve the EU's long-term cross-border investment challenge

Strong words on Brexit are flying in political circles. But behind the theatre, concerns about the future of London's fund management sector are emerging

In contrast to complaints that Brussels's legislation burdens the financial sector, the European Commission may be gratified by the positive response to its flagship Capital Markets Union (CMU) programme. 

Nothing could be clearer. For the financial sector, at least, there is nothing to fear from Brexit. All the UK has to do is to apply to the EU's rules – the crucial term 'equivalence'

The European Commission's project to set up a pension scheme for research and development professionals whose careers take them across EU borders has finally reached its first stages of operation.

The prolongation for 18 months of pension funds' exemption from posting collateral when trading over-the-counter (OTC) derivatives is leading PensionsEurope to seek clarification. 

There is increasing attention in Brussels on company reporting, taxation and offshore financial centres. The G20 and some OECD countries have demanded country-by-country reporting rules for multinational companies with a turnover over €750m

Legislation proposing pan-EU personal pension products (PEPPs) could be tabled in 2017, according to the European Commission

A former director of the European Association of Paritarian Institutions (AEIP) has proposed a new option for occupational pensions that could help the large number of workers whose careers take them across EU internal borders.

Valdis Dombrovskis has assumed responsibility as commissioner in charge of the flagship Capital Markets Union project. But he has also assumed the added complication of the withdrawal of the UK

It will not be the first time that proposed revisions to EU rules affecting finance and pensions get stuck in a logjam between interests groups

Pressure to clean up the financial sector has led to copious legislation from Brussels. 

There are plenty of indicators of rising pressure to advance ethical standards across the financial sector. One outcome takes the form of mountains of clean-up legislation, including from Brussels.