Despite its several ailments, the health of the Italian pension industry keeps improving
Key points
Italian pension funds are growing both assets and members
Coverage is unevenly distributed among ages, sexes and regions
The impact of the recent first-pillar reform is not as negative as first thought
Pension funds are diversifying but significant obstacles remain
As in most years, the 2019 annual briefing held by Italian pension regulator COVIP was an understated affair. This is in contrast to the grandiose venue where the event took place in June – the art-nouveau Palazzo Montecitorio, seat of Italy's lower house of parliament in Rome.
A relatively small group of high-profile pension industry figures and journalists attended the event. Mario Padula, Covip's chairman, briefed the audience on the state of second-pillar pensions. Listening in was also a group of secondary school students, supposedly invited to learn about pensions. Padula jokingly thanked them for bringing down the average age in the room.
Following the briefing, many media outlets focused on the gloomy element of Covip's report. They pointed out that pension funds recorded negative returns during 2018 and that coverage of the second-pillar system is still low, with underrepresentation of women and young people especially.
There are plenty of positives in the report, points out Renato Guerriero, global head of distribution at Candriam. Covip reported that the number of employees covered by a second-pillar pension rose by 4.9% from the previous year. Second-pillar pension funds have 7.9m members collectively, or 30.2% of the workforce. Membership of industry-wide pension funds grew 6.8% to 3m. This is thanks to a quasi-automatic enrolment mechanism introduced by trade unions and employer associations in certain sectors.
During 2018, assets grew by 3% to €167.1bn, which equates to 9.5% of GDP and 4% of the financial assets held by Italian households. Pension funds collected €16.3bn in contributions. Industry-wide pension funds saw contribution levels rise by 5.7% to €5.1bn.
Guerriero says: "The growth of membership, contributions and assets is very encouraging news. It shows that the sector is growing, despite a number of members interrupting contributions and withdrawing assets early. This is particularly relevant, given the volatility of the Italian economy. The data on coverage is particularly positive."
Guerriero also pointed to recent research from MEFOP, a government-sponsored pension think tank, on satisfaction of current members of pension funds. The research, presented in Rome earlier this year, found that 74% of pension fund members are either 'satisfied' or 'very satisfied' with the experience. "This is important data, as it shows that once employees are engaged, they are happy about the service and the results they get," says Guerriero.
The sore point is 'inclusion' in the second-pillar system. Only 20.4% of under-35s are covered, one-third less than workers of 35 to 54 years of age. Young workers contribute two-thirds less than older ones. Coverage is lower for women (26.9%) compared with men (32.7%). The wealthier regions of Northern Italy also has higher participation in the second pillar.
Padula addressed the low and varied patterns of coverage and commented on the various ways that are being explored to solve the problem. He said the fiscal incentives to save for a pension should be expanded. He recognised the significance of the National Strategy for Financial Education, a series of initiatives to raise financial knowledge and skills among Italian people.
The Covip president also praised a joint initiative by pension funds to facilitate contact with prospective members, by creating a network of regional offices. Finally, Padula mentioned the need to allow employees to sign up to a pension fund through an online process, which is not yet an option in Italy.
The fact that, overall, less than a third of employees are members of a second-pillar pension fund should be a concern. The levels of first-pillar pension payouts are expected to fall significantly and second-pillar pensions are widely recognised as a key instrument to avoid hardship during retirement.
Unsurprisingly, Padula, as representative of an impartial authority, did not make any comments about the current government's responsibility to contribute to the growth of the second pillar.
However, the pension industry is making no secret of its discontent with the government's lack of action and vision. At last year's annual meeting of Assofondipensione, the industry-wide pension fund association, president Giovanni Maggi criticised the government for its failure to ease the development of the sector. He interpreted the absence of a government representative at the meeting as sign that policymakers are not interested in the sector.
Candriam's Guerriero says: "I fully agree that the government is not helping second-pillar pensions in any way. Thankfully, despite an absent government, the sector is growing and members are happy. Credit must be given to the pension funds themselves, which spend a huge amount of time reaching out to prospective members in meetings with employees, providing important educational work."
Temporary reform
The government has focused its attention on the first-pillar pension system instead, introducing a controversial measure to allow some workers to retire early. Thus the current government reversed the course of previous governments, which had attempted to cut pension spending to increase the sustainability of public finances and abide by European Union rules.
Pensions were a focus of the campaign that brought to power the populist coalition government, led by the anti-establishment and eurosceptic parties Five Star Movement and Lega. The latter party, in particular, promised to dismantle the 2011 'Fornero' reform at any cost. The reform, passed by a technocratic government amid the euro crisis, raised retirement age and linked pensions to contribution levels.
The measure passed by the current government, known as 'Quota 100', allows workers aged 62 with 38 years of contribution to retire. That is five years less than the normal retirement age of 67 years. The option will be available until 2021.
Various estimates of its impact on Italy's public finances were given prior to its approval. It was clear from the beginning, however, that it would require the government to increase the budget deficit. This was justified on the grounds that retirement at an earlier age was a basic right. The government also argued that allowing people to retire would free up jobs, therefore raising employment and demand.
The overall impact of Quota 100 is less than predicted, according to Alberto Brambilla, a former undersecretary in the welfare ministry between 2001 and 2005, during Silvio Berlusconi's government. Brambilla, who founded and leads pension think tank Itinerari Previdenziali, contributed to the design of the Quota 100 reform on behalf of Lega, but the actual reform is somewhat different from his original plan.
Brambilla says: "In contrast with some government estimates that forecast as many as 600,000 requests to retire with the Quota 100 option, our estimate is that there will be around 250,000 retirees by 2021. At the same time, the government's cost estimates were very conservative and the actual costs will be lower, which means there will be significant budget savings."
However, Brambilla notes that Quota 100 has allowed a large number of workers, who were close to retirement before the introduction of the Fornero reform, to retire. "Many decided to continue until normal retirement age to avoid the reduction in pension benefits that come with early retirement," says Brambilla. While Quota 100 does not foresee penalties for early exit, those who retire early face lower pensions due to the link between contributions and pension levels.
The impact of Quota 100 in terms of job creation and internal demand has also been muted.
As things stand, after 2021 the Quota 100 measure expires. There are still ways to retire early but at a much higher cost. "Going back to the previous regime would not be a glorious thing. We hope that the government listens to our reform proposal, which allows for early retirement and is not an experimental, one-off measure," says Brambilla.
Specifically, he proposes to maintain the 67 years as a normal retirement age but to allow early retirement at 64 and at least 37 years of contributions. This is as long as the accrued benefit is equal to at least 1.5 times the basic welfare cheque.
Retirement would also be allowed, regardless of age, to men who have contributed for at least 42 years and 10 months and women with 41 years and 10 months of contributions. These proposals take into account the predicted fall in benefits caused by the gradual shift from a DB to a fully DC arrangement, as the current regime foresees.
The proposals are beneficial to young people, according to Brambilla. In the current regime, young workers face retirement at the age of 75 with a benefit of 2.8 times the basic welfare cheque. This is the result of the current mechanism for reviewing retirement age along with rises in life expectancy. Brambilla's proposal scraps the requirements for the minimum accrued pension benefit.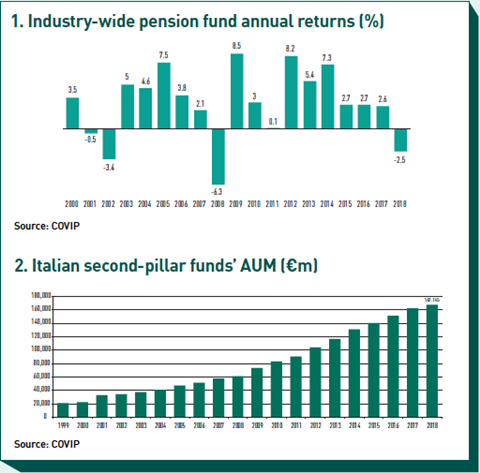 Italy's pension system is under pressure because of the ageing of the population, notes Brambilla, but there are ways to rebalance the system, making it affordable, sustainable and fair. Job creation, however, is a priority to guarantee the health of the pension system. He says: "The government should invest more in research and development to stop the outflow of graduates."
Scheme portfolios evolve
Recent data suggest that Italian pension funds are evolving in terms of asset allocation and portfolio construction. Candriam's Guerriero points out that funds are clearly moving away from balanced mandates and towards specialist mandates. There is also a noticeable shift from passive towards active mandates.
According to MEFOP, between 2017 and 2018 the number of specialist active mandates grew from 30% to 37% and the corresponding assets under management rose from 26% to 31% of the total. The number of balanced mandates fell from 63% to 58% and the number of passive mandates also fell from 6% to 5% over the period.
Guerriero says: "The sector is maturing rapidly and pension funds are moving away from the idea that balanced mandates are the only option to keep volatility low. We have also seen a shift towards an absolute-return approach to portfolio construction in the fixed-income space."
"It is also important to note that this shift towards active mandates does not necessarily translate into significantly higher costs for Italian pension funds. The Italian market is highly transparent and competitive and asset managers cannot force high fees on clients," Guerriero adds. In fact, the indicator for annual costs of industry-wide pension funds over 10 years fell from 40bps to 39bps between 2017 and 2018.
The shift towards more specialist active mandates for equity and fixed-income assets is part of an overall drive towards diversification, says Antonio Iaquinta, head of institutional business for Italy at State Street Global Advisors (SSGA). Iaquinta says: "There is a perception that the cycle is coming to an end and that with the current asset allocation models there is a risk of falling short of the required returns.
As a result, pension funds are giving more freedom to managers and relaxing the limits of mandates in terms of volatility."
More importantly, concerns about the low expected returns from traditional asset classes are pushing funds towards alternatives. Iaquinta argues that Progetto Iride, a partnership of five industry-wide pension funds to invest in private equity (see article in this report), may serve as a positive example of how collaboration among funds can raise their participation in private markets the domestic economy.
This diversification shift is also a sign that the sector is maturing, but there are still a number of obstacles to its growth, according to Iaquinta. From an asset allocation perspective, pension funds would benefit from consolidation as they approach both public and private markets with higher asset levels and stronger internal structures. "However, there is no strong desire to consolidate among small funds in similar sectors, partly because it is hard to show the benefits to members in terms of costs. Funds have always been able to negotiate low fees for their investments, so far. That might change if they start investing in more specialist mandates and alternative assets," says Iaquinta.
"Then again, pension funds lack the government's support both in raising their profile among employees and in finding investment opportunities. Second-pillar pension funds may be seen as an increasingly important component of the economy but the government should back a campaign to educate employees about their role in funding retirement in the future."
Private equity: Visions of the future
1

2

3

Currently reading

COVIP: The glass is half full

4

5

6