With the end of the COVID-19 pandemic still out of sight, any forecast of the size of economic damage it will inflict has to be viewed with caution. Yet there seems to be a consensus that default rates on leveraged loans will stay elevated throughout 2021 and beyond.
● US and European leveraged loan defaults expected to rise and stay high through 2021
● Investors' appetite for the asset class has stayed strong
● Weaker covenant structures have yet to be tested
S&P Global Ratings expects the default rate for speculative-grade debt, which includes high-yield bonds and loans, to double by June 2021. The firm forecasts default rates will rise 12.5% in the US, from 6.3% in September 2020, and to 8.5% in Europe, from 4.3%.
Fitch Ratings, instead, expects the default rate for US institutional term loans to remain at 5% until 2022. This would bring total defaults to between 17% and 20% over a three-year period, higher than the level of defaults that followed the global financial crisis. Interestingly, Fitch predicts defaults on loans will top high-yield bonds.
Fitch also forecasts the default rate for European corporate loans to reach 3.8% by the end of the year, up from a pre-pandemic forecast of 2.5%. The firm reports that the default rate rose to 2.2% in September 2020.
Against this seemingly alarming backdrop, investors' appetite for leveraged loans has barely shifted, owing to the attractive yields offered by the asset class.
The market has generally held up well in the wake of the pandemic. Markets seized up in March, but issuance recovered strongly during the second and third quarters. Leverage in transactions has grown since the onset of COVID-19 but spreads per unit of leverage have risen, according to S&P, compensating investors for the added risk. Yields have fallen, in turn, thanks to strong demand from investors.
However, there are lingering concerns about the quality of the loans issued in recent years, since the vast majority lack the covenants that lenders usually demand.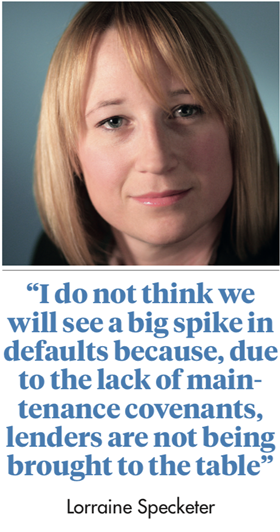 In these so-called covenant-light, or cov-lite, transactions, issuers have been able to shed maintenance covenants, which test the financial strength of issuers on a regular basis. With cov-lite packages, borrowers and their private equity sponsors face few restrictions. For instance, they maintain the ability to add leverage or pay dividends.
As the credit cycle unwinds, there has been ample debate over whether the prevalence of cov-lite loans represents an added risk to the market. The question is whether recovery rates for cov-lite loans will be significantly lower than other loans, amplifying losses for investors and thus affecting returns.
Lorraine Specketer, portfolio manager at Insight Investment, says that the prevalence of cov-lite loans means that investors will see fewer technical defaults. That should lead to a longer and more elevated default cycle, rather than a short cycle characterised by heavy losses.
Specketer says: "I do not think we will see a big spike in defaults because, due to the lack of maintenance covenants, lenders are not being brought to the table.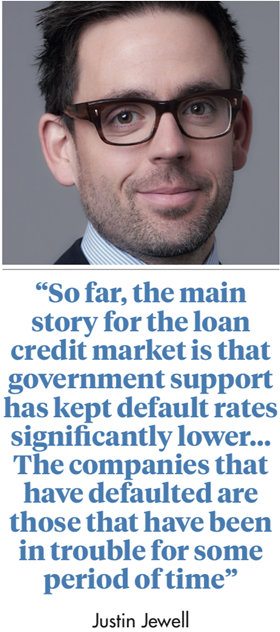 "In some cases that is not a bad thing, because it could allow the sponsor of the company to manage the company out of the trouble, particularly in the situation we find ourselves in. If it is a decent business, and it is just in a COVID-related sector, then it can manage its way out."
Specketer argues that a rise in default rates will be led by businesses that were already struggling before the onset of COVID-19. She expects recovery rates to be lower, potentially due to cov-lite.
She says: "The potential for lower recovery rates is part of our analysis, but our strategy consists of avoiding names that will default. As part of our process of stock selection and monitoring, if we see any sign of trouble, the goal is to get out before we go down a recovery route."
Overall, Specketer says she is optimistic that the asset class will deliver on its promise, as the market is in much better shape than it was prior to the global financial crisis.
"This is a completely different type of crisis. In 2008, banks were shutting down and not lending, which had a knock-on effect on the crisis. During this crisis, the markets have been working, banks are still lending and private equity sponsors are still supporting their companies. Liquidity was available to companies during the height of the crisis, which had not been the case during the last crisis.
"Cov-lite aside, I feel that investors are being compensated for the risk. Loans remain a scalable and predictable income-generating asset class," she says.
Justin Jewell, senior portfolio manager at BlueBay Asset Management, holds a similar view. He argues that weaker covenants are a problem related to a limited number of borrowers, rather than the whole market.
Jewell says: "There is no doubt that the weaker covenant structures cause lenders to face greater loss when they get their underwriting decisions wrong.
"The question is really how many of these issues are showing up. Because of the scale of government support, we haven't really reached the phase where there are a large number of tests to these structures. We are yet to see many sponsors make decisions on how to support struggling businesses, and to what extent they exploit covenant loopholes to try and keep hold of the business for longer, rather than being supportive with equity injections.
"So far, the main story for the loan credit market is that government support has kept default rates significantly lower. Where there have been defaults, those have happened with relatively low recoveries. The companies that have defaulted are those that have been in trouble for some period of time.
"I can think of a few names that are experiencing difficulties, where it is quite likely that part of the way that sponsors try to keep hold their investments involves being reasonably aggressive with covenants. But we are talking about three or four names in a 200-issuer universe. It really doesn't tell the story about the whole market", he says.
Peter Gleysteen, CEO and CIO at AGL Credit, a New York-based asset manager specialising in senior secured broadly syndicated loans, says the asset class is fundamentally misunderstood. Diversified portfolios of broadly syndicated senior secured loans, he says, can absorb losses stemming from individual issues.
Gleysteen says: "As well as diversification, the safety factor of a loan portfolio is the regular cashflows from the different borrowers in the portfolio. This creates highly stable returns. That is widely misunderstood, as is the fact that leverage can amplify the excess spread."
The perception that leveraged loans are a riskier asset class than they actually are could be explained by the fact that most institutional investors are new to this sector. Chris Redmond, head of manager research at Willis Towers Watson, points out that most clients have started investing in high-yield, loans and private debt relatively recently.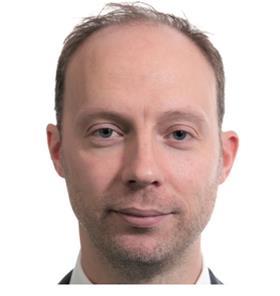 Remond says: "Few of our clients have implemented a full alternative credit allocation that allows them to switch dynamically between these asset classes. For the majority of investors, who are faced with a potentially higher risk of losses on loan portfolios due to the prevalence of covlite, the decision in front of them is less clear."
However, Gleysteen sees the anxiety around cov-lite as another aspect of the negative perception of the asset class.
He says: "If a borrower is able to earn cashflows and make interest payments, its creditworthiness does not depend on whether or not it has a covenant. Its creditworthiness is a function of its business model, its financial resilience, of how it generates its cashflows and its capital structure.
"Few of our clients have implemented a full alternative credit allocation that allows them to switch dynamically between these asset classes" - Chris Redmond
"If a borrower has many covenants but is overleveraged, then it still won't make its interest payments. Covenants are a good thing, but they are not an indicator of creditworthiness or future performance."
Gleysteen adds that despite the weaker covenants, the current vintage of loans is particularly attractive.
"Companies that have survived the pandemic are in a good position. We are in an economic recovery, with a low risk of getting overheated. The shock of the recession has made credit risk more visible, and at the same time the market requires a higher risk premium, which means investors are getting paid more.
"The expectation is that this vintage will end up being one of the best we have experienced so far," he says.
Briefing: Feast or famine
1

Currently reading

Briefing: Feast or famine

2