As the world struggles to get back to pre-pandemic conditions, with schools and offices open, economic forecasting seems even less predictable than ever. Take August's US payrolls report, which again confounded most forecasters. Analysts scrambled to explain why the headline job gains were so weak, particularly after the huge (forecast-beating) gains the previous month.
Real world tensions constrain market sentiment
Federal Reserve quietly exits US corporate bond market
European growth surprises on the upside
Some sectors, specifically leisure and hospitality, added no jobs at all during the month, while retail lost nearly 29,000 jobs. Much of the forecasting 'error' seemed to be related to consumer behaviour. This may suggest that apprehension about the pandemic is still weighing more heavily on sentiment than expected.
But what the report also highlights, with average hourly earnings again clearly beating expectations, is the problem of supply-side bottlenecks, which remain a concern for future inflation plots. There may be rising risks the Federal Reserve is failing to achieve two of the three main goals of its monetary policy. That is maximising employment with stable prices, though long-term interest rates are still moderate.
Although a growing number of observers may suspect that the Fed is falling behind the curve, the majority view remains that this inflation surge will be transitory. And given the relatively muted response to August's surprising jobs numbers, it seems that market positioning is not that extreme at present.
While financial markets got through the usually more volatile summer months in reasonable shape, this was in the face of many tensions in the 'real world'. These included the pandemic and its menacing Delta variant and the huge upheaval in Afghanistan. With the usual slew of important elections, the major central banks still entrenched in their huge market interventions, and economic progress (or otherwise) still so dominated by the pandemic, there is little reason to expect a quiet time for financial markets in the coming months.
Cryptocurrencies – not yet an institutional asset class
Cryptocurrencies' volatility has been headline-grabbing for several years. El Salvador's announcement of plans to introduce bitcoin as legal tender has brought a new facet to the attention-seeking world of digital currencies.
The move, apparently backed by some wealthy California-based crypto enthusiasts, has been met with some scepticism. Both the World Bank and the International Monetary Fund stated they would not be able to support the move. And initial reports suggest the launch may not have been a huge popular success.
It is true that governments and central banks around the world are apparently hard at work laying out timetables for their digital ambitions. However, the current lack of regulation remains a big deterrent to investors. That is despite an apparently rapidly growing appetite for digital assets, from both private and institutional investors.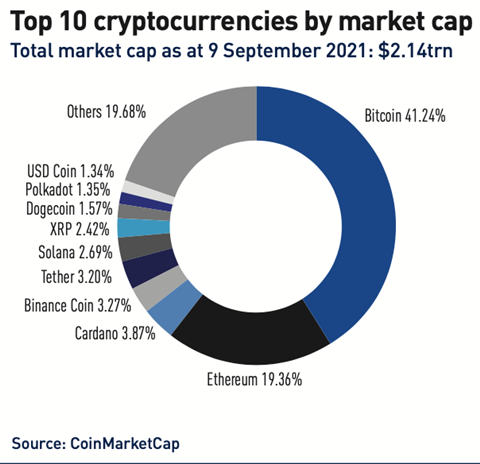 As to whether crypto has earned the right to be described as an official asset class, the debate continues. For the early adopters, and crypto enthusiasts generally, there is little doubt that Bitcoin, Ethereum and the rest should be thus described. They argue that today's level of engagement in crypto by so many institutional investors should be enough to merit its inclusion as a separate asset class.
But there are plenty of crypto critics too. Nouriel Roubini, professor of economics and business at the Stern Business School in New York, is perhaps one of the most vociferous. He argues that crypto currencies do not trade like currencies. That is because they are not currencies, they do not have any fundamental value and they are driven by speculation and FOMO (fear of missing out).
It remains to be seen whether crypto will be able to offer sufficiently attractive risk/reward balances, or low enough correlations to other asset classes, to become an attractive asset to hold in a conventional portfolio. Though regulatory developments may not be happening fast enough to satisfy all investors, this is a rapidly changing technology. New types of currencies are appearing, raising the possibility of many new applications. And, whether or not crypto achieves official asset class status any time soon, mainstream investor interest is certainly increasing.
Bonds
As summer holidays end, and children return to school, this year feels less odd than 12 months ago, despite still not having emerged from the pandemic. Some things are normalising at the Fed, for example, which has, quietly and smoothly, exited the US corporate bond market.
Like the other central banks, the Fed's dramatic interventions began in March 2020. That was when the pandemic took hold, lockdowns were first introduced and palpable panic set in. Volatility soared everywhere.
The size of corporate bond purchases was dwarfed by those carried out in both the Treasury and mortgage-backed securities markets (and which are, of course, still ongoing). Meanwhile, the outright buying of corporate debt was ended in December 2020. Many observers agree that central banks' bold interventions were useful at the time. It is also widely accepted that the Fed's actions helped prevent the (US) corporate bond market from seizing up, in the panicked confusion of March 2020.
But the Fed's moves have served to highlight the unspoken role it plays in the US corporate bond market. That is maintaining the liquidity and orderly functioning of the vast market. The mutual fund industry holds over $2trn (€1.7trn) in corporate bonds and maintains a pledge to its fund holders that daily redemptions will always be possible. But back in early 2020, that pledge became extremely hard to keep as liquidity rapidly dried up. The Fed stepped in, restoring liquidity, but not specifically rescuing funds that were getting into serious trouble.
Which raises some serious questions for the mutual fund industry, and the potentially great systemic risk it poses with this promise of funding daily redemptions. Fed chair Jerome Powell has mentioned this vulnerability before, stating: "We are looking at ways to make those vehicles (money market and corporate bonds funds) resilient so that they don't have to be supported by the government whenever there's severely stressed market conditions."
Currencies
Although the Fed is urging market participants to agree with it that 'tapering isn't tightening', almost all the major central banks are keeping policy loose. They are also avoiding suggesting any plans to further ease policy soon. The exception is China where the central bank may buck the trend in the face of more lockdowns and severe flooding in some parts of the country. It also faces generally slowing growth amid deteriorating business sentiment.
While China's recent export performance has surprised to the upside, the central bank is still likely to maintain its more dovish stance. Although the currency remains reasonably well supported, worries about the Fed's actions combined with the possibility of further unexpected regulatory moves from the Chinese authorities could leave the currency vulnerable in the short term. These concerns could also reverse the positive capital flow picture.
Heading into autumn, after a reasonably calm summer, foreign exchange positioning does not appear hugely lopsided. With European growth surprising to the upside, and certainly outpacing other regions, some are suggesting that the talk from the European Central Bank could turn more hawkish. That is particularly in light of the rising inflation data. And with the prospect of a more left-leaning coalition in power in Germany, perhaps the outlook for fiscal policy could become more accommodative.
Together these forces could mean a more supportive view on north/south fiscal transfers within the euro-zone. This in turn could help lower European sovereign risk.