The media briefly got excited when the followers of Reddit – a social news website often used by political activists – ineffectually attempted to ramp up silver prices in February. But news about commodity prices other than oil and gold rarely make headlines. For most institutional investors, commodities are a Cinderella asset class. A fleeting moment in fashion before the 2008 global financial crisis (GFC) has been superseded by widespread indifference.
● Believers in a new commodities supercycle of rising prices are focused on three 'R's – rebound, reflation, and its ugly twin, repression
● Policymakers may be tempted to reduce the debt burden by allowing inflation to creep up
This is not prejudice or an unwillingness to embrace new ideas. The 'other' component of non-traditional asset classes in the Willis Towers Watson Global Pension Asset Survey almost doubled from 13% to 23% between 2004 and 2020. But while illiquid investments ranging from infrastructure to farmland have become fashionable, the rationale for buying liquid commodity futures has largely not stood up to scrutiny.
As Jeroen Blokland, head of the multi-asset team at Dutch fund manager Robeco with €246bn in assets, explains: "We look at adding commodities to portfolios from an optimisation and diversification perspective. Since 2008 and in our most recent calculations, the correlation with equities is high, currently around 74%, using the Bloomberg Commodity index [BCOM], and the long-run expected returns are lower."
However, there is a growing belief that the investment climate is set to change. Blokland began buying into commodities last summer, although he stresses that this was a tactical decision.
Other fund managers are even more bullish. A a transition point has been reached, says Trevor Greetham who runs segregated multi-asset mandates and part of the Governed Range of pension funds – about a third of total assets of £148bn (€173bn) – at Royal London Asset Management.
He says: "I look at the long term. That suggests the period post-GFC is the exception. Broadly, until then, commodities offered a risk premium on a par with equities. If that is the case and if correlations revert to something like historical levels, you can assume almost any risk premium over cash to get to quite high allocations to commodities. Our strategic mix is 5% but we can, and do, add to it tactically."
Although 'this time is different' may be the most dangerously abused four words in investing, 'this time it rhymes', has a more soothing tone. The monetary and fiscal policy response to the Covid-19 pandemic is unprecedented in scale, but it is classically Keynesian in design. Believers in a new commodities supercycle of rising prices for a prolonged period are focused on three 'R's: rebound, reflation, and its ugly twin, repression.
Two types of inflation
The COVID-19 virus first appeared in China. Since the second quarter of 2020 the Asian economic giant has enjoyed a remarkable rebound. It is the only large economy to record positive economic growth over the year and analysts expect to see an 8% jump in GDP this year. That has been good news for commodity prices; the S&P GSCI index rose 87% from its low in April 2020 to mid-January 2021.
But as significant as China is to the world economy and commodity prices, the US, Japan and EU represent more than double its GDP (when calculated at market prices). They have embarked on quantitative easing (QE) on steroids – the US Federal Reserve took three years between 2008 and 2011 to increase the size of its balance sheet by the same amount as it did in 2020.
"We look at adding commodities to portfolios from an optimisation and diversification perspective. Since 2008, and in our most recent calculations, the correlation with equities is high… and the long-run expected returns are lower" - Jeroen Blokland
Asset purchases by the Fed, European Central Bank (ECB), Bank of England, Bank of Canada and Bank of Japan have totalled more than $5trn in the past year. US M3, broad money growth, was 22% annualised in 2020, compared with 15% in the quarter following the collapse of Lehman in 2008 and 19% in 1919 at the end of the First World War. Announced fiscal stimulus in developed nations is already 9% of total GDP.
Strategists think that the case for a global economic rebound from COVID is already reflected in asset prices. The current Shiller CAPE (cyclically adjusted price-earnings) ratio for US equities is 33 times, a higher level than before the great crash in 1929. Long-term interest rates are also at record lows, driving the yields from government bonds and corporate credit into negative territory ($17trn in issue worldwide in November 2020).
Asset price inflation has been a consistent investment theme since the GFC – US stock markets hit their lows in March 2009. That has not been reflected in general price inflation, which is more supportive of commodity markets and where financial actors play less of a role. Royal London's Greetham says the economic context is different. "What happened with QE from 2008 is that central banks kept the commercial banking sector afloat. That money was not recirculated into the economy. It was a sinkhole, but did keep the banking system functioning. Now we have a situation where that money is being sprayed into the economy, bank balance sheets are largely sound and even if they did want to call loans they do not have to, because they are government-backed," he says.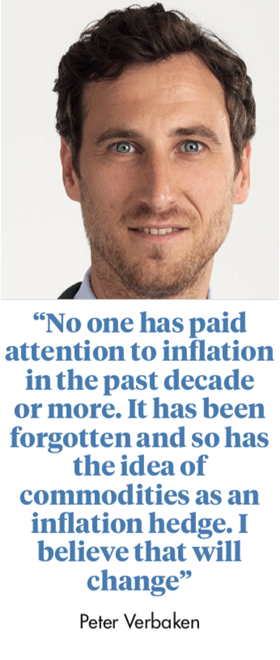 The famous observation by Milton Friedman, the Nobel prize-winning free-market economist, that inflation "is always and everywhere a monetary phenomenon" has been widely dismissed by neo-Keynesians, partly because massive QE post-GFC did not trigger it. But there is an equation that underlies Friedman's dictum: MV = PQ. In the aftermath of the GFC a lot of 'M' (money) found its way into stock markets, bonds and real estate.
'V', the velocity of money flowing to the real economy, did not increase as would be expected in a normal economic cycle because banks were Greetham's "sinkhole". General price inflation (P) was therefore subdued. Friedman's 'Q' is supply, which is a commodity-by-commodity issue, and will be addressed in a later article.
However, there are already signs that the current economic cycle might be what Robeco's Blokland calls "old-fashioned". The breakeven rates for 10-year US Treasury inflation-protected securities (TIPS) are above the Fed's target of 2%, five-year, five-year forward inflation swaps, and rising commodities prices all tell a similar story: investors are beginning to price-in a reflationary recovery.
Irrational indifference
The current economic backdrop is one in which commodity investing should thrive. Policymakers will welcome rising inflation rates. Deflation is the worst possible outcome when debt levels are so high. But the biggest risk to broader asset prices is if benign reflation turns into malign inflation. That is an outcome investors can only hedge against with real assets. Figure 1 shows just how destructive inflation can be, particularly to portfolios with large bond weightings.
The relentless decline in bond yields since 2008 has boosted returns to long-duration portfolios. There is now asymmetric risk; a small rise in yields will result in large losses. Elroy Dimson, Paul Marsh and Mike Staunton, all business school professors, show that the real return on equities turns negative at 4.5% inflation rates or higher. Correlations between fixed income and equities also tend to converge as inflation rises – a perfect storm for asset allocators.
Commodities are one of the few potential safe havens. Peter Verbaken, head of commodities at APG, the largest pension fund in Europe, with €573bn in assets, says: "No one has paid attention to inflation in the past decade or more. It has been forgotten and so has the idea of commodities as an inflation hedge. I believe that will change."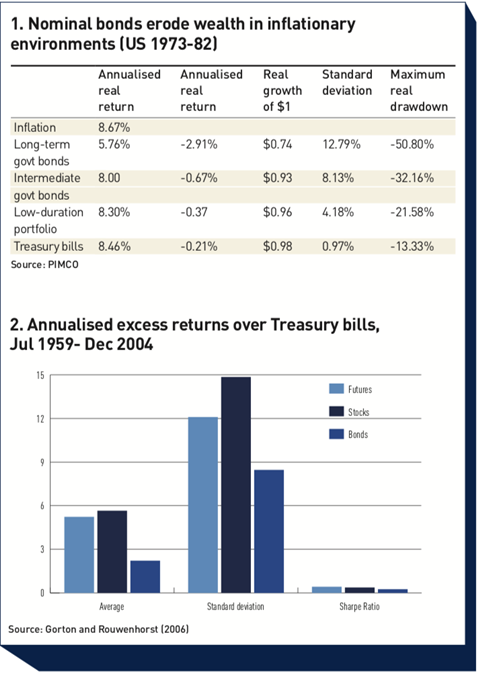 The dalliance of pension funds with commodities in the mid-2000s was inspired by a flurry of positive academic research. The most influential was probably an Ibbotson Associates study in 2006. Using a Black-Litterman optimiser it suggested allocations of up to 20% were reasonable. Royal London's Greetham was working at Fidelity at the time, running multi-asset portfolios and factored in commodities, although with a much lower strategic weighting.
Ten years later, after the GFC at Royal London, he approached a large commercial provider of optimisation analysis to sense check his earlier work. It did not include commodities in its asset allocation menu at all, judging the asset class "controversial".
The Willis Towers Watson Global Pension Assets Survey recorded a 2% allocation to commodities in 2009. The same survey does not measure the equivalent number now. Early adopters, such as the €266bn in assets Dutch healthcare sector pension provider PGGM, have subsequently stopped investing.
The risk, return and correlation factors that Ibbotson and others were using in 2006 are inherently dynamic. So far, they are yet to shift decisively in favour of commodities, as Robeco's Blokland points out. But the disappearance of inflation was a long-term trend that few could foresee 20 years ago. Similarly, the return of inflation is only now beginning to be contemplated.
Repression cure?
TIPS breakevens began to rise late last year. In August, at the Jackson Hole symposium on global economics, the chair of the Fed, Jay Powell, announced a subtle but significant shift in US monetary policy. Instead of setting an explicit target for prices (2%), he announced that the Fed would tolerate greater inflation over the course of the economic cycle if it had been below target previously. This change may be pragmatic or cynical, depending on your view.
According to the International Monetary Fund, the debt-to-GDP ratio in developed economies has hit 123%. This is close to the levels at the end of the Second World War. Financial repression will never be announced as an official policy goal, but keeping inflation higher than policy rates, if growth is reasonably robust, is a politically palatable way of reducing debt rapidly.
The alternatives are austerity or higher taxes. Greetham points out that cash holders have already endured financial repression. In the UK, since the GFC, cash after interest has lost 24% of its value in real (inflation-adjusted) terms, almost as much as the 27% decline in the inflationary 1970s.
APG's Verbaken says: "The easiest way for any government to reduce its debt burden is through inflation. There is an obvious precedent [post the second world war]. For a long-term investor like APG, that is a risk that must be hedged against. That's one reason we continue to hold commodities, particularly now. I think the US is already on that path. Europe will be slower because of the Bundesbank. But if the realities of the debt don't change, the policies must."