Pension providers are venturing outside their traditional markets, reflecting changing career patterns, writes Rachel Fixsen
At a glance
• Competition looks set to intensify between labour-market pension schemes and commercial pension schemes.
• There is momentum towards economies of scale in the pensions sector.
• Consultants say that the shift towards pensions without yield guarantees has increased competition.
The line dividing Denmark's industry-wide supplementary pension schemes and its commercial pension providers was crossed twice in October.
A commercial contract win for Sampension and a PKA announcement that it is trying to attract new members employed in the private sector could herald a phase of competition between these types of pension fund.
Sampension, which manages DKK264bn (€35.4bn) of labour-market pensions assets, won a corporate pensions contract to manage pensions for the Sportsmaster retail chain, from its current provider, Nordea Life & Pensions.
This success follows a 2015 decision by Sampension to focus on running occupational pensions for small and medium-sized companies. These will operate alongside its traditional business of labour-market pensions that formed part of collective bargaining agreements.
Although Sampension already technically had corporate pension schemes under its control before the Sportsmaster mandate, these are businesses that service the public sector – such as IT and software company KMD – or were spun off from public sector activities.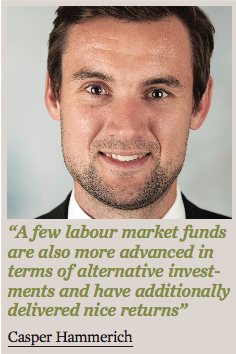 The fund declared itself proud to have come out on top in such a competitive market. "We hold a strong card in embracing the whole spectrum of corporate pensions, labour-market pensions, civil servants' pensions and complete administration of independent pension funds such as AP and PJD," says Hasse Jørgensen, Sampension's chief executive.
Then in late October, PKA – which runs three pension funds in Denmark's health and social care sector – said it was launching a new, flexible product. The plan is to use it to go after the 10,000 people working in its sector who fell outside its current membership because they were self-employed, for example, or not working as part of a collective labour agreement.
PKA also said it was also entering the pensions provision market to win larger schemes or groups that were affiliated with the health and social care sector. "These could be private clinics, for example, delivering services to the public sector," says Tomas Frydenberg, PKA's executive director in charge of membership matters.
The push by PKA for membership is a response to changes in the labour and pensions environment in which it operates. Frydenberg says the DKK250bn pensions provider has seen an increasing tendency for people to move between the public and private sector during their working lives. "If we are not able to take that on board, then we will have a problem with our existing members," he says.
The new product – PKA Private – allows the benefits it provides to be tailored by picking and choosing from elements within its standard product for public-sector wage agreement members.
These elements include the gennemsnitsrente (with-profits) pension, insurance and new elements like income protection insurance – irrelevant for public-sector employees because of their contracts – and a markedsrente (market-rate) pension provided by PKA's administrator Forca.
The other trend that PKA is reacting to is the momentum towards economies of scale within the sector. This has led to takeovers and mergers in the last few years.
PKA is no stranger to market evolution, having facilitated the merging of funds under its stewardship. There are now only three compared with eight six years ago.
"We have to be part of the consolidation in the business," Frydenberg says. PKA would rather be the predator than the prey, he says, in this transformation of the pensions landscape.
While market shifts are clearly happening, not all labour-market funds are confronting the commercial providers. PenSam, for example, states that it is a pension provider for people working in areas covered by agreements with the trade union FOA, who are mainly employed in the public sector as carers for children, the sick and older citizens. "This will be our main focus for the foreseeable future," says PenSam spokesman Søren Dijohn.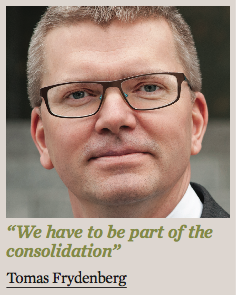 Jørgen Svendsen, partner at consultancy AFPR, who advised Sportmaster, says Sampension won the contract in a contest with four providers. Three of them were among the best commercial providers in Denmark including the PFA – the country's largest.
"Sampension is the largest labour-market provider, so they have the scale to keep both service and investment cost low, and they have the same modern IT solutions as the best providers, so the can offer top service and modern product and concepts," he says.
But, he does not see other labour-market funds queuing up to follow Sampension. "The other labour providers are sticking with their limited categories of mandatory clients," he says.
The development is, he says, unlikely to prompt commercial providers to slash their charges to offer more competitive services, simply because they are challenged by having to pay dividends.
"So, they need to be smarter and better and more flexible, and that will improve the market," Svendsen says.
Casper Hammerich, investment consultant at Kirstein, finds it remarkable that a labour market fund is approaching – and winning – clients from a commercial fund.
Apart from being able to offer lower fees, some labour-market players have the edge in the investment sphere too, he says. "A few labour market funds are more advanced in terms of alternative investments and have additionally delivered nice returns over the last couple of years," Hammerich says.
He says the development could prompt commercial firms to be more cost competitive, and notes that some have already entered passive management. "But the question is how this will affect returns," he says.
The consultant says one factor that has facilitated the increased competition in the pensions market in Denmark is the shift towards defined contribution (DC) in the form of pensions without yield guarantees. It is easier to change providers with a DC product than with a defined benefit (DB) pension.
One of the main commercial providers in the Danish market, Nordea Life & Pension, says it is, in any case, already competitive. "That is why we are experiencing satisfactory growth in our premiums," a spokesman for the company says. "We focus on our own business, where we deliver a quality product with a focus on a wide product range, counselling and personal relations to our customers."
And while having a corporate parent might require contributing to dividends, he points out that there are benefits to being part of a large commercial operation.
"We see the relationship with Nordea as a big strength, and we believe it gives us the opportunity to offer our customers a better service within, among others, financial counselling, product range and digital services," he says.
Pensions in Nordic Region: Iceland - Opportunities abound
1

2

3

4

Currently reading

Denmark: Crossing the pensions divide

5

6

7

8

9