ESG strategies are becoming more common among Italian pension funds
Key points
Few Italian pension funds have fully-fledged ESG strategies.
However, ESG activism has existed for many years.
Pension funds are beginning to adopt focused ESG strategies.
Activist shareholding is rare but some large funds are going down that route.
Italian pension funds are stepping up their efforts in socially responsible investing (SRI). The concept is not new in Italy, thanks to a small number of SRI pioneers. But responsible investment has moved into the mainstream and opened important questions on the role of institutional investors in the country.
Forum per la Finanza Sostenibile, Italy's leading responsible investment association, was set up in 2001. The organisation, which is a member of Eurosif, the European responsible investment association, has counted pension funds among its members for many years. However, the organisation has only recently begun surveying pension funds' responsible investment attitudes. There are two surveys of the sector, the latest having been published last year.
Data from 2016 shows an 33% increase in 'active responsible investment plans' over the previous year. The survey involved 50 pension funds of all types with €140bn of AUM. Most scores assigned by the survey on key topics such as ESG governance, investment policy, implementation and transparency were higher in 2016 than in the previous year. Most investors surveyed, who have an active ESG policy, apply ESG criteria to 75% to 100% of the portfolio.
Until a few years ago, there were only a few examples of engaged ESG investors and several schemes offering ethical investment choices. Today Italian pension schemes are adopting ESG strategies in larger numbers. In doing so, schemes are trying to match what is seen as international best practice. But this growing trend is also driven by demands from external stakeholders, including pension scheme members.
Investors are using a variety of approaches. The €1.2bn pension scheme for employees of the BNL BNP Paribas banking group has defined its own investment universe of companies that comply with international ESG standards. The scheme was assisted by an external adviser and selected three managers – Candriam Investors Group, HSBC Global Asset Management and Eurizon Capital – to run its global equities and corporate bond portfolios. These are now fully invested within the ESG universe defined by the scheme. However, the scheme established that performance will still be assessed against the full global equity and credit indices.
Other schemes, such as Laborfonds, the €2.5bn regional scheme for employees of the Trentino-Alto Adige region, have set up ethical investment options. Laborfonds itself has offered an ethical sub-fund since 2008. The portfolio is managed by Credit Suisse. But the scheme is planning to review its ESG credential and potentially expand the programme to the whole portfolio in the coming years.
One of the pioneers of ESG investment in Italy is Cometa, the €10bn scheme serving the employees of the metal and heavy industries. The scheme is a member of the Forum per la Finanza Sostenibile and has spearheaded several ESG initiatives. It adopted the United Nations' Principles for Responsible Investment (PRI), and is still one of a few Italian pension schemes to have done so. In 2012, the scheme defined its guidelines for socially responsible investments. Cometa has chosen engagement with investee companies as the preferred instrument to fulfil its ESG goals.
Over the past three years, Cometa has intensified its ESG efforts with a series of key initiatives. In 2014 the scheme joined the initiative on climate change risk in banking led by Boston Common Asset Management (BCAM). Cometa is co-leader of the initiative, driving the dialogue with Italian banking institutions. Last year, the scheme strengthened the initiative with Italian partners such as Assofondipensione, one of the country's pension fund associations.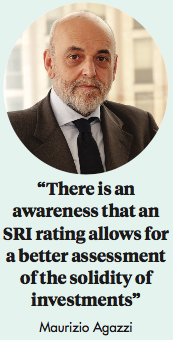 In 2015, Cometa set up a network of 30 investors to engage investee companies on the issue of child labour. The work is ongoing to fix what Cometa defined "serious disagreements on matters of human rights" in its 2016 annual report. The scheme has also joined the Carbon Disclosure Project (CDP) and signed the PRI Montreal Carbon Pledge. Cometa has strong green credentials, being the first Italian pension scheme to disclose its carbon footprint.
The scheme is supported by ESG adviser Vigeo Eiris on its responsible investment strategy. Maurizio Agazzi, CEO of Cometa, says that Italian pension funds had always kept a partial focus on ESG matters. This amounted to identifying SRI benchmarks or offering ethical investment options. "What has changed over the past few years, due to financial crisis and later the Paris Accord on climate change, is that funds have come to realise that attention to non-financial issues enhances their ability to understand and evaluate the future of their investments", explains Agazzi.
"There is an awareness that an SRI rating allows for a better assessment of the solidity of investments. Pension funds can see that good ESG credentials constitute a success factor for a business." Second pillar funds are particularly mindful of this aspect given their social role and the importance of reputation in that context, Agazzi adds.
However, Cometa's CEO points out that the way most Italian pension schemes manage their money has resulted in relative lack of concrete action. "Most pension schemes do not manage investments internally, therefore the ESG work has focused on portfolio analysis and dialogue with managers", explains Agazzi.
Cometa has chosen engagement over exclusion, but Agazzi says the Italian pension industry, including his fund, is yet to progress towards more forceful ways of engaging such as shareholder activism. "We have focused on addressing specific themes through information sharing and dialogue", explains Agazzi. However, listed Italian companies tend to be already sensible to ESG topics, he says, because of the global nature of their businesses. "If anything, investors have been slower to embrace ESG."
Activist approaches
Some pension schemes are warming up to the idea of shareholder activism. ENPAM, the €18bn first-pillar pension scheme for general practitioners, is currently studying how to make its portfolio more ESG compliant, according to CFO Pierluigi Curti. The scheme is considering joining the Forum per la Finanza Sostenibile and is working on developing a stewardship code. Meanwhile, the scheme has partnered with Eurizon Capital to build strategic positions in key Italian companies, such as gas giant Eni and electricity producer Enel.
Curti says: "We want to work with the two companies for different reasons, to do with governance and climate change. We see the latter as one of the main issues affecting financial performance for the next two decades. In order to build a portfolio of strategic positions in Italian companies, we modified our European balanced mandate with Eurizon. They were among the first in Italy to have been active in ESG, and they embrace our strategy of activist shareholding."
"According to the main ESG rating systems, our scheme already scores above average. But we want to do more. We would like to become a point of reference for Italian investors in terms of engagement with Italian businesses on some of the key issues. Similarly, we would like institutional investors from outside Italy to see us as a potential ally in ESG matters", adds Curti.
ESG efforts are not confined within the largest pension funds. Eurofer, the €932bn pension scheme for rail employees, has been increasing its work on responsible investment, particularly since Fabio Ortolan, a veteran of the Italian second-pillar pension industry, became chairman last year.
Eurofer adopted ESG criteria in 2012, choosing exclusion as the most efficient strategy. However, in 2014 the scheme switched to an active ownership model that includes a wider range of options, from 'soft engagement' to exclusion. Where necessary, the scheme delegates engagement activities to its managers.
The scheme has recently detailed its process for ESG investment in an internal document, with particular reference to the timings and responsibilities in terms ESG analysis. The process conforms with the UN PRI reporting framework.
Ortolani says: "We will plan our engagement activities with investee companies year by year according to a set of defined characteristics. We are also considering becoming signatories of the UN PRI." Ortolani has been active in the ESG sector for several years, guiding Cometa to sign the UN PRI when he chaired the pension scheme.
"Awareness of ESG matters is growing in Italy, especially since stakeholders have realised that socially responsible investment does not harm returns, in fact it probably enhances them", explains Ortolani. "There can be scepticism at board level sometimes, but this is due to a lack of awareness and culture. Once it is understood that socially responsible investment actually supports pension systems, boards become more supportive. The key is to spread knowledge of these issues and their implications for pension funds."
The system is ripe for further growth, according to Renato Guerriero, global head of EMEA client relations at Candriam Investors Group. "There is a general awakening on socially responsible investment in Italy. The last 12 months have seen an acceleration of the trend. Italian investors are behind French ones, who take ESG matters extremely seriously, but they are beginning to catch up", says Guerriero.
Italy: Offering an alternative
1

2

3

4

5

Currently reading

ESG makes headway

6

7