At least in some ways, this year's proxy season – the period when most large publicly traded companies hold their annual general meetings (AGMs) – has been shaped by the outbreak of the coronavirus, which hit Europe just a few weeks before the season kicked off.
Events had to be held virtually due to the pandemic but some arrangements disappointed
Dividend decisions in the spotlight, while climate change remains a big theme
For containment reasons, the meetings have not been able to go ahead as usual, so AGMs have not been the large gatherings of shareholders keen to hear from and question the board in person that had become typical in previous years. Provision of alternative arrangements has varied, allowing for different kinds and degrees of investor input.
Focusing on the UK's FTSE 100, Simon Rawson, director of corporate engagement at campaign group ShareAction, names Schroders as a positive example. He says the listed asset manager held a fully virtual AGM, during which he was able to ask a question by telephone. But he puts Royal Dutch Shell in a "disappointing" bucket. The oil and gas major held a virtual shareholder event before its AGM for which shareholders were invited to submit questions by e-mail but ShareAction's questions were not answered.
At Federated Hermes, Hans Hirt, head of the firm's stewardship advisory service EOS, says there are some benefits to virtual meetings, but they are problematic to the extent that shareholders have to pre-submit questions without the opportunity to follow up on them, and without clarity on how companies select which questions to address.
"It's just a very important part of good corporate governance to have the opportunity to stand up at an AGM and ask questions with the whole board in front of you," Hirt says. "We are very keen that this doesn't go away and I think most other investors agree."
The coronavirus pandemic has also shaped the proxy season in the sense that it very quickly raised typical AGM questions such as on dividends, share buybacks, and executive pay. The coronavirus crisis has also been framed as underscoring the need for 'stakeholder' or 'responsible capitalism'.
The issue of dividends has been particularly high profile, with regulators in the euro-zone and the UK, for example, telling banks not to pay them, and some regulators making insurers do the same.
Some investors and trade associations have written to companies to communicate their expectations on dividends, as well as executive pay. The Investment Association, which represents the UK's asset management industry, wrote an open letter to all FTSE 350 companies in April to tell them their approach to paying a dividend should include ensuring employees and suppliers can be paid, although companies should also not "unnecessarily reduce or rebase the dividend level".
The crisis also prompted Federated Hermes to write to companies, with Hirt informing them that EOS – which advises on $877bn (€802bn) of assets – had modified its voting policies for this year's shareholder meeting season on topics such as dividends, board elections, and pay.
This was in light of the crisis highlighting the importance of businesses having and maintaining a social licence to operate, in particular as they were likely, directly or indirectly, to benefit from government action to support the economy.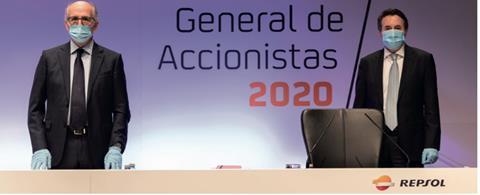 Speaking to IPE, Hirt says his impression is that "many companies have anticipated and done their thinking, so it was mainly a lot of discussions around dividends and balance sheets taking place, rather than strong votes against dividend proposals.
"Most companies seem to have come around to adjusting, where necessary, their dividend payments, or having a good explanation for what they had planned," he adds.
Janus Henderson last month said it expected global dividends to fall at least by 15%, or $213bn, this year, with the worst-case scenario being a drop of 35%, to $933bn.
"In many cases, changes to dividend policies reflect the inability to predict when things return to 'normal', but a new factor is the consideration of the relationship between government support and company behaviour," says Ben Lofthouse, co-manager of global equity income at Janus Henderson.
"In some cases, dividend changes, along with executive pay moderation, are an acknowledgement or even requirement that shareholders should be part of society's COVID-19 response."
Climate change: a new model?
Climate change is an issue of increasing importance to investors and has been a big theme this proxy voting season. In its open letter to company chairs and CEOs about stewardship in the time of the pandemic, Federated Hermes' EOS told them it would not be changing its approach to "shareholder proposals seeking to encourage action to address the climate crisis".
Across Europe, including the UK, several of these shareholder resolutions were aimed at oil and gas companies, including a new one at Total from a French-heavy group of institutional investors, although a pioneering shareholder resolution also focused considerable attention on Barclays.
Natasha Landell-Mills, head of stewardship at Sarasin & Partners, says the developments at Barclays were a "massive achievement".
Following intensive shareholder engagement over the last year, including the filing of the shareholder climate resolution – the first at a European bank – Barclays tabled its own proposal for the AGM.
Passed with almost 100% of votes in favour, it means Barclays has to pursue an "ambition" to be net zero by 2050 and commits it to aligning its financing activities with the Paris Agreement.
"What's important is that it was a special resolution, which changes the articles of association and translates into a far higher legal obligation for directors," says Landell-Mills.
In a comment published shortly after the Barclays AGM last month, she said the step Barclays had taken "also offers a powerful model for others".
"All banks – indeed, all companies – should be looking hard at whether they too should hardwire a Paris commitment into their governing statutes," she said. "This is not just the right thing to do for society, it is also vital to protect shareholder capital into the future."
Landell-Mills says that although shareholder resolutions are an important tool, she has hopes for "a new phase of accountability".
"I don't know to what extent those votes will transpire in the end but the narrative you're seeing emerge is that climate change shouldn't always be relegated to shareholder resolutions. If we genuinely believe that this needs to be core to business strategy and reporting and accounting then we need to be holding both directors and auditors to account for that.
"We need to be using the available tools awarded to us through the governance structures – in other words, the standard AGM resolutions, to be making our votes known. I think that's starting to get some traction."