European equities look set to catch up with other developed markets this year after recent underperformance
Key points
European equity markets have lagged but could offer opportunities relative to other markets
Mid and small caps may offer attractive valuations
Financials and energy look attractive, but also periphery and recovery plays
European equities have been long-term developed market laggards. Political and economic uncertainty has provided the background to uninspired fundamentals. Global investors have tended to punch the 'underweight' button and hope for something to shift.
This year brings with it a sense that quite a few things are shifting, even as the current turmoil on globalmarkets plays out. Political risk looks like last year's story, and fundamentals are once more coming to the fore (figure 1). Many are finding a degree of cheer in these developments. The money has been flowing back in anticipation of this, says Reade Griffith, founding partner of the London-based, event-driven, convertibles and distressed specialist, Polygon: "It's encouraging to see a constant flow of money into Europe over the past 18 months, which has been a pretty much one-way bet the other way over the past decade."
Playing catch up
At Netherlands-based NN Investment Partners (NNIP), Patrick Moonen, head of macro and strategy notes that euro-zone monetary policy is more supportive than in the US. The fact that the world economy is growing in lockstep for the first time since the equity market bounced in 2009 may work in Europe's favour. The US was a major beneficiary last year and, following the dizzying run on its equity indices, is unlikely to carry on the same way.
Europe looks set to play catch up. Goldman Sachs believes European equity valuations are attractive relative to the US. In January, Markit said in a statement that an acceleration of service sector growth to the fastest rate since August 2007 "was partly countered by a slowdown in manufacturing output growth", although the latter remained buoyant, and the last three months have seen the strongest factory output increase since 2000. Markit's headline IHS Eurozone PMI rose to 58.6 in January, its highest since June 2006 (figure 2).
Jason Collins, global head of equity portfolio management at multi-manager SEI, concurs: "Europe is further behind in the cycle than the US, and so has greater potential. The earnings picture is positive, with scope for further upgrades as the European recovery beds in, with increased investment and job creation as the animal spirits revive."
NNIP's Moonen adds: "The euro-zone is a more cyclical market than the US, which in the current stage of the macro and earnings cycle should be beneficial." NNIP expects euro-zone earnings to grow around 10% this year.
Broad valuation
One benefit of lagging other markets is that equity valuations now look relatively attractive. "The market offers a high equity risk premium" of around 5%, says Moonen. This also provides a buffer against a further rise in bond yields.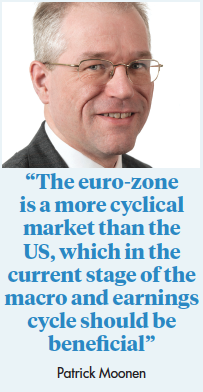 Collins is sceptical of the absolute value to be found: "It's difficult to make the case that equities overall represent value – the market is fairly valued at best." SEI therefore has a strong value orientation.
Polygon is also being selective, and Griffith says the firm is looking for companies that have completed their restructuring, rather than those still going through it. He says this search is leading the firm off-index in this market: "Normally, the first things to move in a recovery are the more liquid large caps, followed by the less liquid smaller caps. We think Europe is at this inflection point now – where the second tier starts to move." This is being reinforced by the effect of regulatory action, as outside of large caps, analyst coverage drops off significantly, "and this is likely to be more common since the implementation of MiFID II".
There are further reasons to adopt a tilt lower down the cap scale. Collins believes that the environment supports allocation to more domestically orientated companies, which implies a heavier mid-cap tilt as large caps tend to be more internationally orientated. In the UK, too, sterling's rebound has eroded the advantage that the FTSE100 has enjoyed over the past 18 months, seeing the more domestic market-dependent mid and small caps outperform.
Britain's lingering woes
It is no surprise that the continuing uncertainty around Brexit should dampen investors' enthusiasm for UK equities. Griffith says: "We are cautious on the UK until we get certainty over the Brexit deal. You are not being paid for the risk in the UK market." This is a broadly shared sentiment.
It also begs the question: if the place to find opportunities is where no one else thinks there is a buck to be made, perhaps those stock pickers sifting through the UK market now might be well rewarded. And whether they will have plenty of elbow room while they do it.
Polygon is also looking to Europe's periphery for recovery plays, "because that has been the region that has been most distressed and therefore where one can find the greatest value", says Griffith. He adds: "If you think that there is a synchronised European recovery occurring, it makes sense to get higher beta exposure in this region."
In addition, the strengthening oil price is benefiting the Norwegian market, which is closely tied to this, he says.
Playing the cycle
The return of fundamentals is creating a positive environment for stock pickers – both between and within sectors. In this environment, Collins says SEI is finding value in cyclical sectors such as construction and some cheaper consumer names. "We have exposure to lower quality names, which are recovery plays."
Invesco Perpetual is also looking for "striking valuation opportunities in out-of-favour sectors at the value end of the spectrum", according to its head of European equities, Jeffrey Taylor, in a recent report. "Prime examples are energy, telecoms and financials – especially banks."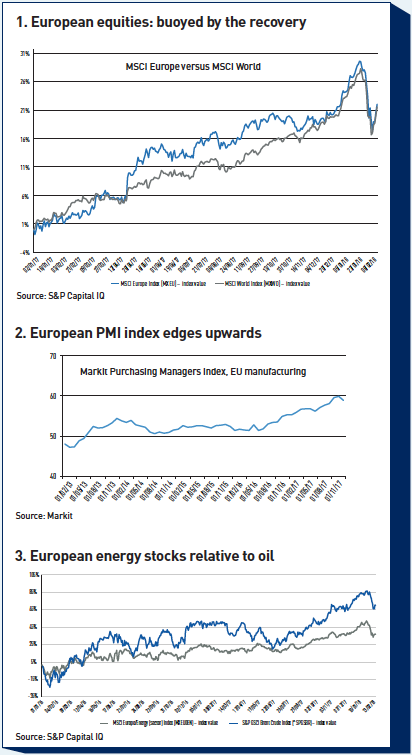 While eking out value at a stock-specific level is high up investors' priorities, so are the implications of where Europe is on the equity cycle. Financials, and banks in particular, are generally seen as barometers for broader economic health.
SEI is finding a sweet spot in financials, argues Collins, for instance in Italian banks that have restructured. However, Griffith reckons it is "a little early for Italian banks, which have a lot of work to do to still. Portugal, Greece and Spain are emerging quicker and look better bets".
NN Investment Partners also favours financials, which it believes should get support from further loan growth, lower provisioning for non-performing loans and higher bond yields helping the interest margins. It also likes the energy sector (see figure 3). "Energy stocks have lagged the recovery in the oil price," says Moonen: "At current oil prices the sector should have no problem to maintain the dividend payments."
On the other hand, NN is underweighting sectors that are vulnerable to rising interest rates, such as utilities and, to a lesser extent, telecoms. Invesco also warns of "sectors which we want to keep well away from – typically many of those which have attained 'bond proxy' status in recent years. To our minds, some have become eye-wateringly expensive as a result. Consumer staples such as food and beverage stocks are cases in point."
So while investors are warming to Europe, despite the fact that we are experiencing a synchronised recovery, they are far from believing that a rising tide will lift all boats, at least not to the same degree.
European Equities: Catching up with global growth
1

Currently reading

European Equities: Catching up with global growth

2