A sector fund making bold moves in alternative investment funds
As one of Italy's smallest Italian pension funds the Fondo Pensione Byblos – the graphics, paper and publishing industry's sector-wide pension fund – might be expected to have a conservative strategy. But the fund is among the most innovative investors within its peer group. In fact, Byblos is a pioneer in investing in FIAs (fondi d'investimento alternativi) or alternative investment funds.
"Our portfolios are full of bonds and especially Italian treasury bonds," says Giacomo Gaeta, from the investment team at Byblos. "The problem we share with all Italian pension funds is that their yield is close to zero. So looking for higher returns, we recently decided to take advantage of the Italian rules that allow us to directly invest in FIAs that offer a premium for their illiquidity, because they are not listed. FIAs specialise in private equity, real estate, infrastructure, and other real economy activities."
Gaeta joined the pension fund three years ago. In 2012 he graduated at LUISS in Rome, then he received a master's degree in finance at Bocconi university in Milan before starting his career in London with an investment fund specialising in real estate. "Until last May we had a financial external adviser, now we internally monitor our portfolios and their external managers' performances," he says. "We manage around €850m and offer three investment options to our members."
The guaranteed fund had AUM of €174m at the end of 2017. It is the default for contributions coming from automatic enrolment of workers in the sector. The fund guarantees invested capital as well as an annual return of 2%. It is managed by Italian insurance company UnipolSai.
The dynamic fund, with only €9m of AUM, is allocated to bonds and equities in equal measure. In 2017, it returned 4.19%. In the last three years, its average annual compounded return was 4.3%, while the benchmark returned 4.5%. The fund slightly outperformed its benchmark over the past five years, gaining 6% versus a benchmark return of 5.9%, over a 10-year period (5.7% versus 5.4%). Since January 2016, the fund has been managed by Eurizon Capital, which replaced Groupama.
The most popular investment option is the 'balanced' fund, with €623m in AUM. The fund strategically allocates 70% of the assets in bonds and 30% in equities. As part of this portfolio, Byblos invested €30m in three different FIAs, split as follows: €20m in a senior loan fund managed by Blue Bay Asset Management; €5m in a private debt fund managed by Quadrivio; and a further €5m in the Supply Chain fund managed by Groupama.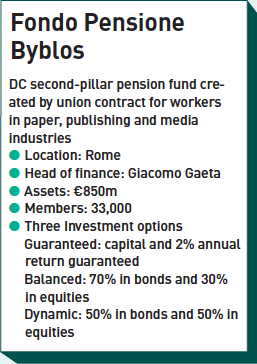 "We plan to invest more in FIAs during 2018 – something between €5m and €15m," says Gaeta. "A London-based adviser specialising in alternative assets, BGB Weston, has helped us choose the funds. Even though we were not compelled to do so by law, we launched a public call for bids and we received 40 proposals."
"Then we compiled a short list of seven offers based on our criteria. Managers had to be based in Europe, have a good track record and institutional clients. With the final three FIA managers we agreed on a 1% annual management fee plus a 10-15% performance fee that applies only if the fund's return is above its target. The Quadrivio Private Debt Fund's expected return is 7%, while the Supply Chain Fund's expected return is 3 percentage points over LIBOR. Our FIAs invest in credits that are 100% secured and they benefit from fiscal incentives, because they support the real economy."
As an example, says Gaeta, the Groupama's fund helps Italian food company Barilla improve its supply chain management. The fund's strategy involves Barilla's suppliers, mostly small and medium enterprises (SMEs). The suppliers receive immediate payment, at a discount, for the invoices for the goods and services they sold to the pasta group, so that they will not have liquidity problems; then the fund gets the money from Barilla.
The Quadrivio fund provides financing to SMEs in the form of senior secured, senior unsecured and unitranche loans. It targets firms with an enterprise value (EV) between €50m and €500m and invests in both the primary and secondary markets. The fund does not use leverage.
"Our approach is very conservative, in part because of the Italian regulation and in part also because of the financial culture in our country", says Gaeta. "Italians tend to be risk-averse and have long been used to invest in 'safe' government bonds. That's why out dynamic' portfolio can invest only up to 60% in equities".
In any case, Byblos Dynamic fund has only 464 members, less than 2% of total membership of almost 33,000. Perhaps the fact that the pension fund was launched in October 2008, in the middle of the financial crisis, did not help. The guaranteed fund has 9,310 members and the balanced fund has 23,200.
"We have representatives going to the companies and explaining Byblos's strategy and results to our members. The first reactions to the direct investments in FIA's have been positive."
Talking about possible consolidation among the smallest Italian pension funds, Gaeta says: "It makes sense to make the funds more efficient and to cut costs. But discussions have been going on for years. I don't think that anything will change for Byblos for the next five years."
Italy's public pensions: Unfinished business?
1

2

3

4

Currently reading

Fondo Pensione Byblos: Byblos writes a new chapter

5

6