Gresham House CEO Tony Dalwood is fundraising for a UK housing and infrastructure fund, and has the LGPS in his sights
Working under Tony Dye at Phillips & Drew in the 1990s was a tutelage that introduced Gresham House CEO Tony Dalwood not only to the world of investment management but also to the sphere of pensions.
Dalwood also has close connections with the UK's Local Government Pension Scheme, having been appointed in 2010 by Edmund Truell, former chair of the London Pensions Fund Authority (LPFA) and founder of Pension Insurance Corporation, to the LPFA's board. Truell was himself an appointee of the former mayor of London, Boris Johnson, and chaired the LPFA from 2012-15, when he became adviser to the mayor on pensions and investments.
Truell has since moved on to start a private sector DB pension consolidation venture this year, the Pension SuperFund, with former Pension Protection Fund CEO Alan Rubenstein as CEO (see page 38). Truell was a pioneer in pension asset and liability consolidation as the founder of Pension Insurance Corporation (PIC) in 2006, a business he exited in 2012, and has since been a champion of local government pensions asset pooling.
But Truell's career trajectory has not been without controversy. The early, aggressive approach of PIC led to a high-profile rebuke by the Pensions Regulator in 2007, which highlighted conflicts of interest in the approach of PIC in its takeover of Telent and the residual £2.5bn in assets and liabilities of the former Marconi Corporation pension fund.
Yet Dalwood clearly shares Truell's vision for better economies of scale in UK pensions and he has also capitalised on his local government connections at Gresham House. This formerly obscure investment trust is in the process of transformation into a specialist niche alternatives manager with a focus on real assets and £1.54bn (€1.73bn) in assets under management.
A recent high-profile move has been the decision of Berkshire Pension Fund, part of the LGPS, to acquire almost 20% of Gresham House alongside a £300m seed investment in Gresham House's British Strategic Investment Fund (BSIF). Gresham House this year also acquired FIM Services, a specialist UK sustainable real assets manager.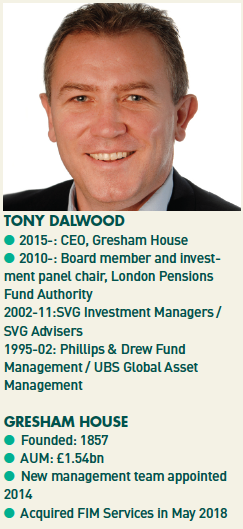 The BSIF is a long-term focused private equity-type limited partnership, albeit with meaningful differences to traditional private equity, with target returns in the 8-10% range and an annual income yield of 3-5%.
The BSIF aims to be a go-to provider for projects in "structurally important areas for the UK economy", such as social housing or the private rental sector, that would typically be outside the scope of traditional players, in part because of the smaller size of the projects. There is a longer holding period than traditional private equity with a total fund life of about 12 years. Peter Moon, formerly CIO of the Universities Superannuation Scheme, will sit on the investment committee.
Dalwood says: "The characteristics are different from private equity, but the vehicle structure is similar. It's looking to do sub-£50m projects or investment transactions that are typically below the radar of larger infrastructure and housing."
The fund will seek to reduce in-house project-related costs, as Dalwood explains, by partnering with contractors and developers: "As long as we have skills to manage projects from funding through to execution, then we don't necessarily need to have the team, the people on the ground, doing the developments.
"That's how we've done our investments to date. But we have exceptionally good people internally – researchers, modellers, legals, overseers. We bring together a deal team, but then the day-to-day management and execution of a project typically is outsourced."
Dalwood says fees are "consistent with what LGPS and pension schemes would expect to pay for infrastructure and long-term investments". The fund's final close is scheduled for the last quarter of 2018, with more than £200m in the pipeline following an initial close in June 2017.
While the various LGPS pools have taken different approaches, Dalwood is clear that there is consensus on certain matters: "One, that costs need to come down across asset management as a whole for the LGPS and its members. Two, commitments, interest, and exposure to infrastructure are also being encouraged."
Pension funds are also reducing their public-equity investments generally, at a time when fewer companies are listing in developed markets, or are deciding to delist.
Public/private focus
Another of Gresham House's business lines is its strategic funds, where it seeks to apply private equity-type strategies to public markets in UK or continental European companies with a market capitalisation of below £250m. This is an approach Dalwood and his colleagues pioneered at Schroders Ventures in the early 2000s and is "an area where a lot of asset management houses haven't got expertise and skill", Dalwood says.
Smaller listed firms, he explains, may be quite liquid but act like "private companies with a quote", as he puts it. "They don't get the corporate finance advice or even, despite being quoted, access to capital markets."
Dalwood points to a recent deal in a sub-£100m company where Gresham House used a private convertible instrument to provide funding where a lender was unwilling to take on more credit risk. He says this is "not something the public markets would normally do at all but we're a non-standard investor. The stock market seems to have liked it, the company loved it, and we loved it. But it's not normal for you to pitch up to Schroders or Fidelity and say, can you do a private convertible in this business?"
Will Gresham House seek similar partnerships to the one with Berkshire in the future? Dalwood is positive, pointing to what he says is his firm's flexibility and transparency, and its ability to bring things to the table for discussion with strategic partners: "Being a partner for them to mould that into an investment proposition is absolutely what we want."
Gresham House's share price had risen from 401p in early February when the Berkshire deal was announced, to over 450p by mid-August, proving that this has been a good investment for the pension fund, in the short term at least.