While we may be approaching that 'exit from pandemic' moment, the exceptional monetary and fiscal responses from policymakers ensure COVID-19's economic legacy will be felt globally for years to come.
Global output growth remained stagnant in the first quarter
Further fiscal stimulus, especially in the US, makes economic growth inevitable
An appreciating dollar gives validity to the global reflation trade
Although global GDP growth was, in aggregate, about zero over the first quarter of 2021, strong March US employment figures highlighted the US economy's ability to bounce back. However, with much of Europe still under lockdown, the economic recovery has been delayed.
Extremely supportive fiscal and monetary policies will mean that economic growth will come back. Indeed, looking to the US, investors are already wondering just how heated economic data can become before inflation erupts out of control.
For now although, risk markets are sanguine, embracing higher risk-free rates as part of a return to higher growth. They are also calculating that, strong though the March employment data was, the US economy remains below full employment and underlying inflation is still below the Federal Reserve's 2% target.
Recent managers' indices have been strong globally, with China and much of Asia surprising to the upside. With renewed lockdowns in Europe, however, any recovery in services, across the region, has been delayed again. But while the growth numbers do not match the robust US data, there is optimism that manufacturing is already rebounding strongly.
It is likely that the UK will emerge from its lockdowns sooner than continental Europe. For the first time in years the economy looks set to post punchy growth numbers, particularly given its reliance on services. The huge fiscal stimulus put up by the UK government is in contrast to the disappointing news that Germany's constitutional court has decided to (potentially) halt Germany's ratification of the EU Recovery Fund.
Italy – in search of economic growth
Turbulence in Italian politics is commonplace, elections are frequent and governments short-lived. January's crisis was triggered by the resignation of Prime Minister Giuseppe Conte, after the coalition government failed to reach agreement on a budget.
With Prime Minister Mario Draghi now at the helm, the new government should be able to apply to the EU Recovery Fund. Italy will be the largest beneficiary, due to receive €209bn to be spent over the next five years.
However, even with a market-friendly prime minster, debt-ridden Italy's path to economic success will not be easy. Italy's gross government debt hit a new high last year and is set to be higher this year, approaching 160% of GDP.
The sustainability of this indebtedness, depends on three main pillars, the primary balance, debt funding costs, and nominal GDP growth.
Although Italy was running primary surpluses before the pandemic, deficits are now forecast. Loose financial conditions means that Italy has locked in lower debt-servicing costs.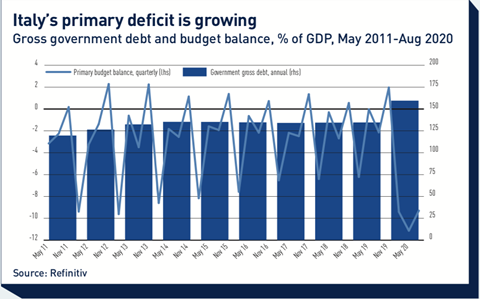 So Italy's ability to grow GDP is key to achieving debt sustainability. Analysts agree that nominal GDP growth of about 2% may be sufficient, as long as the primary deficit is kept in check. But, historically Italy's GDP growth has been low, with the potential growth rate (now 0.5%) trending lower.
While optimism is up, Draghi's task will not be easy. No post-war Italian government has enacted necessary structural reforms such as in the labour force. Nor have they reduced excessive bureaucracy and copious red tape in public administration.
Draghi and his coalition of technocrats, EU-sceptics and populists, could succeed if several conditions are met. The funding from the EU recovery facility will need to be carefully applied to raise potential growth. In addition, borrowing costs will need to stay low, in the absence of fiscal tightening, so they do not depress economic growth.
Bonds
This year's Treasury market moves have been focused on US fiscal news, with the passage of the Biden administration's close to $2trn (€1.7trn) stimulus bill. Next is the more than $2trn infrastructure package, although this may face Congressional obstacles as well as a much longer timeline.
According to Robert Kaplan, president of the Federal Reserve Bank of Dallas, the infrastructure spending should be viewed differently to the stimulus bill. He adds that "it should help, in the future, create higher potential GDP growth, higher sustainable growth, better productivity".
The first three months of 2021, the worst quarter for the US Treasury market since 1981, took 10-year US rates above their February 2020 level when COVID-19 was just materialising, and markets were in turmoil.
Real yields have been rising, with 10-year and longer Treasury inflation-protected securities (TIPS) recording their second worst-ever quarter, beaten only by the taper tantrum in the second quarter of 2013. Breakeven inflations have also been widening, continuing the trend started towards the latter half of 2020, in the weeks following the Fed's average inflation targeting (AIT) announcement.
If the Biden infrastructure bill is passed, and if it can achieve some of those objectives voiced by Kaplan, then there could be genuine scope to reverse the years'-long downward trend in r*, the economy's real non-inflationary growth rate.
Although the infrastructure package is far from assured, the proposal is for a gradual increase in spending over eight years. The funding is expected to front-run planned spending.
Five-year, five-year (5y5y) forward inflation rates (the average inflation rate over a five-year period starting in five years' time) are back over the 2% level, and near their 2015-19 average. Forward real yields, however, remain below their recent five-year average. Investors may be correct to assume that passage of the infrastructure bill may be bearish for longer term nominal yields, but perhaps there should be more focus on the upward pressure on longer-term real yields too.
Currencies
Widening US-Europe yield spreads, Europe's worrying COVID-19 data and a market that was short dollars (and long euro and yen, for example) have provided compelling reasons for the dollar to appreciate against a range of currencies.
Alhough perhaps now with less conviction, there still seems to be a reasonable consensus view that the global reflation trade will prove to be valid. This period of extraordinary US economic growth, though undoubtedly bullish for the dollar, is expected to prove to be a shorter-term tailwind for that currency.
With the unpredictable influence of COVID-19 still huge, it is not surprising that investors are treading cautiously between the reflation and US exceptionalism trades, pondering at what point US growth spurs rate rises that prove too painful, and trigger the Fed to step in much earlier than forecast.
Turkey's President Recep Tayyip Erdoğan has again fired his central bank governor (and subsequently his deputy) after the central bank raised interest rates to tackle soaring domestic inflation. Unsurprisingly Turkish assets have all sold off sharply, which has generally damaged emerging market currency sentiment, although for now there seems little fear of widespread contagion across the asset class.