A post-COVID-19 housing boom has made the future of Australia's A$3trn (€2trn) superannuation savings pool a hot topic.
Should young Australians be permitted to withdraw from their superannuation accounts for a home deposit?
The answer is a 'yes' in some quarters of the federal government; but from industry superannuation, supported by left-leaning think-tanks, comes an equally-firm 'no'.
The debate will sharpen in coming months as a "Home First Super Second" campaign picks up momentum. Tim Wilson, a Liberal Party representative and chair of the House of Representative's standing committee on economics, is leading the drive to rewrite the superannuation charter.
Wilson launched his push in December, as the COVID-19 early-release scheme, which allowed fundholders to withdraw A$20,000 from their schemes, was being phased out.
Wilson says: "The early-release scheme bridged the divide between what super is – which is a deferred benefit – to something that is more immediate. People now have a greater sense of ownership of their superannuation, and they sit more closely to their money rather than not thinking about it until they get closer to retirement."
Wilson adds: "The Home First Super Second campaign has attracted strong support from my parliamentary colleagues because they understand that home ownership is a critical pathway to empowering Australians to democratise ownership of the country."
So far, however, at least publicly, neither the prime minister, Scott Morrison, nor the minister for superannuation, Jane Hume, have voiced their support.
Wilson says: "I think it is all about working out the details and working through possible policy proposals. I don't sense any pushback at all. I think overall the view is that home ownership is critically important, and should take priority within the government."
Outside parliament, however, opinion is divided. The super industry, especially industry super funds, are not happy. Similarly, older Australians who already own properties are interested in the preservation of the current system.
It is among the mid-30s to early 40s who do not own homes, and for whom it is becoming harder to get on the property ladder, that there is strong support, says Wilson, himself a millennial.
Cross-benchers in the Senate, including the right wing populist senator Pauline Hanson (and other independents), have indicated their support to prioritise home ownership before superannuation.
Hanson, leader of the One Nation Party, has said that early withdrawals should only be used to purchase first properties, and that proceeds from selling that property should only be used to buy another, or returned to the super.
Accessing superannuation for housing is a long-held practice in Singapore, where Singaporeans are able to access their Central Provident Fund (CPF) savings to buy properties. Upon sale the amount borrowed must be returned.
Since 2017, New Zealand has allowed its citizens to draw on pension savings to finance a home purchase.
Senator Andrew Bragg, a Liberal Party member and a millennial, says his resolve to change the system comes from hearing the "pleas" of the young seeking to access super for a mortgage deposit. Their super presents the only "fighting chance" to enter the housing market, he says.
Bragg continues: "Why force young people to save their hard-earned cash for retirement in 50 years when they cannot save enough for a deposit for a home?"
Bragg says: "My focus is on getting Australians into homes at a time when home ownership has fallen partly because of compulsory super. We need to address this issue. Superannuation is people's money."
Proponents of opening super to housing argue that when the system was designed in the mid-1990s, two-thirds of households were home-owners. The picture today is different.
"We are engaging in some form of economic social engineering," says Wilson. "We need to get a focus on making sure that the tax system is working for people because, at the moment, it is allowing a lot of wealth transfer to established Australians who are already getting benefits through tax concessions.
"We also need to reform super to get it more into alignment with people's slipstream of life, not an entrenched privilege for some."
The central finding of Australia's recent Retirement Income Review was that the family home is a source of capital to supplement their retirement incomes.
Wilson points out that self-managed super funds can buy investment properties, and that the Australian Bureau of Statistics has reported 469,000 retirees withdrawing from their super to clear mortgages or renovate homes.
"Either all super should be usable to buy a home or none should," he says. "It is absurd that the law empowers capital but not citizens."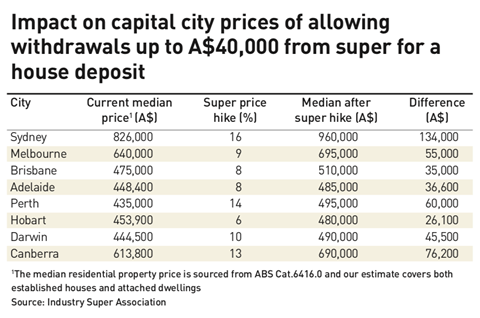 Academics and economists have jumped onboard, arguing that home ownership should be recognised as the official fourth pillar of Australia's retirement income system.
Two academics, Ron Bird, honorary professor of finance, University of Waikato, and David Gallagher, research director of the Rozetta Institute, say the bottom 30% of households (by earnings) are being made worse off by the requirement to make mandatory contributions towards superannuation.
This could be easily be reversed, they say: "Our analysis shows that the welfare of the low-income households could be increased by 30% simply by allowing them to allocate some (or all) of their superannuation balance towards a deposit on a first home."
The Industry Super Association (ISA), which represents large industry funds, calls this a "fundamentally flawed proposal" because, it says, it could hike median property prices in the nation's five major capital cities by 8-16% (see figure).
"On our preliminary analysis of allowing couples to take $40,000 from super, the impact would be most severe in Sydney, where the median property price could lift a staggering A$134,000," says ISA chief executive officer Bernie Dean.
"This just confirms what experts have been saying for ages. That throwing super into the housing market would be like throwing petrol on a bonfire – it will jack up prices, inflate young people's mortgages and add billions to the aged pension, which taxpayers will have to pay for."
Anticipating such opposition, Bird and Gallagher wrote: "The arrogance of it all: us rich people can benefit from tax-advantaged capital gains on housing, but we certainly are not going to make this privilege available to people on low incomes."
A vocal supporter of the existing superannuation system is its architect, former prime minister Paul Keating. He told the Australian Superannuation Fund Association in February that Australia now has a housing financing system where costs are deductible but taxable profits are taxed at 50% the normal tax rate. "So over 20 or 30 years, we have seen a rocketing price in housing, pushing young people out of housing," he said.
"The remedy is not in the super system. The remedy is proper changes to the tax system in respect of property."