---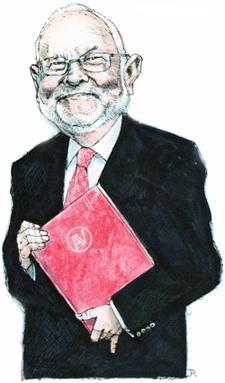 Christian Mosel (pictured), CEO of Ärzteversorgung Westfalen-Lippe (ÄVWL), the pension fund for doctors in Germany's Westphalia-Lippe region, tells Daniel Ben-Ami about a self-avowedly old-fashioned approach to investment
"The real treasure we have is time," says Christian Mosel, CEO of Ärzteversorgung Westfalen-Lippe (ÄVWL).
He is pointing to what he regards as the biggest advantage his pension fund has over most others. As a Versorgungs-werk (see A peculiarly German institution below), it is part of Germany's first-pillar pension system. That means its members – in this case, doctors from the Westphalia-Lippe region – are legally obliged to contribute.
As a result, ÄVWL is free of the concerns that plague other portfolios. It does not need to worry about surges in outflows or short-term performance targets. Instead, it can stand back from day-to-day investment pressures and invest for the longer term.
It probably also helps that it is based in the town of Münster in the north of Germany's North Rhine-Westphalia region. The area is known for its university and a high number of bicycles relative to the population rather than finance. In Mosel's view, this relative remoteness from any financial centres enhances ÄVWL's ability to resist the latest investment fads. He makes it clear he has no interest in being wined and dined by investment bankers or asset managers.
Even the way ÄVWL conceives of its investments is different from the traditional formulations followed by many. Mosel, who is an economist, recognises but is not particularly concerned with the breakdown into bonds, equities and cash. Indeed, the typical pie chart showing such a breakdown is conspicuous by its absence from ÄVWL's website.
"We are slightly different to the portfolio managers with their Greek letters and portfolio optimisation," says Mosel. "They constantly talk about 'investment solutions' but they are really just offering products."
ÄVWL's portfolio is designed in terms of cash flows rather than a standard optimisation process. "We are looking for cash flow patterns," says Mosel. The key criterion is whether an investment fulfils its purpose in the portfolio. Naturally, the key concern is generating sufficient returns to meet future liabilities. "We have a very clear view on our liabilities," he says.
The distinctive intellectual approach informs an unusual portfolio selection. For a start, it entirely excludes government bonds. Their risk-return characteristics are not seen as appropriate for ÄVWL's needs. That is despite the regulator's view that governments bonds are completely safe.
Over a year ago, the portfolio divested of high-yield debt. Mosel says such bonds were no longer attractive. "If we feel an investment story is over and we are not rewarded for taking the risks, we just stop it," he says. "It was a clear-cut idea. We took a couple of weeks to discuss and then we terminated all external funds invested in high yield."
Under ÄVWL's regulator – the regional ministry of finance in Düsseldorf – it can invest up to 35% of the portfolio in 'risky assets'. These include private lending and private equity. A lot of effort is spent monitoring such assets to ensure they meet due diligence standards.
The illiquidity premia available on these investments – the additional return available to those willing to invest in illiquid assets – play a key role in enhancing the overall returns of the portfolio. Such investments can, among other things, finance the purchase of ships, aeroplanes and renewables.
The real estate investment is typically structured in funds. But these are ÄVWL's own rather than co-mingled with assets from other investors. Typically real estate investment runs for at least 10 years. The property portfolio has a wide geographical spread with holdings in Paris, Tokyo and Washington DC as well as Germany.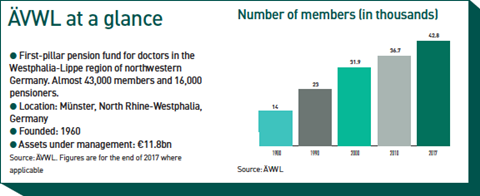 It also has a strategic shareholding in Deutsche Wohnen, a listed property company that runs a portfolio of about 164,000 European units. This gives ÄVWL access to income streams without the burden of having to manage such a large and diverse estate.
More liquid investments, such as equities, make up the rest of the portfolio. The management is outsourced to external managers, but ÄVWL insists on keeping the strategic lead.
Mosel says ÄVWL tries to invest as widely as it is able, but it avoids asset classes where it feels it does not have sufficient experience. "We don't touch commodities or hedge funds, because we don't understand them," says Mosel.
It also takes a pragmatic view of investments which, for whatever reason, it ceases to favour. "We very very seldom fall in love with our investments," he says.
Probably not surprising is its insistence on keeping costs low. "We are very penny-pinching when it comes to costs," he says. "We check them on a regular basis."
Another example of ÄVWL's distinctive approach in its investments is its sceptical attitude towards ESG. While it is in favour of ESG in principle – indeed its members often advocate it – the fund eschews the pre-packaged solutions offered by many asset management groups. "When we look at the ESG theme we often feel it is marketing-driven by the suppliers of investment solutions," he says.
Mosel says he has been involved in frank discussions on this topic with other Versorgungswerke. They came to the view ESG is a valid theme but there is often too much marketing involved. The Versorgungswerke decided to produce their own ESG criteria rather than relying on asset managers.
"If we regard an investment as ESG-suitable we put our own stamp on it," says Mosel. "We don't like to buy an ESG stamp from [fund manager] A or B."
Indeed many of its direct holdings could be viewed as making a positive impact. ÄVWL has a strategic stake in high-voltage powerlines that carry electricity from offshore wind farms in the North Sea to the industrial region of Bavaria in the south. These are run in conjunction with RWE , the German energy company also based in North-Rhine Westphalia. Other examples of impact investment include kindergartens and homes for the elderly. All the liquid assets must also follow ESG criteria.
If a long-term time horizon is a key distinguishing feature of ÄVWL, another one is centrality of trust. Mosel emphasises the vital importance of the close relations with the doctors on whose behalf he works.
In legal terms, the fund is run by the doctors themselves. Its structure will be recognisable to those familiar with large German companies with a main board (Vorstand) and supervisory board (Aufsichtsrat). Both of them consist of doctors along with external advisers.
Mosel, as CEO of the organisation, describes himself as "their right-hand man". The staffing of the company includes 35 in asset management (including 12 in real estate), 30 in member services and 30 involved in administration. A gauge of their experience is that the average age of the employees is 46.
Many of the doctors who sit on ÄVWL's governance bodies are clinic managers, says Mosel. That means they have experience of business administration as well as medical knowledge. Many also accumulate substantial knowledge of the fund's workings by sitting on its boards for prolonged periods.
He portrays a harmonious relationship in which the investment professionals generate ideas which are then either approved or rejected. However, they do not consider it their role to formulate investment ideas. "They have critical minds and they come up with very deep questions but they would never propose anything of their own," he says.
Overall, Mosel sees ÄVWL as a little conservative but producing results. "It's not very London, very Frankfurt or very New York in style. Maybe it's a bit old-fashioned." There is then a slight pause for effect. "But it works."
A peculiarly German institution
Versorgungswerke provide first-pillar pensions for the 'liberal professions' (freie Berufe) such as architects, dentists, doctors, auditors, pharmacists and vets. They are organised on professional and regional lines that reflect the federal Länder (regional states).
Membership is compulsory for all self-employed and salaried members of each profession. Doctors can only leave if they move to another region. Each account is fully funded by the individual.
The Versorgungswerke are self-governing institutions. That means members of the professions they represent run them, with the help of expert advisers. However, the day-to-day investment management is run by professionals in that area.
In 1923, the first Versorgungs-werk was created by the medical association in Bavaria. That was during the period of Weimar hyperinflation which had eroded the real value of all savings. The Bayerische Ärzteversorgung (Bavarian doctors' pension scheme) became the prototype for other schemes to follow.
After the second world war, the Versorgungswerke in the Federal Republic were reconstituted under the chancellorship of Konrad Adenauer (1949-63). After reunification in 1990, the system was replicated in the Länder of the former East Germany.
Since Versorgungswerke are part of the first pillar, they do not have to pay taxes. They are regulated by regional finance ministries rather than the EU's Solvency II directive.