---
Emilio Giorgi (pictured), chief risk officer at ENPAM , Italy's largest private pension fund, talks to Carlo Svaluto Moreolo about its commitment to investing in projects that directly benefit its members
ENPAM (Ente Nazionale di Previdenza e Assistenza Medici) wants to be more than just a pension scheme. Founded in 1937, it provides first-pillar retirement benefits and insurance to Italy's general practitioners. It is the largest pension fund in Italy and one of the country's largest real estate investors. ENPAM's management feels strongly about playing a dynamic role in Italian life. In recent months, the fund has been active in supporting regions hit by a series of earthquakes.
That vision has inspired a commitment to mission-related investments – projects that directly benefit medical practitioners, its membership. Emilio Giorgi, chief risk officer, says the current focus is on increasing investments within, or related to, the health sector. The strategy should help the scheme achieve its long-term return and income objectives, but also benefit the immediate future of its members. The board has earmarked 5% of the assets to mission-related investments and is implementing this across the asset classes.
Giorgi is experienced in the finance sector, having worked in the City of London for firms such as Barclays, Citi, Morgan Stanley, Swiss Re and Merril Lynch. He has also worked for Italian banking groups Unicredit and Monte dei Paschi di Siena. Giorgi became chief investment officer (CIO) of ENPAM in 2014. As part of a restructuring completed this year, his role changed from CIO to chief risk officer.
Giorgi explains: "Investing in our sector means investing in cutting-edge technology. It also means investing in secular themes. The backdrop of increasing longevity means medicine and care are hot topics at the moment, and that will continue for the foreseeable future."
ENPAM at a glance
• Assets: €19bn (as of 31 August 2016)
• Estimated 2017 inflows/(outflows): €2.5bn/(€1.7bn)
• Type of arrangement: hybrid (DB and DC components)
• Founded: 1937
• Location: Rome
• Privatised, first-pillar pension scheme for Italy's general practitioners
Recently, ENPAM increased its exposure to the health sector through its private equity portfolio. At the beginning of 2015, the scheme committed €150m to medical technology through Principia III, an Italian venture capital fund specialising in early-stage companies. Another €80m has been committed through investments in assisted-living residential health facilities. Giorgi says the scheme looked at both Italy and Germany – where the long-term care model is different from Italy's – as demand is still strong and risks are relatively low.
The appeal of investing in assets related to longevity and care is that it is sustainable. "As a country, we have a public welfare system that used to look after retirement needs, but now it is undergoing a deep transformation because of the funding gap. However, the cultural tradition of looking after the elderly is not going away. There is huge underlying demand for care, which is not fully expressed in terms of potential," adds Giorgi. For ENPAM, there is an argument that making longevity-related investments might serve as a hedge to longevity risk itself.
Giorgi stresses that focusing on long-term sustainability is a guiding principle of ENPAM's investment strategy. From a pure asset management point of view, he explains that minimising the volatility of investments takes precedence over high returns. He says: "For that reason, we do not need to invest in early-stage projects that require much research and development, while promising high returns. We would rather invest in something that is core and consolidated. But when it comes to our sector, the medical profession, we can afford to invest in riskier assets." When it comes to the infrastructure and energy sectors, the scheme favours brownfield projects, according to Giorgi.
"This isn't a standard investment strategy. We are definitely interested in health-related infrastructure, whereas we are less interested in greenfield activity, such as the development of new transport networks in Italy. We look for stable yield, and will choose the equity side if we are investing in core assets, but as the development risk increases we may choose the debt side. We cannot afford to put money to work without seeing immediate income, except for when we invest in private equity. The point is, we are most interested in income. We are in a strong balance sheet position, so we can keep a total-return management approach," says Giorgi.
This set of preferences must be seen in the context of ENPAM's targets. The scheme seeks a low nominal return of about 2.5% a year. Currently, ENPAM is cash positive and maturing at a slow pace. The gap between contributions and benefits will begin to close in about 10 years, when the bulk of the baby-boom generation will have retired. By law, the scheme has to guarantee 50-year break even on a rolling basis.
Giorgi says: "At times during the life of the fund, we will have to shift from the current total return logic to a more focused liability-driven investment (LDI) logic. But, as it stands, even with a 0.5% real return we can guarantee the 50-year break even, and that return estimate is pretty conservative." Therefore, at the moment, the scheme aims to reduce volatility and increase duration. This has led it to increase exposure to active management, which Giorgi says is bearing fruit.
This year, the scheme has worked on reviewing and implementing a strategic asset allocation. The previous strategy had been approved in 2012 in the midst of the euro-zone crisis, so a more robust and long-term allocation was required. The overall portfolio is split between liquidity (7%), fixed income (41%), inflation-linked bonds (4%), equities (14%), alternatives (3%) and real estate (31%). The portfolio of alternative assets consists of hedge funds (0.5%), commodities (1.0%) and private equity (1.5%). Giorgi says: "The portfolio is pretty balanced and diversified. We will just need to fine tune it and focus on sustainability. So while the search for yield is very important, we will not try to get it at any cost. We are happy with a relatively low return, but for us it's much more important not to increase the risk." The expected gross annual return for the portfolio over a period of 10 years is 5.2%, with volatility of 5.4%.
The allocation that stands out is real estate. The casse di previdenza – 19 privatised first-pillar funds for professionals to which ENPAM belongs – historically have a high allocation to property. The scheme is restructuring its real estate portfolio, with a focus on selling its directly-held residential component. The process began in 2013 and, so far, ENPAM has sold more than 1,000 apartments in Rome, realising €200m from the sales.
But the rest of its real estate exposure remains part of the strategic allocation. It is also one of the areas where ENPAM can implement its mission-related investment policy. Earlier this year, for instance, the scheme increased its stake in Fondo Spazio Sanità, a fund focused on assisted-care homes.
The new asset allocation was designed with the advice of Willis Towers Watson . The consultancy was appointed to act as investment adviser at the end of 2015, after an extensive search. Manager and consultant searches can be a long process for ENPAM, owing to the layers of regulation they have to abide by.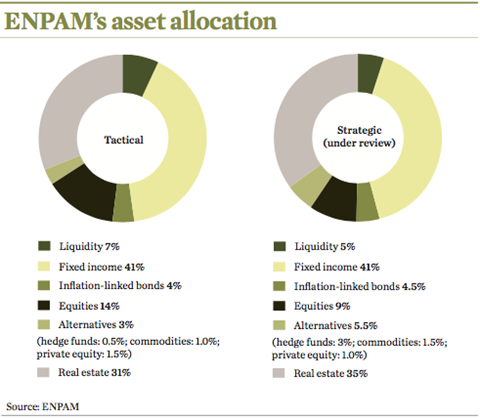 ENPAM and other casse di previdenza are, in fact, waiting for a set of rules to take effect. After a long process, Italian lawmakers have designed a new asset allocation framework which, it is hoped, will make casse di previdenza's portfolios more robust and prudent.
It is still awaiting final approval. One provision is to limit real estate investments to 30%, but the law will allow schemes to divest gradually. The provision to run European tenders for every asset management or advisory mandate will be more problematic.
Giorgi says: "We would rather not have to run European public [tenders] every time we want to award an asset management mandate. The law also says that we cannot take stakes above a certain limit in companies. We believe these limitations are excessive. ENPAM has a prudent investment policy and is ahead of its peers in terms of funding."
This prudence has led the scheme to reject an opportunity to invest in Atlante 2, a fund investing in non-performing loans (NPLs). The Italian government set up the fund to ease the pressure of NPLs on the fragile banking sector, and pushed casse di previdenza to commit.
A healing process
ENPAM is one of 19 first-pillar pension and insurance scheme serving Italian professionals. These schemes, known as casse di previdenza, were part of the public pension system until the early 1990s, when they were privatised. As such, the casse di previdenza can no longer count on the state in case of defaults. But the wealth of the casse di previdenza – which amounts to about €75bn of assets – is seen as a potential source of capital to support the economy through investment.
This means casse di previdenza are constantly in the spotlight. As institutions born in the public system and later privatised, they operate within a complex regulatory framework. They need to report to several bodies, but the framework has lacked specific rules on asset allocation. Furthermore, the internal governance structure is the result of a democratic process, with members expressing their preference on structures designed by the institutions themselves. Unfortunately, several cases of alleged mismanagement have emerged.
ENPAM was at the centre of a scandal between 2011 and 2012, which saw its former chairman, Eolo Parodi, resign after he came under investigation for fraud
(the prosecutor recently withdrew the accusations due to Parodi's ill health). The upcoming trial will try to establish, among other things, whether the ENPAM board recklessly bought collateralised debt obligations (CDOs).
The CDOs were said to have put ENPAM's value at risk. Most of the portfolio has since been divested and the institution managed to sell most of the assets at a premium. The trial, in which ENPAM stands as the injured party, involves other former
staff and is linked to further investigations involving casse di previdenza and Italian fund managers. Unfortunately,
Italian prosecutors are working on other cases of alleged fraud involving real estate assets, where ENPAM is said to be the victim.
However, five years later, ENPAM has completed its reconstruction. It has a new chairman, Alberto Oliveti, and a new board for the 2015-20 period. It has also conducted a review of its governance structure, which led to the approval of a new charter in 2014. The charter received government approval last year. Several provisions have been made to improve transparency and independent oversight of the procurement process.
ENPAM and other casse declined, after much debate. This is despite ENPAM's chairman Alberto Oliveti being also the chairman of Adepp, the lobby representing casse di previdenza. Oliveti co-ordinated efforts to invest in the fund, but later argued that it was not one for ENPAM.
Giorgi says: "There is a lot of scope to work with our peers on productive investment. Last year we invested collegially in shares in Banca d'Italia. When it comes with NPLs, we need to be better understand the regulatory framework and assess the risk-return profile."
Giorgi doubts that an investment of that kind could be made internally. "We would need to develop a much much bigger organisation than we have at the moment. We prefer to stay focused on selection and monitoring of alternative investments. Some of the investments that are considered strategic are directly managed – such as strategic stakes in listed companies, where we participate in the governance."
NPLs or other alternative credit assets are not out of the question, however, according to Giorgi. "Within the current asset allocation framework, there is space for investments with a risk-return profile that could be comparable to that of NPLs. The point is, we would have to follow market practices, unless we had specific guarantees. We would need to monitor the market and select the best performing managers."