---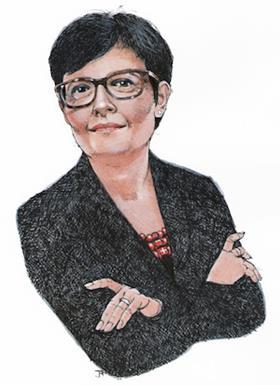 Ivonne Forno (pictured), the CEO of Laborfonds, the Trentino-Alto Adige/Südtirol regional pension fund, talks to Carlo Svaluto Moreolo shortly after the fund's 20th birthday
Ever since industry-wide, second-pillar DC pension funds were introduced in Italy in the early 1990s, policymakers have subtly tried to persuade them to invest locally. But mainly owing to a lack of internal resources, the funds' response has been muted. Most funds invest in domestic government bonds and, to a lesser extent, domestic equities and corporate credit. However, pension fund investment in the real economy, such as infrastructure or small and medium-sized enterprises (SMEs), is limited. But the situation has changed in recent years, when some pension funds begun to fund domestic businesses through private debt or private equity investments.
Laborfonds, the €2.65bn pension fund for employees of the stunning alpine region of Trentino-Alto Adige/Südtirol, is among the most active investors in domestic companies. The fund, which provides DC pensions to workers of companies operating in the region, belongs to the family of fondi negoziali. This is a building block of Italy's second-pillar pension system, counting 31 industry-wide schemes, 2.8m members and €50bn of AUM at the end of 2017. Most these funds have maintained relatively unsophisticated investment strategies. Laborfonds is one of a handful of funds that have ventured into alternative assets. In doing so, the regional fund has built a strong investment partnership with regional authorities and has become a key player in the economy of Trentino-Alto Adige/Südtirol.
In 2015, Laborfonds made its first investment in private debt. Along with the Trento and Bolzano provinces, the pension fund seeded the Fondo Strategico Trentino-Alto Adige, a closed-end investment fund focused on 'minibonds' issued by local SMEs. Laborfonds allocated €53.4m at launch, split equally between the two provinces. The provincial authorities committed €75m each. The fund is managed by Finint Investments, an Italian fund management group focused on credit and private equity. So far, Fondo Strategico Trentino Alto-Adige has invested in more than 30 minibonds issued by businesses in different sectors.
Laborfonds has also invested in private equity, infrastructure, renewable energy and social housing, mainly through funds. With tickets that vary from €7.5m to €25m, the individual investments are small in absolute terms but show that Laborfonds is committed to building a state-of-the-art portfolio of alternative assets. Within the fund's strategic asset allocation, alternatives are set at 10% of total AUM. At the moment, the funds has fulfilled 70% of that target, points out Ivonne Forno, Laborfonds' CEO. But at the end of last year the board decided to move forward with further investments in this area. The pension fund will soon launch beauty contests to identify the investment funds that will fill that 30% gap in target allocation to alternatives.
So far, the alternative portfolio has performed well, says Forno. "Nearly all the investments, even the ones made in 2017, are already past the J-curve stage or have begun to return capital. This is particularly promising, given the poor performance of bond and equity markets last year," she says.
The fund is growing in terms members and therefore contributions, so the absolute level of investment in alternatives is expected to rise in the coming years.
Forno says: "The experience so far tells us that direct investment in alternative investment funds, while complex in terms of selection and monitoring, is a must even for a relatively small pension funds like ours." She says that, for the time being, the fund will maintain a 10% allocation target to alternatives.
Nevertheless, a review of strategic asset allocation is due. The last substantial changes to the allocation were made in 2010, recounts Forno. The changes mainly affected Laborfonds' largest sub-fund, called Linea Bilanciata, which had €2.1bn of assets at the end of December.
Forno says: "At the time, we shifted from a multi-manager approach, with each manager focusing on one asset class, to a mixed active/passive model. The focus is now on getting low-cost beta exposure to global government bond markets, while letting active managers room for manoeuvre in global equities and global corporate bonds. The tracking error volatility of our active portfolios is quite high."
In 2015, that strategy was confirmed and the existing mandates for the portfolio were renewed. Italian asset manager Eurizon Capital is responsible for the passive portfolios, while BlackRock manages the active ones. BlackRock also manages the Linea Dinamica, an equity-focused portfolio worth €101bn.
However, those mandates expire next year. Forno says: "During the second half of the year we will review the asset allocation and decide whether we need to make changes. Most likely we will launch manager searches for those portfolios."
Last year was a busy one for Laborfonds. It added one infrastructure investment and renewed the mandate for its ESG-focused sub-fund, called Linea Prudente Etica. This is a balanced, active portfolio worth €252bn as of the end of last December. The mandate for the portfolio was won by Allianz Global Investors in April 2018. Laborfonds launched the ESG option more than 10 years ago and members have responded well. The sub-fund is the second-largest out the four offered by Laborfonds. The appointment of AllianzGI will help develop the fund's ESG credentials, says Forno, as the manager will provide more detailed plans to further reduce the carbon footprint of the portfolio.
This year will be no less busy. As well as managing its assets, the fund has to grapple with the implementation of the update to IORP II. Adopting the new rules is not going to be straightforward, according to Forno.
The CEO is wary of the short and medium-term future for Laborfonds. She concedes that the next years could be difficult, particularly if the gloomy predictions of many asset managers about the financial markets are correct. However, she is optimistic overall. The long-term future for the fund is bright. There will be no distractions from the key tasks. In particular, Laborfonds will continue to focus on growing the fund's membership.
Membership of second-pillar occupational pension funds is not mandatory for Italian employees. In the Trentino-Alto Adige region workers also have a choice between joining Laborfonds, which is multi-sector, or the relevant national sector-wide fund. There is no competition between Laborfonds and the national sector funds, says Forno. The real competition is between second-pillar funds and third-pillar ones. "Our focus is making sure, on one hand, that employees understand the need for a second-pillar pension. On the other hand, we must inform them on the difference between commercial pension products and funds such as Laborfonds, particularly from a cost perspective."
Laborfonds' efforts to spread the message and educate employees are bearing fruit. An interesting outcome of the fund's communication strategy is that at the end of 2017, women overtook men in the proportion of membership. This is in stark contrast to the overall Italian second-pillar pension system. Out of the 7.5m overall members, 62.3% were men at the end of 2017. In the fondi negoziali space, men were 72.6%. Authorities have drawn attention to this large gap. Not many pension funds can claim to have reversed the trend, as Laborfonds has done. Forno says: "We have specifically targeted sectors where there is high female participation. In general, in recent years we have strengthened our communication and outreach activity, by hiring young and motivated people who spend most of their time on the ground speaking to employees."
This and many other achievements were acknowledged last year as the fund turned 20. As part of the official celebrations, Forno took the opportunity to gather experts on pension matters, including Annamaria Lusardi, an Italian-born professor of economics at the George Washington University School of Business, and experts on financial education. In recent years Lusardi has risen to prominence in Italy, where she leads the government's efforts to increase financial literacy.
Laborfonds' modest but inspiring alternative assets portfolio
Like the Dolomites, the Trentino Alto-Adige/Südtirol iconic mountain range, Laborfonds' portfolio of alternative assets is modest in size, but inspiring. So far, the fund has invested through funds, which were selected and are monitored internally, with assistance from Italian consultancy Prometeia. As of the end of last year, the portfolio was structured as follows:
● €53.4m allocated to private debt, via Fondo Strategico Trentino Alto-Adige, managed by Finanziaria Internazionale Investments SGR;
● €25m in global private equity, via a Partners Group (UK) vehicle;
● €50m in two infrastructure funds, managed by Macquarie Infrastructure and Real Assets (Europe) and UBS Fund Management (Luxembourg) respectively;
● €13m in Italian renewable energy, via the Quadrivio Green Energy Fund (now part of the Green Arrow Capital SGR offering, following the Quadrivio acquisition;
● €7.5m in local social housing, through Fondo Housing Sociale Trentino, managed by Finanziaria Internazionale Investments SGR.
Making these investments not only required changes to the Laborfonds' statute. Ivonne Forno, Laborfonds' CEO, explains that the fund also had to ask for further reporting from some of the managers, to keep up with the strict regulatory framework for Italian pension funds.
The fund's representatives also took board positions in the fund's governance. This might happen on a fairly regular basis when pension funds invest in alternative funds, but it was a novelty in the Italian context. Laborfonds set a standard that other Italian pension funds are likely to follow in the future.
Forno joined the fund in 2009. She has a legal background, having worked within the asset management divisions of banks such as UniCredit and MPS. She then moved back to her home region to work for PensPlan Invest, the only asset manager in Trentino Alto-Adige. She joined Laborfonds after overseeing legal affairs for the Pensplan project, the region's initiative for developing second-pillar pensions. Today Forno leads the fund's overall operations and actively oversees the investment teams.
Laborfonds strives to educate and inform employees but Forno herself has been on a learning curve. She says: "The experience has taught me that one must never stop learning, partly because regulation is constantly developing, and that there are always opportunities for improvement. Our sector needs special skills, expertise and professionalism, as well as a sense of responsibility.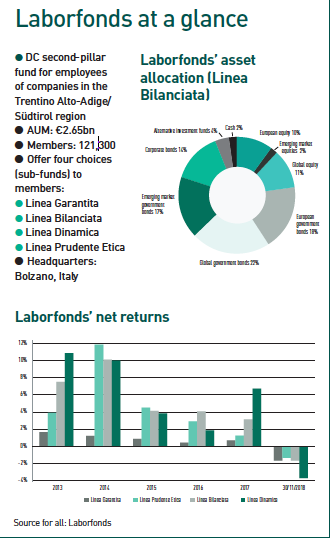 "A pension fund such as Laborfonds is not just an organisation that manages money. It is a community of people with shared needs and objectives. That is why we focus so much on financial literacy", she says.
Her advice for young people considering starting out in pensions is simple. She says: "Believe, be committed, study. Second-pillar pensions are relevant today and they will be even more relevant in the future. The people we deal with are not clients, they are partners. We deal with their future.