Italy's casse di previdenza – first-pillar pension schemes for white-collar workers – are facing numerous challenges. These include the threat of higher taxation for their members, pressure to invest in domestic assets as well as the reputational fall-out from allegations of wrongdoing.
INARCASSA, the €7.5bn scheme for self-employed architects and engineers, believes it is better equipped to meet those challenges. Its chairman Paola Muratorio and chief investment officer Alfredo Granata maintain a management strategy which they suggest is simultaneously rooted in firm principles and driven by an on-going willingness to innovate.
The management is most proud of its alternative investment portfolio – Inarcassa has allocated 10% of its overall assets to private equity, private debt and infrastructure projects and previously invested in commodities. Real estate, which does not fall into the 'alternative' portfolio, is at 20%.
Muratorio wants to further strengthen Inarcassa's investment team to improve control capabilities on illiquid assets. "There are plenty of less liquid assets I would like to invest in" says Muratorio, "but you need to choose well and control well to bring added value, and that is why I want to increase capacity in this area."
Inarcassa has developed an active approach to real estate investments. While casse di previdenza – formerly state-run institutions – are used to having large real estate holdings, Inarcassa has tried to stay on top of trends. Granata outlines a recent on-going initiative, which sees the scheme moving away from managing assets directly and towards real estate mandates, tapping into the global market.
"Until last year we were focused on domestic real estate, but now the board has established that 20% of our real estate portfolio, or 4% of the overall portfolio, will be invested internationally following a search and selection of suitable managers," he says. "Also, we are moving completely towards indirect management of assets, conferring non-speculative mandates, which we see as the most efficient model." Moreover, Muratorio explains that to follow best practice in real estate investment, the real estate portfolio has been always valued at market prices by a third party, much like at real estate funds, a solution he believes makes the scheme an outlier.
Inarcassa
• Location: Rome
• Assets: €7.5bn
• Members: 170,000, 40% of which is younger than 40 years old
• Inception: 1958
• Fund type: first-pillar scheme, privately run (since 1996)
• Structure: defined contribution in a pay as you go system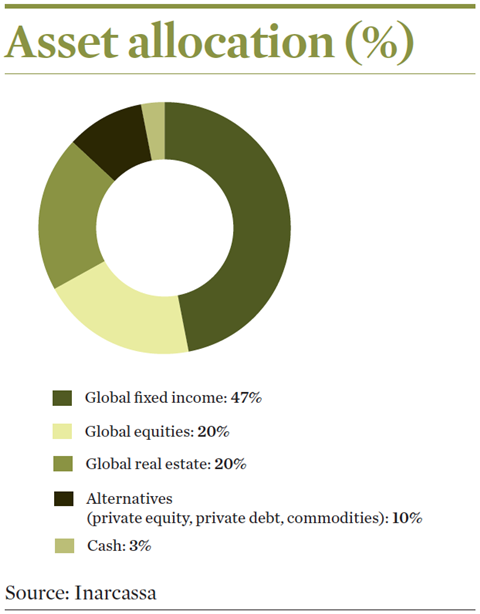 Muratorio has made an effort to gain a foothold in the private equity market, but with mixed results. In the past, Inarcassa invested using leading global private equity firms, but also identified a number of domestic opportunities. "We began investing in domestic private equity a long time ago, especially in companies from southern Italy, to see whether there was a chance to help the region grow," Muratorio says. "Unfortunately, there has been little demand for our investment. It is difficult to find companies that are available and have attractive growth prospects. But this is one of our core asset classes and one of the best ways to support the Italian economy."
To maintain such a diversified portfolio, Inarcassa employs more than 40 managers, many of which have passive mandates. Nevertheless, it has developed a strong internal governance structure and does not rely on external investment advisers. The whole investment process takes place within Inarcassa, but "not in a self-referential way" as Muratorio puts it. "My door is always open. The board listens to investment propositions by specialised asset managers, on the basis of cash flows and three-month, or even one-month, tactical asset allocation. Then the investment team carries out a due diligence process, with a first screening and then a shortlist of the best opportunities. These final proposals then are passed on to the board. There is no investment adviser, but we have a risk adviser who can intervene when they feel that a proposal does not match our risk profile."
The investment team is 29 strong; seven are dedicated to the non-real estate assets while the others manage the investment portfolio. The real estate team operated autonomously until recently, but the two teams have been consolidated with a dual purpose: to improve general investment capacity and to reflect the scheme's new real estate strategy of focusing away from direct management.
Portfolio diversification
Inarcassa's portfolio is diversified across five main asset classes – fixed income, equities, real estate, alternatives, cash – divided into 17 sub-classes. "This is a global portfolio, both geographically speaking and in terms of asset diversification," says CIO Alfredo Granata. "We follow the developments in the asset management industry closely to be conscious of any new opportunity."
Inarcassa has extensive experience of direct investment in real estate and traditional asset classes, although the investment team manages domestic equity and fixed income portfolios directly. Inarcassa has set a strict rule that only listed derivatives can be owned, and uses futures for hedging against currency, interest rate and financial risk. The fund follows an overall strategy based on expected returns. For 2014, the gross rate of return was set at 4.3% with volatility, measured against value at risk, of 2.6%.
Granata adds: "Employing so many asset managers is a challenge but with our top-down approach we can monitor the performance of all the single asset classes and the individual managers. Thanks to the data supplied by our custodian, the investment team and the risk manager monitor the daily performance and provide the management board with monthly reports. Our managers are also instructed to do monthly reports, but if we identify any issues we will address them immediately. As a further control tool, our custodian bank has all the contracts, so to verify the respect of any limit according to the investment policies, and gives us our daily net asset value."
Muratorio explains the board has strengthened the drafting of contracts with asset managers during her tenure. "Contracts are a major aspect – we have hired a legal expert to help us draft contacts that comply with all the regulations," she says. "This makes the asset management process easier for us."
Inarcassa's approach to diversification, strong governance structure and penchant for illiquid assets have made it a target for criticism, as well as demands. Italian politicians are looking to unlock financing for the economy, and casse are the obvious candidates. At the same time, developments have made legislators more wary of pension providers that run balance sheets with a large portion of illiquid assets. These two requests do not match, says Muratorio: "We were accused of being reckless because we had illiquid assets such as private equity holdings on our balance sheet. We reduced our exposure to illiquid assets and proved to the regulator that our pension obligations can be sustained for the next 50 years. Now we are called to invest in the Italian economy, but if the legislator wants us to do that, they need to legitimise investment in less liquid markets. This a difficult point to get across to our regulators."
Muratorio explains that investment in the real economy has always been on her agenda. "We have always looked for ways to invest in companies that contribute directly to economic growth in Italy, even unlisted ones, and especially in our sector. One of the drivers for this is that more than 100,000 of our associates have very low incomes. However, investing in greenfield projects in Italy is almost impossible today – the level of bureaucracy means that from project to concession even, seven years can pass. Even when we have invested in brownfield social projects such as schools it took years to finally get to the manager selection stage. We gradually abandoned the idea of greenfield projects, not for a lack of funds, rather for the unmanageable level of bureaucracy. If the state wants us to invest in infrastructure, it needs to address this once and for all, because dispensations for special occasions such as the Milan Expo will not do."
Spotlight: Casse di previdenza
Italy's casse di previdenza – first-pillar pension schemes for white-collar workers – were set up by the state to take care of the pension needs of this group, but a reform introduced in 1995 means that they are now privately run. In terms of investment, they are not subject to the same stringent limits that younger pension funds are. This 'hybrid' nature means they have become more active investors, diversifying into less traditional and liquid asset classes such as real estate and private equity.
The 20 casse are now under the spotlight. In the past few years, some have been subject to investigations by prosecutors for alleged wrongdoing that put their members' pensions at risk. Worries about the state of their finances led former labour minister Elsa Fornero, architect of an overhaul of first pillar pensions in 2012, to ask them to prove their sustainability over the next 50 years. This forced many of them to switch from defined benefit to defined contribution models. Today they face increasing government pressure to help rescue the economy by investing in domestic assets, while their members are threatened with a capital gains tax hike that would shrink their returns. At institutions such as Enasarco, the shopkeepers' scheme, questions remain about their balance sheets, as investigators try to disentangle the web of relationships between boards, top finance and property tycoons, politicians and trade unions that allowed shady financial deals to take place.
Yet Inarcassa did not give up on finding a solution. It has teamed up with two other casse – the manufacturing engineers' and the surveyors' schemes – to set up ARPINGE, a jointly owned company with initial capital of €100m which will invest in Italian infrastructure projects. Muratorio says: "We hope to see the first construction sites open this summer. We agreed that we will raise additional capital to increase the budget to €500m. We want to show that we can build infrastructure in this country efficiently – choosing the right projects, within the agreed timeframes, on budget and not for speculative purposes. We hope to set an example on a European level."
While struggling to identify the right avenues for putting its money to good use, Inarcassa has had to reflect on its governance. Because of their public-private nature, casse di previdenza deal with a number of controlling agencies – COVIP, the pension fund regulator, being only the latest. The scheme is also held accountable by the court of audit, Ministry of Labour and Social Policy, the Finance Ministry and a special parliamentary commission for pension issues. The bank checks every transaction and provides daily valuations, but this is not yet a requirement by law for casse di previdenza. Muratorio says: "Our approach to governance is rigorous. We hired a custodian bank – which is an additional cost – having looked at the regulation that our second-pillar peers are subject to. We though it was a good idea and we copied it."
Given the sheer number of regulatory agencies, how, one might ask, is it possible that casse have been allowed to make reckless, unsound investments and that other agencies found out before the regulators? Muratorio says the answer lies in the complexity of the regulatory environment. "The regulatory environment is fragmented. We are asked to provide an incredible amount of information but with that comes the difficulty of interpreting it. I'm all in favour of transparency – we were the first to publish our balance sheet online – but what is the use of producing a different report for each agency?