---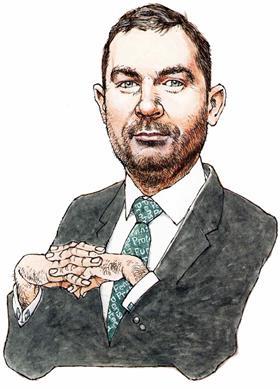 Barry Kenneth (pictured), chief investment officer at the Pension Protection Fund , tells Taha Lokhandwala about the UK's lifeboat fund's innovative strategies
A government has many roles; the key one remains to protect its citizens. In April 2005, the Pension Protection Fund (PPF ) was created, ready to aid pension fund members and take on defined benefit (DB) schemes left stranded by a failed corporate sponsor.
The PPF – funded by a levy on eligible schemes such as assets from abandoned funds and investment returns – began with little more than an objective. It has since amassed £22.6bn (€31.9bn) in assets, and 200,000 members, and sees itself as a leading centre of competence for liability management. It is now planning a shift to in-house investing.
Its chief investment officer (CIO), Barry Kenneth, formerly of the Royal Bank of Scotland and Morgan Stanley pension fund solutions groups, joined in 2013. He was tasked with developing the in-house team to invest in new areas, manage complex risk budgets and to find efficient and effective liability investing solutions.
A quasi-government organisation, the PPF's board – responsible for controlling risk and return – reports to central government with an aim of minimising state support. To manage this, the PPF has developed funding mechanisms focused on achieving self-sufficiency by 2030. The idea behind self-sufficiency is based on a 50% probability of meeting pension requirements in full, should it have achieved 100% funding in 2030. However, it includes an additional margin to cover longevity and claims risks not covered by its cash inflows (see panel).
As of this April, the scheme had liabilities of £17.8bn and a funding ratio of 115.1%. However, owing to a decrease in UK scheme funding overall and a higher risk of claims, the PPF estimates it now has an 88% chance of achieving self-sufficiency by 2030. The probability of becoming self-sufficient by 2030 is dependent on levy payments and claims made by abandoned schemes.
As CIO, Kenneth's main focus is achieve returns within the predetermined risk budget. "Because, we have been given a risk budget and expected return, I can concentrate on the part that is my responsibility, generating LIBOR plus 1.8 percentage points on a three year basis." he says.
The likelihood, should the probability significantly rise above 88%, is that investment risk would decrease. Not a huge issue for Kenneth given the flexibility in the risk budget and the fact that the PPF currently has risk to spare.
"We have to manage the portfolio in the least risky way possible to ensure we can pay pensions," says Kenneth. "We are going to go through cycles where the probability of success looks really good and times where it does not. We have to be sensible and manage that logically as an institution.
"We are only 10 years into this, and 15 years away from the target. I'd be surprised if that target date is when it is reached. It could be sooner or it could be later."
While the levy intake – which accounts for 23% of total assets – meets cash calls, the PPF still has a focus on liability-driven investing (LDI) and hedging of interest rate and inflation risk. About £12bn of its assets are currently in UK government bonds. The PPF aims for cash and bonds to reach 58% of total assets by 2017, and relies on derivatives within its LDI portfolio, something Kenneth was keen to change.
Over the year to April 2015, Kenneth oversaw an investment return of 25.9%. This was partly a result of falling interest rates boosting its derivative portfolio, but growth assets returned 7%. Over that year, the PPF started a shift towards a hybrid asset portfolio, which Kenneth describes as investments providing inflation or rate hedges but with a growth element. Expected to account for 12.5% of assets by 2017, the portfolio should reduce the reliance on inflation and interest rate swaps and signal a withdrawal from markets where liquidity is a concern.
"When I came here two years ago the investment strategy effectively had a 4% tracking error from its benchmark of LIBOR plus 1.8 percentage points, so we tried to build one that assumes the LDI portfolio is 'cost-free'," Kenneth explains.
He points out that the Basel III regulations on bank capital adequacy are affecting liquidity in investment markets, with banks warehousing less. Adding to the impetus to move towards hybrid and illiquid assets was the European Market Infrastructure Regulation (EMIR), which would could see crowding in derivative markets once pension funds begin clearing.
"Given banks were not going to be set up to provide large risk transfers, it would not feel like a great place to be if we did not evolve our investment strategy to compensate," says Kenneth.
"The way we see our business, and as we become a growing institution, it did not look like it would work well for us."
The PPF's 2030 funding objective
The PPF has set its funding horizon at 2030 and describes this as the point the UK's defined benefit universe will be too small for the levy to manage its funding position and potential deficit. It has decided on a funding level that should account for potential material impacts on longevity and lack of investment opportunities.
Should this level be reached by 2030, the scheme will be self-sufficient. To be self-sufficient, the PPF needs to be in a situation where there is a higher chance of overall success in paying every last promise, currently calculated as having a 10% asset buffer over liabilities.
Asset selection within the hybrid portfolio will depend on in-house views and discretion given to external managers. However all will be investment grade and have UK exposure or cashflows, providing hedging. Already included are investments in renewable energy, index-linked private placements, and a flagship £330m co-investment with a UK insurer for prime office space in Manchester – on a 23.5 year lease with inflation linkage.
The old silo 'growth' and 'LDI' portfolios may have restricted areas the PPF could invest in, but the most recent additions to the portfolio bring new issues, such as liquidity. The fund has extended its risk management framework to include liquidity, and sees it as a necessity given how markets are transforming.
The fund has adopted a more flexible approach with its external managers and issues risk-factor mandates, particularly within its hybrid and illiquid strategies. Kenneth is building his in-house team, with a focus on asset allocation strategy and manager selection. Investments are still externally managed.
The PPF sets criteria for target yield based on risk factors, including liquidity, and grants managers flexibility to select the actual asset. For liquidity, the asset in question would be compared to a liquid comparable, with the fund dictating what discount it would need on asset value, or premium in terms of yield, to allow the manager to buy the asset. So the PPF would fund a private placement at a lower yield to a long-lease property, for example, based on the perceived liquidity in each asset.
The risk factor mandates, Kenneth says, allow the scheme to access a wider pool of assets, and at the portfolio's current size any additional prescription for managers would achieve little. More control may need to be executed as the fund grows, however, according to the CIO.
"We set targets for asset classes which are different from the traditional view," he explains. "When we bought the Manchester property, we didn't look at it for capital returns, but rather having just shy of 25 years' worth of lease payments giving us an income stream. We look at these assets on a yield basis, so differently to if it was in our real estate portfolio.
"We are looking for different ways and means to be more efficient. If there is something out there that looks like a great investment, we'll do due diligence and see if it fits in the portfolio."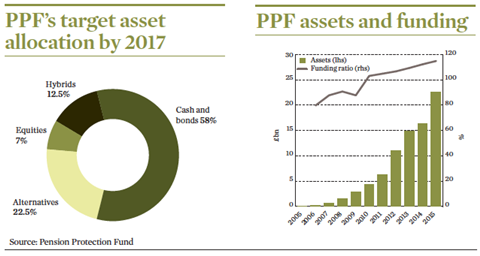 The UK Gilt holdings and the hybrid portfolio represent the bulk of the fund's exposure to UK assets. When it comes to risk assets and corporate exposure, the PPF has to look elsewhere. The main risk to the PPF's overall strategy is the level of corporate failure in the UK, as failing businesses immediately translates into more claims. This philosophy limits the equity exposure to about 10%, expected to be reduced to 7% by 2017.
The fund tracks a minimum-volatility index, having moved away from market capitalisation-weighted indices in 2013 as part of a shift from active management towards alternative indexation. The PPF still operates an active management budget and can choose where to allocate that across its asset classes. The shift was designed to increase efficiency, Kenneth says, and provides reduced volatility coupled with not vastly different performance. To avoid the UK, the scheme tracks a FTSE minimum-variance index giving it a US equity bias but offers exposure to other markets.
The fund's private equity portfolio follows similar geographical restrictions. It started in 2010 with fund-of-fund investments but began allocating to primary managers last year hoping to have between 3-5% invested in the asset class – with an emphasis on US energy and financial companies based on the team's market view.
"We are looking for different ways and means to be more efficient. If there is something out there that looks like a great investment, we'll do due diligence and see if it fits in the portfolio"
Alternative credit is an area of key interest and a 5-10% allocation covers the whole risk-curve. The fund has managers looking at distressed debt, particularly in the US energy market as the oil price falls, right through to high-yield, direct lending and infrastructure debt.
More traditionally, the bond portfolio is all investment grade, both active and passive, with anything rated below that allocated to alternative credit. Aside from the £12bn in UK government bonds, the fund has £2.3bn in other government debt and £1bn in non-UK corporate bonds. The PPF also has a range of emerging market debt investments and asset-backed securities, with active management elements in both, and a focus on opportunistic investing.
"We have a view that buying the index is a cop-out in emerging markets," Kenneth says. "You have some very developed markets, some very undeveloped and some in between. To have to buy everything across all these does not make sense for us. We would rather have managers who have experience in the area to run something opportunistic."
The shift to the 2017 asset allocation target (see chart) was decided in 2014, just as the scheme started investing in hybrid assets. Its long-term funding strategy, from which the estimated 88% chance rate is calculated, will have to adapt. For the 2030 horizon, it is assumed the fund will be investment-risk free, but assets in the hybrid portfolio no longer allow for that. It will consider incorporating investment risk into its assumption when it has more clarity on asset allocation by 2030.
The evolution of the funding level will determine what Kenneth can do over the next 15 years.
"The target is to be fixed income orientated when we get to the de-risking model. This would be a combination of government bonds and high-grade assets. This hybrid portfolio will pay cash flows for a long time, but it will be investment grade and safe. As long as we progress, the economy notwithstanding, that would be our route," the CIO says.
The PPF will shift some investment management in-house over the next three years. The team started with manager selection, but has developed into asset allocation under Kenneth's watch. Making investment choices seems the natural step.
The main aim, however, is to remain on top of the investment objectives. Kenneth takes pleasure in being at the vanguard with minimum-variance benchmarks and risk-factor mandates, but grandstanding is not the reasoning. "We're not doing this to be special," he says. "We're doing it because it makes sense. It is a way we can fit our needs better rather than being overly prescriptive and not investing in anything."