Livio Raimondi, CIO of PREVIP, a €2.2bn multi-employer DC pension fund in Italy, tells Carlo Svaluto Moreolo about the fund's growth aspirations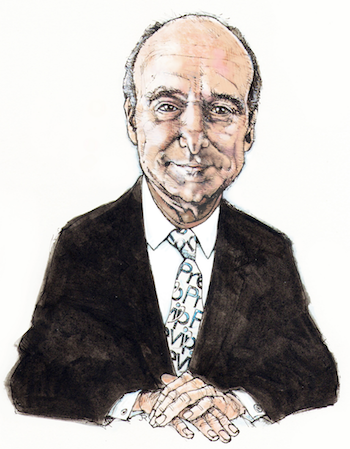 In Italy, second-pillar pensions became available to all workers in 1992, when a major reform launched industry-wide pension funds. Since then, attention has been focused on the growth of these funds, which were created to cover lower-paid employees. But non-state pension provision existed in Italy long before 1992, thanks to a large number of second-pillar pension funds sponsored by corporates, particularly banks.
PREVIP, a €2.2bn defined contribution (DC) pension scheme based in Milan, is one such 'pre-existing' fund in Italy. These funds are regulated under the same framework as 'fondi negoziali', industry-wide pension funds, but because of their history, they operate slightly differently.
Pre-existing funds represent the largest group in terms of number and assets under management. At the end of last year there were 294 pre-existing funds out of a total 452 pension funds in the country. The total AUM for the pre-existing group was €57bn. This means these funds on average are smaller in size than fondi negoziali, which have a total of €46bn in AUM. However, because of their number, their role in the Italian institutional investment sector is key. As such, it is as important to understand them as it is to understand their larger counterparts.
PREVIP was founded in 1989 as the pension scheme for Riunione Adriatica di Sicurtà (RAS), a well-known Italian insurance company which is now part of Allianz. Following the development of the second-pillar system, the scheme began to sign up employees of other firms. Over the years it has become a fully-fledged multi-sector, multi-employer pension fund, managing the retirement savings of 29,000 employees from 280 firms.
PREVIP has grown spectacularly over the past few years, going from AUM of €1.6bn in 2013 to the current €2.2bn. If its strategy is successful, it will maintain a high growth rate. Livio Raimondi, CIO of PREVIP, says the scheme has been looking to grow by incorporating other pension funds. "Our sector is still very fragmented, that is why we have put ourselves forward as aggregators of smaller pension schemes. That is partly why our AUM has grown to such extent. There are many company schemes that have a long history but are deciding to take a step forward," says Raimondi.
"It is important to understand what the sources of risk are within the portfolios, to discuss them with managers"

Livio Raimondi
"In order to attract other schemes, we offer not just our high-quality investment process and administration service, but also strong support to members, which consists of education through media, group and individual meetings." The scheme can only take over other pre-existing funds, and it does not engage in a conventional marketing strategy in order to win them over. "The combinations with other schemes are born out of the many interactions we have within our sector," adds Raimondi.
He explains that the scheme is undergoing a period of change. It started offering members four investment options, or sub-funds, in 2000. But these were overhauled in 2012, and the offering is still evolving.
The largest sub-fund in terms of AUM and members is a guaranteed fund, promising preservation of capital invested. At the end of 2016, this fund had assets of €1.8bn. The fund invests in insurance policies managed separately by the Allianz group. The fund's returns and losses are distributed as and when they are realised.
The fund, says Raimondi, has recorded annual returns net of tax and fees of between 2.5% and 3% over the past few years. "The advantage of investing in this sub-fund for our members is they can access a very convenient investment strategy cost-wise," says Raimondi.
The three other investment options vary in terms of risk and return targets. They are organised as follows:
• Balanced bond fund managed by Natixis Asset Management;
• Balanced fund, managed by Allianz Global Investors;
• Balanced equity fund, managed by AXA Investment Managers.
Members can choose how to allocate their savings between the four different sub-funds. Raimondi explains that PREVIP has sought to offer freedom of choice and varying degrees of risk to satisfy the particular needs of its members.
Because of its roots in the financial sector, PREVIP's members tend to be better off, with average savings of €80,000. It is a much higher figure compared with the average Italian pension fund.
The possibility of spreading risk over the different sub-funds is particularly attractive for well-off members. They can allocate a portion of their portfolio or contributions to the riskier but potentially more rewarding investments, while protecting the majority of their capital in the guaranteed fund.
"When we restructured the sub-funds at the end of 2012, we designed them bearing in mind that members should be free to make their personal investment choices according to their own needs," Raimondi explains.
The strategic asset allocation within the balanced sub-funds moved towards a multi-asset model in 2015-16. "They cannot be defined strictly as multi-asset funds as we have not put all the asset classes we could have in there," says Raimondi. "However, we have broadened the asset allocation in recent years, and have opted for an active management approach, particularly concerning tactical asset allocation."
The choice of active management is based on the scheme's past experience. "We believe asset managers are still capable of creating value by selecting securities. We have a good track record of outperforming after costs over the past years, even with low tracking error," says Raimondi.
However, he adds that one lesson learned from recent years is that it is important to have an active dialogue with managers and have a risk management strategy in place. "It is important to understand what the sources of risk are within the portfolios, to discuss them with managers and to understand well the management style, making sure it is always coherent with the fund's objectives," says the CIO.
That said, Raimondi says the fund's board does not attempt to influence the managers' asset allocation decisions. "That is not our job. We try to have a deep understanding of the sources of risk. The board has intervened, however, to broaden the investment universe. The board is made up of professionals with experience in investment as well as pensions."
PREVIP has recently added emerging markets and high-yield bonds to its portfolios, following the changes in the regulatory framework for Italian pension schemes. During 2016, the managers' decisions included changing the duration of the bond portfolio and switching between underweight and overweight positions in equities.
Raimondi says that the board is reviewing the current strategic asset allocation of the three balanced sub-funds and that changes are likely in 2018. Fundamental changes in the market may also make investing in insurance policies unattractive. However, Raimondi says there are no plans to change that strategy for the main sub-fund in the near future.
"The guaranteed sub-fund is the most popular with our members. It used to attract 90% of savings; now it has a 80% share. It has been successful so far because, at zero volatility, the returns have been attractive. We have never seriously considered changing it. But it is true that markets and products change," says the CIO.
However, there are plans to restructure the funds' offering. "One idea under discussion is to offer an option with an inflation target that complements the guaranteed fund. It would be an inflation-plus product with volatility restrictions and a well-defined investment universe. We believe that the European Central Bank (ECB) has a credible inflation target. Therefore, we think the inflation-plus concept is potentially interesting."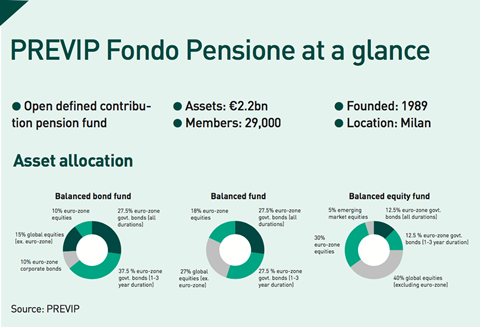 Raimondi adds: "This ongoing project may involve expanding the investment universe further, particularly on the bond side. The current strategic allocation to bonds was decided under particular market conditions, which have now changed, so we might have to do something about that."
PREVIP may also push the boundaries of its investment universe towards real assets, according to Raimondi. Recently, pension funds have been given the option to invest up to 5% of assets tax free in domestic small and medium-sized enterprises (SMEs). A recent bill launched piani individuale di risparmio (PRI) retail vehicles offering tax-free returns for investors in SMEs.
Raimondi says: "That is something we would consider. We try to take advantage of innovations. Investments in the real economy offer an illiquidity premium that pension funds such as ourselves should be able to exploit. However, these investments tend to be challenging for small pension schemes."
However, the CIO adds: "There is a project about a well-diversified fund of funds designed for pension funds. That would be a better route.
My hope is the project will result in concrete action."
Any asset allocation change that increases risk in the portfolio has to be carefully considered by PREVIP. Many scheme members have contributed to the scheme for the length of their careers in a fully DC setting.
PREVIP is one of many DC pension schemes in Italy that were set up when DC was a relatively innovative concept. The DC system in Italy has been slow to take off but Previp's rich history makes it a fine example of how a relatively simple, well-designed DC model can be successful.
A large proportion of members, almost 18% of the total population, decided to maintain their investment in the scheme after retiring. For that reason, lifecycling is not yet part of the model, says Raimondi. "I am in favour lifecycling as a concept, but I think automatic exit mechanisms do not always work well. In our case, the decumulation process is critical because of the large share of members who stay with the fund."
PREVIP instead engages in an active dialogue with members to advise them on their journey, including the optimal ways of exiting the fund. At the same time, the scheme will continue developing its range of investment options with a multi-asset approach.
Raimondi says: "Our [membership] is diversified, in terms of both their wealth and their needs. For that reason, we think our sub-fund structure, which combines insurance-like products as well as more traditional asset management products, is the best option."