---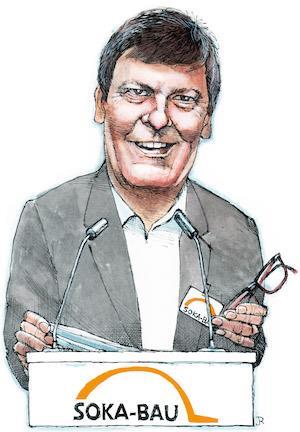 Gregor Asshoff (pictured), board member of ZVK, the pension fund for Germany's construction workers, talks to Carlo Svaluto Moreolo about upcoming asset allocation shifts
The nature of their work means construction workers face frequent downtime and gaps in employment, which results in significant losses in statutory pension entitlements. Ensuring adequate retirement benefits to construction workers is a great challenge.
Industry-wide pension funds are often seen as the most effective choice to provide construction workers with safe, low-cost and high-quality pension products. In Germany, construction workers are protected by SOKA-BAU, a paritarian institution established by the social partners of the German construction sector. SOKA-BAU unites two organisations under one roof – the Paid Holiday and Wage Equalisation Fund of the German Construction Sector (Urlaubs- und Lohnausgleichskasse der Bauwirtschaft or ULAK) and the Occupational Pension Fund of the German Construction Sector (Zusatzversorgungskasse des Baugewerbes AG, or ZVK).
With just shy of €8bn in assets at the end of last year, ZVK might not be the most prominent pension fund in Germany.
However, ZVK's 1.7m insured make it Germany's largest pension fund in membership terms. The fund was set up in 1957, while its sister fund ULAK was founded in 1949. The long history of these organisations shows the weight of the construction sector within Germany's economy. The funds provide a safety net to a sizeable share of Germany's labour force and so carry a high responsibility. By law, all construction companies in Germany are affiliated to the organisations.
ZVK is quietly undertaking a modernisation effort, according to board member Gregor Asshoff, who joined SOKA-BAU in 2015. Asshoff, a lawyer by training, has had a long career in the construction sector. At the beginning of his career, he had a two-year stint at SOKA-BAU. He then spent nearly two decades in senior roles at IG Bauen-Agrar-Umwelt, one of Germany's largest trade unions, serving the construction sector among others. Prior to joining the ZVK board, he was deputy chairman of the supervisory board of Hochtief, Germany's largest construction firms.
Less than four years ago, shortly after Asshoff joined, the defined benefit (DB) portion of the fund was closed to new entrants, and from early 2016 new members have joined a fully capitalisation-based scheme. This is not a defined contribution (DC) scheme in the common sense. Like most pension funds in Germany, the scheme guarantees a minimum annual return.
Significant changes are taking place in ZVK's investment strategy as well. The fund is broadening its allocation to illiquid assets. Last year it began investing in private equity and plans to launch an allocation to infrastructure by the end of this year.
Asshoff says: "We had a small portfolio of private equity in ULAK, which was more oriented towards German or European small and mid-cap companies. We are now focusing on the allocation within ZVK. As we usually do when we start investing in a new asset class, we have chosen a large asset manager that can allocate to a broad range of assets, both from a geographical and sector perspective. We have a managed account with one of the largest players in the field, which is running a global portfolio of mid-cap and large-cap companies."
"In the not-so-distant future, we will start looking for managers that can invest in smaller companies and with a more regional focus, and we may invest in several regions. We are following more-or-less the same process with our infrastructure allocation," he says.
ZVK's real estate portfolio is also due for some diversification. Asshoff explains: "ZVK directly owns more than 10,000 flats and a small portfolio of commercial properties in Germany. When I joined the company, we decided to internationalise the portfolio. Over the next few years, we will reduce the portion of German real estate and start investing in funds or via co-investments outside of Europe."
Following these shifts, ZVK will gradually increase the share of indirect investment, relying more on external asset managers. As well as the German real estate assets, the fund manages a large portfolio of euro-denominated sovereign and corporate fixed income internally. This will be reduced to make space for listed and private equity, infrastructure and non-euro fixed-income assets, including emerging market bonds. The management of these assets will likely be outsourced, according to Asshoff.
He says the fund is agnostic regarding market views. "As a long-term investor, we do not typically bet on market returns in general," Asshoff says. "Our aim is to target a balanced return over the overall portfolio." However, the fund will engage in tactical asset allocation from time to time – for instance, during market corrections, and has established generous limits for deviations from the strategic asset allocation to that effect.
At the heart of ZVK's approach is a strong risk-management strategy, which underpins the strategic asset allocation. The fund finds itself in an enviable position, having built significant reserves over the past few years. This allows it to raise the allocation to risk assets to withstand the low-yield environment. By 2024, ZVK plans to reduce the strategic allocation to real estate and fixed income by around five percentage points, thereby raising the allocation to equities.
At the same time, owing to the changes in the yield curve for euro-denominated fixed-income assets, the fund must extend the duration of the liability-matching portfolio. "We could do it by buying long-duration bonds but these are expensive and hard to find. The other way to do it is to buy other interest rate-sensitive products such as interest rate swaps, and that is what we will begin doing soon," Asshoff says.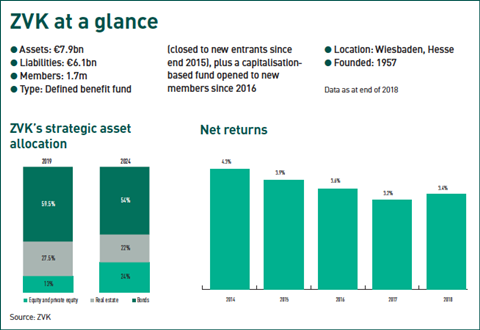 In 2018, ZVK took first steps in implementing sustainable factors within its investment strategy. Today, investing responsibly and according to environmental, social and governance (ESG) criteria is a building block of the fund's risk-management strategy, according to Asshoff. He says: "Before we invest in any asset class, we carry a deep due diligence process that does not just involve the investment case but also ESG criteria.
"For our understanding of sustainable investment, we equally weight ESG criteria. We have defined a blacklist of business fields that we choose not to invest in. These include weapons such as landmines, cluster ammunitions and biochemical weapons, but also pornography or speculations on food prices," he says.
"We screened our portfolio in consideration of the United Nations Global Compact (UNCG) and chose to divest from questionable investments under that framework. Therefore, when making an investment decision, we aim to invest in companies that comply with the UNGC. An automatic exclusion of companies will not take place. Our target is to engage with firms to let them know about our concerns and, in this way, achieve further sustainable returns."
"We work with several partners to receive ESG ratings and ESG research about our investments. These are an integral part of our investment decisions. ESG questionnaires are part of our requests for proposals (RFPs) with external managers," Asshoff says.
When the engagement process is not successful, ZVK is prepared to exclude companies from its investment universe, Asshoff says. The fund carries out an internal report every year on how the portfolio has been improved from a sustainability perspective.
ZVK's portfolio management team consists of eight employees, who are responsible for overseeing both internally and externally-managed investments, including real estate fund investments. Maria Leitzbach, head of portfolio management, leads the team, reporting to head of asset management Werner Schneider and to Asshoff.
ZVK's modernisation drive will continue, no matter what, but Asshoff laments the growing burden that higher regulatory requirements represent for the organisation. He says: "One of the biggest challenges for pension funds today is dealing with regulatory reporting requirements. Both at German and European level, the reports are getting more detailed and sophisticated, requiring more work and investment in human resources and technology. We report to BaFin, EIOPA and the ECB, and the reporting frameworks are somewhat different.
"In the end, it is our members that pay for this work. We have to invest in order to meet the requirements, and this eventually results in lower pensions. My view is that regulators should consider the added cost of higher reporting requirements," he says.
That, he adds, is something that would go some way towards helping pension funds to deal with the low-yield environment.
ZVK can endure more than a few years of low returns, thanks to its relatively large reserves. However, Asshoff says: "The ECB's interest rate policy is very problematic for pension funds. There are no easy solutions. Our reserves are big enough to survive for quite a long period, but in the end everybody is likely to be hit by this situation. Some of our peers have already had to close down or reduce their benefits, and more could follow. What we have learned from the developments of the last few years is that we have to continue to prepare our assets and our portfolio for a world where interest rates will be low for a long period of time."
Nevertheless, ZVK is developing a strategy that seems to be built on solid foundations. It can draw strength from the knowledge that the way a country provides retirement benefits to construction workers is a litmus test of the overall quality of its pension system. In that sense, ZVK and the overall German system should be safe. Hopefully, the strict regulatory requirements will contribute to the stability of the system.