Icelandic pension funds are being courted as a potential source of funds for infrastructure projects
Key points

Infrastructure upgrades needed as tourism grows and population ages
New legislation to facilitate public-private partnerships in transport infrastructure is planned
Social infrastructure could also benefit from PPP
Domestic pension funds could provide capital
The global appetite for infrastructure investments is well documented. Many have lauded the sector as the potential saviour of pension funds and insurers. It could provide a good match for their long-term liabilities in an environment marred by persistent low rates and returns.
Further incentives for institutional investors include diversification and high risk-adjusted return on equity. There is also the opportunity to enhance their reputation by supporting projects in need of capital.
In Iceland, the pension fund sector is growing rapidly and finding the best place to invest remains a challenge. Having a pension sector that is equivalent to 158% of GDP puts pressure on the domestic economy and currency. Infrastructure projects could offer both duration and inflation hedges.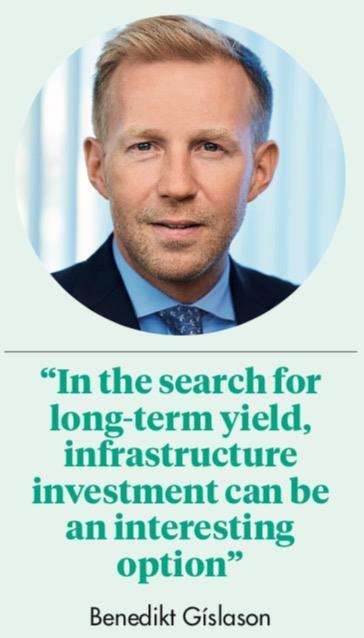 Interest rates in Iceland have not yet reached the lows seen elsewhere, but cuts look likely. The central bank has indicated that they will fall to levels not seen before; hence the search for long-term yield is on even in this remote corner of the northern Atlantic.
Benedikt Gíslason, CEO of Arion banki, says: "Interest rates in Iceland have been decreasing and the same applies globally. In the search for long-term yield, infrastructure investment can be an interesting option for institutional investors, especially the Icelandic pension funds, which are expected to grow considerably in size over the coming years and decades."
However, domestic infrastructure opportunities have been lacking. Currently, there is only one infrastructure fund in Iceland, operated by Summa and owned by Icelandic pension funds with assets totaling ISK8bn (€58m), but a capacity of ISK30bn.
Embracing PPP
To boost opportunities, and attract not only domestic but also international capital, the minister of transport is proposing legislation which would facilitate public-private partnership (PPP) processes for infrastructure. This is expected in the spring of 2020.
The proposal would allow the Vegagerđin or Icelandic Road and Coastal Administration (IRCA) to procure PPP projects and tender out financing, planning, design, completion of road construction and collection of tolls. It would be possible to contract out maintenance and service for 25 years, after which the assets would be transferred back to the state without charge.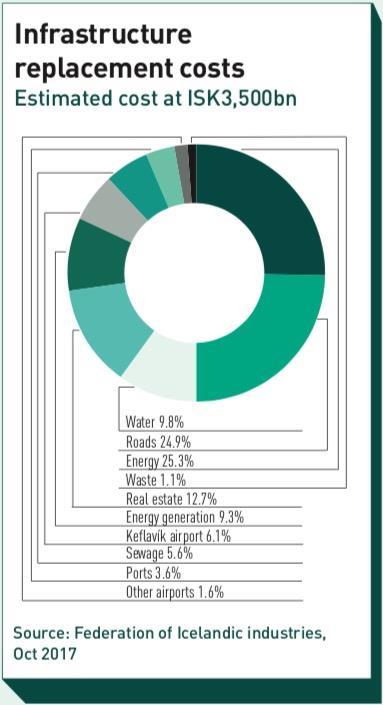 According to the ministry of transport, the country has lacked investments and maintenance budget for years. Traffic has increased 30-50% since 2000, largely driven by tourism.
The legislation is specifically for transport infrastructure. Other areas that could be considered are energy generation and distribution, water sewage and waste systems as well as social infrastructure such as schools and prisons. Healthcare also requires resources. The government has flagged nursing homes as requiring substantial developments as there is a shortage of capacity.
According to a report by the Federation of Icelandic Industries, the infrastructure replacement cost is about ISK3.5trn (see figure), compared with Icelandic pension fund assets of ISK4.7trn. Replacing roads and energy are by far the largest proportion of the costs or over half of the ISK3.5trn. Water, real estate and energy transmission replacement costs are also significant, as is the renewal and enlargement of the Keflavik International airport, close to Reykjavik. Tourism has mushroomed in recent decades and despite a recent dip in visitors the airport is straining under the influx.
The need for capital is clear and while the government is modernising the legislative framework for PPP, budget constrains remain. The Icelandic government aims to have debt levels of 30% of GDP. This focus on a balanced budget will hamper infrastructure investment efforts in the future.
As in many other parts of the world, this is where the private sector could step in. "The investment need in infrastructure in Iceland is substantial and the government cannot be expected to bear those costs alone. Financial institutions, such as Arion banki, will play a key role in the structuring of such financing," says Gíslason.
Arion banki hosted a conference on Icelandic public-private partnership opportunities in the autumn, in partnership with the British embassy and the British-Icelandic Chamber of Commerce. "We believe that there will be an interest from international investors in infrastructure investments. We are also optimistic that an expected legislative proposal from the minister of transport on a PPP framework in Iceland will prove very beneficial to take these matters forward," he says.
Denmark: Fresh blood replaces the obsolete
1

2

3

4

Currently reading

Iceland: Brand new opportunities

5

6