29 June - 3 July 2020, online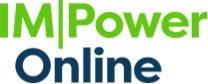 30 June – 01 July 2020 (networking days 29 June – 03 July)
Save 10% courtesy of IPE with VIP code FKN2768IPEL
IM|Power Online is a brand-new virtual event, created to bring together the investment management industry from wherever they are in the world to share content, collaborate and enjoy virtual networking opportunities.
The event has been designed to fit easily into your working day, with morning keynote sessions, in-depth lunchtime discussions and mid-afternoon webinars with plenty of time for networking in between.
Industry leaders will speak about the biggest challenges hitting the industry including Hendrik Du Toit, CEO, Ninety One, Shelley Yang, CEO and Founder, InvesTAO, Pippa Malmgren, Founder DRPM Group, Grace NG, Head Portfolio Manager, Ping An Asset Management and more…
Register and save 10% courtesy of IPE!
For more information and to register online simply click here.
Plus, save 10% by entering exclusive IPE VIP code FKN2768IPEL on page two of the booking form.