Carlo Svaluto Moreolo discovers that Sweden's PP Pension is still supporting hedge funds, despite the fact that they are not performing particularly well. So why is PP Pension doing this?
At a glance
• Second-pillar fund for the Swedish media sector.
• Location: Stockholm.
• Total assets at 30 September: SEK13.3bn (€1.4bn).
• Hedge fund investments: more than 10% of total assets.
• Average annual return (past five years): 6.9%.
Several high-profile divestments by large pension funds, coupled with disappointing returns and a heightened focus on transparency by regulators, prompted speculation that hedge funds had started to fade from the institutional investment universe.
The reality is more nuanced. Many pension funds are still committed investors in hedge funds, and some managers keep delivering on their promise of high returns with low volatility.
It is well-known that Nordic investors have an above-average appetite for hedge funds. PP Pension, the Swedish second-pillar pension fund for the media sector, is one example, with 6.2% of its assets invested in hedge funds at the end of last year.
Cecilia Thomasson Blomquist, chief investment officer (CIO) of PP Pension, says the allocation to hedge funds was increased this year to more than 10% of total assets under management, which stood at SEK13.3bn (€1.4bn) at the end of September.
"I wouldn't say the fee structures have gone down. The managers with good reputation still attract plenty of money. You could argue they earn too much"
PP Pension stands out somewhat in the Nordic pension fund sector, both for its historically well-diversified approach, with a large allocation to alternatives including real estate and hedge funds, and its track record of high returns.
Interestingly, in the first nine months of this year, the fund's fixed income portfolio generated a return of 1.7%, compared with a near-zero return on equity and hedge fund investments. The property portfolio returned 9% over the same period.
For PP Pension, the strategic decision to scale down and rationalise its fixed income portfolio has paid off. The fund only invests in the Swedish market, and the portfolio consists largely of core assets such as sovereign bonds, with smaller allocations to mortgage bonds and credit.
Given the fund's views on where the financial markets are heading, it is no surprise PP Pension has decided to simply maintain its equity and fixed income allocation, and focus on hedge funds instead.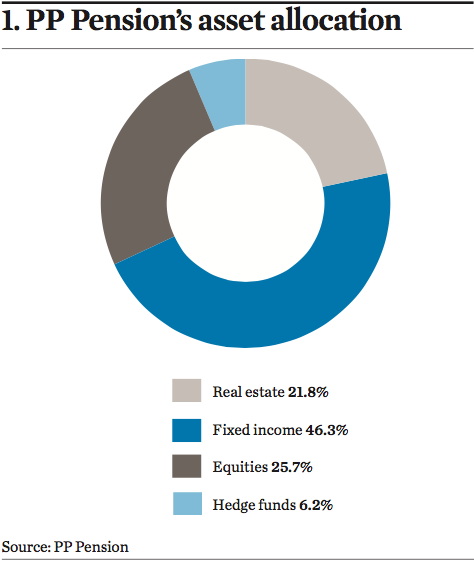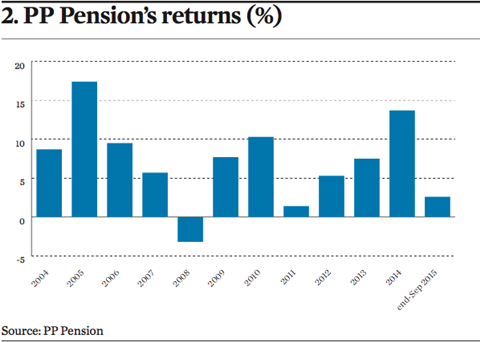 Blomquist says: "Hedge funds are a good place to seek returns. We have to find different return sources, and instead of adding credit risk to our portfolio, we believe it is better to take more market risk – but managed market risk, as it is in the hedge fund community."
She explains that the fund is agnostic as to whether its hedge fund investments are tilted towards credit, event-driven or commodities. The purpose of PP Pension's hedge fund portfolio is precisely to build exposure to market risk, so long as it is managed by investors who are exceptionally good at it.
As a result, Blomquist says, the fund favours liquid strategies. According to the PP Pension's 2014 annual report, at the end of last year the fund had entrusted its assets with alternative funds managed by Brummer & Partners, Optimized Portfolio Management (OPM) and SEB Asset Management.
In 2014, the OPM and SEB funds netted PP Pension just shy of 20%, while Brummer & Partners gave the fund a return of almost 30%.
These were among the best-performing funds in PP Pension's portfolio. Better performance in 2014 could only be found in the fund's emerging market vehicles, managed by Acadian, BlackRock, Danske Invest and Fidelity, and PP Pension's property funds, managed by Alfred Berg and Skagen.
From Brummer & Partners' fund offering, the pension fund chose Lynx Dynamic, a hedge fund investing in commodities, stocks and bonds, which explicitly seeks smoother returns using quantitative models.
The fund has not performed well this year, posting a negative 8% return so far, but the full year returns for the past five years are more encouraging, ranging from about -5% to as high as 28%.
Through OPM, PP Pension invests in listed private equity. The fund's return profile from 2010 is also attractive, with annual performances ranging from more than 16% to over 35%, with only one other negative year in 2011 (-8.63%).
The fund has also invested in SEB Asset Selection, a commodity trading advisor (CTA) managed by SEB that invests primarily in liquid, short-term paper. This became the first pan-European UCITS-compliant hedge fund when it was launched in 2006. The fund is down almost 6% since the beginning of the year, but performance over the past five years is again attractive at almost 12%.
In the past, PP Pension had its share of trouble with hedge funds. Blomquist took over in 2009 after a leadership change at the fund following its involvement with Weavering Capital, a hedge fund that was put into liquidation after it emerged that claims could not be paid to clients.
The investment, which accounted for 1% of PP Pension's total assets at the end of February 2009, dragged performance down, and the new management had to explain the situation to the pension fund's members and the media. Magnus Peterson, the hedge fund manager who set up Weavering Capital, was found guilty of forgery and fraud by a British court only at the beginning of the year.
That negative experience did not, however, dent PP Pension's confidence in hedge funds as a whole. Blomquist says: "The most important thing is to understand what you invest in, what the managers do and what dynamic you're building into your portfolio."
For all the talk about hedge fund fees coming under pressure, Blomquist is sceptical that this is a significant trend. "I wouldn't say the fee structures have gone down. The managers with good reputation still attract plenty of money. You could argue they earn too much, but I think that in the current unstable market conditions, which I think will last for some time, you need highly skilled managers who can give you return."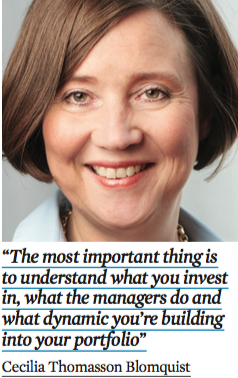 Like many of her peers, the CIO worries that we may be approaching a period of particular vulnerability in the markets. History tells us this is an environment in which PP Pension should thrive. The fund did post a negative 3.2% performance in 2008, but this is much better than the average European pension fund, and is partly thanks to its tradition of dynamic and diversified investing.
Blomquist says the fund has changed the strategic allocation, moving from a focus on capturing the market beta, to a less beta-oriented and more robust portfolio. In the equity space, this means favouring cashflow-rich, high-quality companies.
"Today we still think the stock market should be going up, but we can live with losing a bit of the beta and instead having investments that, we hope, will be hurt less if the equity markets turn. So in that sense, we maintain a dynamic allocation, even though we are not overweight in equities," says Blomquist.
But now the fund is also focusing on building a portfolio that can perform well in jittery markets. Blomquist says this will be achieved through combining more stable mandates and avoiding investments that only perform in a rising equity environment.
For PP Pension, the overriding principle will be staying diversified and dynamic.ºIn this respect, hedge funds will play a fundamental role in the strategy.
Blomquist focuses on one simple fact: as the bull run in equities and bonds loses momentum, hedge funds have a higher potential to reward investors, differently from traditional managers.
However, she recognises that with massive central bank activity, negative yields and high levels of debt in the economy, the situation is more complex than ever.
Hedge funds are an elusive breed of investors, and while the environment in 2016 may be better suited for hedge funds than large, long-only equity or fixed income managers, there is no sign that finding the right alternative managers is becoming any easier.
Liquid Hedge Funds: Fad or the future?
1

2

Currently reading

Investing In Hedge Funds: Case Study - PP Pension

3