Joseph Mariathasan finds that high valuations in the private equity market means it can be an easier decision to sell than to buy
At a glance
• There is a debate about whether it is a good time to buy the market or to sell.
• The growth in commitments has really been spare capacity for large and mega funds.
• The popularity of fundraising at present has implications for investors.
To buy or not to buy, that is the key question, when it comes to private equity (PE). Whether to sell or not is an easier decision. As Sven Lidén, CEO of Adveq argues, valuation multiples are high, so it is a good time to sell assets that were bought eight years ago. But as he adds, private equity cannot be seen in isolation. High multiples are a function of low interest rates. "Will they rise over the next five to seven years? If they stay close to zero, then the multiples are not bad," says Lidén.
Selling private equity investments is already well under way. Fuelling this activity, as Andy Unanue, managing partner at AUA Private Equity Partners, points out, are: an attractive borrowing environment; strategic acquirers seeking to generate growth; generally positive economic sentiment; and financial investors' need to deploy capital. The latter is significant. Data from Carlyle shows that for the past seven years, distributions have been larger than called-up capital.
So what has been growing in private equity is the amount of unused commitments, says Lidén. "If you look at pure cash flows, investors have been returned a lot of cash and if they want to maintain exposures to PE, they have to commit to new funds," he says. The growth in commitments has really been spare capacity for large and mega funds. They are accumulating commitments without using them, argues Lidén. Eleven mega funds raised 40% of all new capital raised – $90bn (€83bn) out of $221bn.
It is widely accepted that the past three years were an excellent time to disinvest assets. But Andrew Brown, senior consultant at Willis Towers Watson, points out that while deals from 2009-10 are still percolating through, a lot of the 2005-07 deals have already been sold.
Joana Rocha Scaff, managing director of Neuberger Berman's European private equity business, says while it may be a sellers' market, many assets that were ready for sale have already been sold.
Even funds of troubled vintages are achieving double-digit IRRs points out Jim Strang, head of Europe, the Middle East and Africa (EMEA) at Hamilton Lane. He sees this as a classic example of the beauty of PE. "It is the only asset class in the world where the insiders make the liquidity decisions," he says.
The trade-off for private equity investors is that they have no control as to when their assets are sold. But Strang argues that is probably a good thing because they are usually sold at the maximum point of value creation.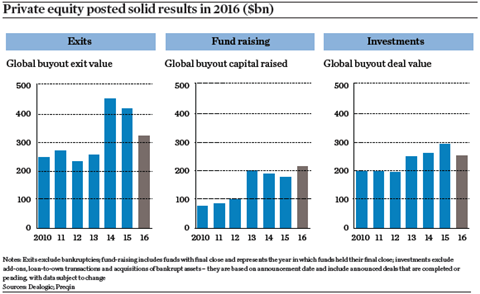 By contrast, in public markets, risk is the volatility of share prices. But for investors, what matters, though, is the permanent loss of capital. "Because of the ability for GPs to hold on to assets through the worst times, then that permanent loss of capital is relatively rare," he says. "They can work on businesses if it is not an optimum time to sell, knowing that time will fix a lot of the problems and they can sell at a better time. Investments were not sold at the darkest hour. They were sold when they made 10% IRR. Even when PE has been terrible, it has still made money in the end."
If selling is easy, buying is more problematic and, as Scaff admits, it is hard to be a buyer in this environment with valuations as high as they have ever been. But, as Scaff adds, most institutional investors are not sitting on a pile of cash. Many are fully invested. The question is whether they should be in public or private markets? Both are expensive but Scaff argues there is more value in private equity. "In PE there are also more levers to create value than in public markets." This may also be reflected in the attitude of investors, with over 90% of PE investors in a recent Preqin survey saying that their PE portfolios met or exceeded their expectations.
Moreover, says Scaff, the valuation difference between private and public equity markets is enormous: "In the US, public market valuations are showing EV/EBITDA multiples of 19 times. Private equity valuations in the US are at a peak but are still only half the public market valuations and in Europe they are 30% less." As Unanue says, it may not be a bad time to buy assets, but it is a bad time to overpay for them. The market has become expensive in some areas, and there continues to be a degree of uncertainty, domestically and internationally.
So far, says Lidén, GPs are being disciplined at the moment. "What is a sign of an aggressive market is when you see public to private transactions. Normally you should have a premium when you go public and not have a premium when you take something private. That is normally a sign that funds are getting desperate to use their money somewhere. We haven't seen that yet." For GPs, though, the influx of cash is reflected in pricing with deals now being fully priced.
For Strang the onus on the GPs is to focus on what they are building, not what they are buying. "We see best in class GPs increasingly focusing on their own unique ability to create value in specific situations and often relying on past success stories to build the necessary conviction." He also sees more polarisation in bidding for deals with less of a winners' curse now through overbidding at auctions, since the winners are the teams who have the most conviction that they can do something with the company.
While the fund-raising environment is generally benign for GPs looking to raise capital, there are huge contrasts across markets. GPs are also faced with the challenge that a number of LPs have found they have too many commitments to different GPs and are consolidating the number of GPs they wish to deal with. As more capital flows into fewer funds, bigger funds can see more aggregate fund-raising and this has been reflected in the dominance of the mega funds in fund-raising. In the lower market, Strang sees more of a premium on the small number of super-performing funds. They are difficult to access and are in a position to charge higher fees which can be a 25-30% performance fee on top of management fees of 2.5% to 3% a year.
In contrast, emerging market private equity funds are out of fashion says Lidén. "Reputable Chinese managers are struggling to raise money for their new funds despite decent returns on their last funds. There is far less capital available for emerging markets in general."
Not all the cash being raised is likely to be used quickly, though. Lidén says the big money flow that is not being used is sovereign wealth funds investing in megafunds. They are prepared to invest in this way because they can't give money to anyone else, Lidén argues. "If you are writing $1bn tickets, there are not that many people that can take that, so the money flows to the really large funds," he says. "Often they try to get co-investment and often they get that. For larger funds, that becomes more like a fee rebate than a co-investment opportunity."
Multi-managers and advisers such as Willis Towers Watson have not invested in megafunds of late. "We have pivoted away from the bigger players at the moment. Pricing across the board is close to or exceeds all-time highs with the Price/EBITDA ratio now around 10 to 11 times. We think there is better value in the smaller in the market where we have seen investors pay as little as five times EBITDA for smaller businesses that are growing at double digits," says Brown.
But where the megafunds do have an advantage, Lidén points out, is that they are able to leverage up investments: "If the market remains as it is, that can be a good way to get higher returns. But holding a lot of commitments and not investing them creates a drag on returns." For mid-market firms, leverage is typically two times EBITDA, says Lidén, while at the large end, it can be five or six times EBITDA: "That is a big difference. If the weather stays good, leverage is good, but it works both ways and the weather can be bad at times," says Lidén.
With demand for private equity being so high, investors do need to take care that GPs do not over-extend themselves. Firms that are really hot have increased their fund sizes significantly, points out Scaff.
Neuberger Berman watches three things carefully before investing. First is capital efficiency. The deployment phase lasts three to five years. If the fund size doubles, can the investment pace be doubled or is it necessary to extend the investment period? If that is the case, then it creates a prolonged and deep 'J' curve (that is a longer and deeper initial period of negative returns).
Second, is the evolution of the firms' strategy as a result of a larger fund size. Will they move away from the core expertise to experiment in something new? How much of the capital is focused on the historical core expertise?
Third, is valuations. There is the risk of overpaying. How disciplined will the manager remain if more capital than expected is raised?
Such questions are worth the attention of every investor before committing funds to a hot private equity marketplace.
Private equity terms
EBITDA – Earnings before interest, taxes, depreciation and amortisation
EV – Enterprise value
GP – General partner
IRR – Internal rate of return
LP – Limited partner
PE – Private equity
Investing In Private Equity: Concerns in a hot market
1

Currently reading

Investing In Private Equity: Concerns in a hot market

2

3