The quality of investment advice to pension funds needs to improve
The Financial Conduct Authority's (FCA) probe of the UK asset management sector has shed light on how pension schemes obtain investment advice. The evidence suggests pension schemes, their members and their sponsors could would benefit if advisers improved their business practices.
A deeper investigation of the UK investment advice sector is required. The proposal to refer the matter to the UK's anti-trust body, the Competition and Markets Authority (CMA), makes sense. The CMA, it is to be hoped, will have the resources needed to conduct an investigation of this scale and complexity. Similar investigations should be carried out in other countries.
It should be able to establish to what extent these problems are linked with the overdominance of that three firms that control around half (some have said more) of the market.
There are many tokens to show how advisers may be failing pension funds. First, in the UK there is no regulation of advice on strategic asset allocation. This essentially means consulting firms are not legally required to put their clients' interest before their own, in the same ways as law firms do.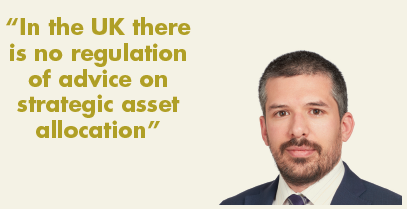 Of course, consultants will say they are doing that, but it is difficult to assess. That is another linked problem - the lack of standards for assessing the quality and effectiveness of investment advice. There is no evidence that pension schemes can evaluate those aspects, mainly because of a lack of standardised approaches. It is interesting that many consultants actually share the view that more standardisation in assessment is desirable.
Lack of regulation means also poor management of conflicts of interest. These will always exist, but there is little evidence that they are currently being managed in a way that benefits pension schemes.
Fiduciary management is where these conflicts come to bear. If an adviser is suggesting a client shifts to fiduciary management it should not be possible to sell its own service. That should be plain and simple. There is much anecdotal evidence that this conflict is unfairly benefiting certain firms in particular. There have been many cases where pension schemes' existing investment consultants have won fiduciary mandates, in the absence of an open tender process with clear rules for awarding the mandate.
Furthermore, from a close examination of fiduciary management mandates, it may appear that managers focus heavily on alternatives, without necessarily being more qualified to do so than alternatives managers. This casts doubt over the appropriateness of the fiduciary management model.
These practices should end. If the market is not able to end them without external intervention, then regulation is the answer.
Carlo Svaluto Moreolo, Senior Staff Writer
carlo.svaluto@ipe.com