NEST CIO Mark Fawcett is on the hunt for DC-ready private credit managers
'Volatility from diverging monetary policy could lead to fixed income asset devaluations if rates move unexpectedly'

Number of private debt funds targeting Europe shrinks compared to 2017

Eight industry-wide schemes are pooling resources in an innovative approach to illiquid assets

Fund managers expect shift towards co-investments and separate accounts
Danish fund gets tough on human rights, cutting Saudi Arabia, Iran and Papua New Guinea from its investable universe

Dutch bank's pension fund to offer €500m-€600m mandate
Mathematical measures are not the best way of assessing the effectiveness of ESG strategies, argues Joseph Mariathasan
UK trustee organisation and UKSIF report on consultants' pledge to bring ESG requirements to trustees' attention 

Listed asset manager implements exclusion list as part of a firm-wide ESG framework for portfolio managers
Coverage could drop by up to 17 percentage points over a five-year period, according to Sprenkels & Verschuren 

Swiss-instigated initiative gaining traction among broader European investor base

Panellists discuss outcomes-based investing, ESG, fees, Brexit and more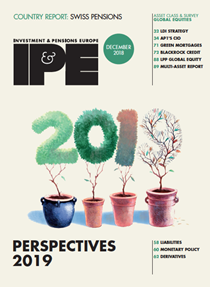 Digital Edition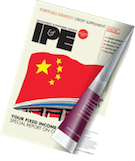 Subscribe to the digital edition of IPE magazine to view the latest issue directly in your browser.
Europe's capital markets are facing some of their toughest challenges since the global financial crisis 
It is fitting that we launched our 'Purpose of Asset Management' paper in London, not far from 221b Baker Street, the home of the famous fictional detective, Sherlock Holmes. 

Incorporating changing behaviour and technological trends in retirement planning is essential
"A growing body of research shows ESG factors are a material credit risk for fixed-income investors"
Words matter, but sometimes they can get in the way. Impact investing, mission-based investing, responsible investment, double and triple-bottom-line investing, ESG factors, and even sustainable investment. All of these terms can have both positive and negative connotations for investors.