Pension funds are increasing their allocations to alternative and illiquid assets in a bid to boost flagging returns

It was predictable that risk markets should have reacted positively to the news of an agreement in principle in the US-China trade negotiations. Although assuredly better than a seemingly relentless stream of bad will between the protagonists, the provisional agreement is in no way a solution to the conflict. Another round of trade talks could be necessary just to reach a tentative accord. Investors would be wise to temper enthusiasm to extrapolate the 'good news' too far.

Has the world entered a new paradigm in which growth, inflation and value investing are dead? Various indicators might have us believe this is the case. 
Bond sentiment has been trending upwards for a year, approaching a net value of zero everywhere, except in the EU. Analysts contend that central banks have secured a soft landing. 

German institutional investors have shifted their asset allocation due to low bond yields
After the ECB's announcement of more QE, we asked two pension funds how they plan to manage the prospect of lower yields
Equity investors putting faith in growth stocks – stocks that are priced expensively relative to fundamentals because they are expected to grow fast – received a shock in early September when they sold off sharply.

Large buyout funds are a staple ingredient in many institutional pension funds' private-equity portfolios. Focusing on more diversified private-market strategies could be a better way to achieve return objectives
If anyone in Europe was left in any doubt on 11 September about the dovishness of the European Central Bank (ECB) under Mario Draghi's leadership, by close of business on the next day their doubts were surely dispelled. On that day the outgoing president of the ECB unleashed a bout of monetary easing, in an attempt to boost euro-zone inflation from 1% to its target of "below, but close to, 2% over the medium term".

Father Christmas delivered a sack of coal to equity markets last Christmas Eve, with the S&P 500 index losing 1.8%, following a three-day slide. Forecasters had previously been expecting two or three rate hikes in December, as Federal Reserve chairman Jerome Powell steered that discussion. He had mistakenly assumed that the economy had not yet reached a normal, ...

This is not a commentary on the UK within or without Europe. Brexit has been a compelling distraction but it is one macroeconomic strand in a complex world. The overwhelming coverage has also moved attention away from key internal tensions within the European project. 
Digital Edition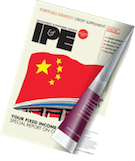 Subscribe to the digital edition of IPE magazine to view the latest issue directly in your browser.
"It is crucial to remember that the focus on good governance extends to including illiquid and private investment"

"Principles 3.0 is intended to offer a road map to optimal partnerships in the private equity industry"

The financial services industry is one of the least trusted in the UK. The Purpose of Finance project aims to address issues of trust and reform
"The Brumadinho dam tragedy causes us to question if we have created the conditions for a set of disasters"

A striking indication of ESG's importance in Switzerland is that Ueli Maurer, the country's president, will be the keynote speaker at the Swiss Sustainable Finance annual conference in Bern