Markets seem worried there is too much consensus around, and are nervously looking for hidden dangers. The bond market has sensibly priced in rate rises from the US Federal Reserve later this year but financial markets are generally still relying on plenty of loose money from elsewhere – namely, the European Central Bank (ECB) and Bank of Japan.
As MiFID II comes into effect, asset managers and brokers must negotiate a price for sell-side investment research
Financial institutions are involved in a cyber arms race against criminals
Uncertainties in the euro-zone pose a risk to Greece's improving economy
Convertibles are gradually being recognised as an asset class in their own right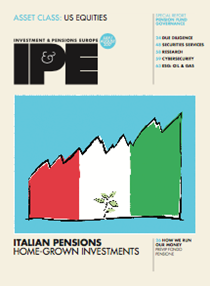 Digital Edition
Registered users are entitled to the first digital issue of IPE with the compliments of the IPE.com team.
"At present, UK trustees do not have the right governance framework in place to be effective or accountable" 
"Fiduciary management has turned into a sophisticated exercise of managing increasingly complex investment value chains" 
It is widely known that EIOPA is studying the possibility of a new EU legal framework for a pan-European occupational defined contribution pension regime
One of the objectives of the European Commission in the revision of the IORP Directive was to enhance the information provided to prospective members, members and beneficiaries of IORPs
Pensions are by their nature long-term and this can often lead to an acceptance of inertia because "this is how we have always done it". But in today's world this is no longer good enough