Markets seem worried there is too much consensus around, and are nervously looking for hidden dangers. The bond market has sensibly priced in rate rises from the US Federal Reserve later this year but financial markets are generally still relying on plenty of loose money from elsewhere – namely, the European Central Bank (ECB) and Bank of Japan.
European investors face an unprecedented array of political risks over the next few months. Daniel Ben-Ami reports 
Joseph Mariathasan finds India's recent demonetisation exercise has caused some economic pain but it has also greatly increased the number of taxpayers in the country 
Active bond managers are having to work hard to convince investors that they can provide better value for money than passive strategies
What one investor sees as risk might not be the same for another, writes Joseph Mariathasan. It all depends on the objective of the individual investor
Bob Swarup warns that blaming central banks for all the ails of the world lets politicians off the hook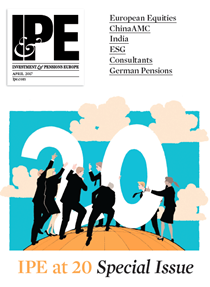 Digital Edition
Registered users are entitled to the first digital issue of IPE with the compliments of the IPE.com team.
One of the objectives of the European Commission in the revision of the IORP Directive was to enhance the information provided to prospective members, members and beneficiaries of IORPs
Pensions are by their nature long-term and this can often lead to an acceptance of inertia because "this is how we have always done it". But in today's world this is no longer good enough
"The UK local government pension investment regulations are a step in the right direction"
"Successful managers are hard to find but those that do exist generally share some common characteristics"