Not many predicted the equity sell-off at the start of the fourth quarter, and there is still puzzlement as to what triggered it
Emerging markets have endured a difficult summer. Market sensitivities were heightened by fears of a trade war and the reality that the US Federal Reserve will keep raising interest rates. The flashpoints in Argentina and Turkey have focused attention on the EM universe, particularly the more vulnerable economies with less healthy fundamentals.

Big data and predictive analytics are two developing trends that can dramatically improve how renewable energy investments are made
Summer doldrums have a tendency to mark their arrival with volatility. This year trade tensions, particularly between the US and China, and fears of escalation are flustering shallow, and less liquid, financial markets
There have been many times when Italy's volatile politics have entertained the world. And occasions when that volatility has spilled into financial markets
Although the world economy is moving towards normalisation, after the global financial crisis, it is still testing, and sometimes breaching, so-called normal bounds
While rates markets remain focused on inflation and growth data, risk appetites appear more affected by the international politics of trade, led by the US
Geopolitics is certainly adding to the mix for increasing volatilities across markets, with trade news being at the top of minds
A major GICS index methodology change seeks to reflect underlying market economics
The long/short liquid alternatives universe is more hetreogenous than some realise
Recent tax reforms and the expected inclusion in global indices of Chinese sovereign bonds has shone a spotlight on a vast, under-exploited, multi-trillion bond market
So how does one model the effect of further tariffs on a portfolio? This article shows how to construct a potential trade-war scenario and analyse the impact on a euro-denominated global multi-asset class portfolio
Amid all the talk of deglobalisation, certain tenets of the world remain fixed in our minds. Key among these assumptions is the status of the dollar as the global reserve currency. 
Digital Edition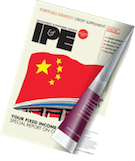 Subscribe to the digital edition of IPE magazine to view the latest issue directly in your browser.
It is fitting that we launched our 'Purpose of Asset Management' paper in London, not far from 221b Baker Street, the home of the famous fictional detective, Sherlock Holmes. 

Incorporating changing behaviour and technological trends in retirement planning is essential
"A growing body of research shows ESG factors are a material credit risk for fixed-income investors"
Words matter, but sometimes they can get in the way. Impact investing, mission-based investing, responsible investment, double and triple-bottom-line investing, ESG factors, and even sustainable investment. All of these terms can have both positive and negative connotations for investors. 

"The potential impact of climate change on investments should be considered at least on an annual basis"