Markets seem worried there is too much consensus around, and are nervously looking for hidden dangers. The bond market has sensibly priced in rate rises from the US Federal Reserve later this year but financial markets are generally still relying on plenty of loose money from elsewhere – namely, the European Central Bank (ECB) and Bank of Japan.
The ECB's actions and words after its June meeting were met with approval throughout the world's capital markets. As much of what was announced was already priced in, there was a fairly muted response, which wasn't sufficient to weaken the euro too much.  
Developments in the US and Europe presage a substantial change in the conduct of international trade
European insurers may turn to a wider range of asset management strategies as they face up to difficult market conditions
Hedge fund fees are just one part of the cost equation. The real discussion should be about value for money and not headline fees

The UN Sustainable Development Goals, agreed by world leaders in September 2015, have captured the imagination of many in the European institutional investment community
After months of hard work, the English and Welsh local government pension scheme pools have received feedback on their plans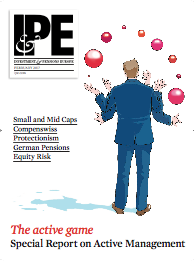 Digital Edition
Registered users are entitled to the first digital issue of IPE with the compliments of the IPE.com team.
"Asset managers are from Mars, asset owners are from Venus"
"The UK local government pension investment regulations are a step in the right direction"
"Successful managers are hard to find but those that do exist generally share some common characteristics"
The pensions world is constantly changing. In the UK, more DC savers, coupled with recently introduced flexibility of access, will increase the levels of risk and complexity for many
Pension funds are not about politics, but their investment portfolios include political risk