Asset allocation: A still unusual business cycle
There is consensus that 2017's global growth trade will continue into 2018. Investors who buy equities expecting strong earnings growth look set to enjoy handsome rewards. However, with today's high valuations, risk assets might reward less than in 2017. 
Global growth expected to continue in 2018
Uncertainty of market reaction to monetary tightening remains
Sterling's potential strengthening limited by concerns regarding Single Market access
Global economic forecasts are being upgraded not just because of US tax reforms benefitting the US economy. They are also bolstered by signs that robust and sustainable growth is appearing across Europe as well as throughout the emerging markets. The global manufacturing purchasing managers index (PMI) ended last year at a multi-year high (see figure), suggesting that business optimism remains buoyant.
The unwinding of quantitative easing (QE) by both the US Federal Reserve and the European Central Bank (ECB) is still a focus for market participants. It has taken years to comprehend most, although maybe not all, of the ramifications of the liquidity pumped in to the global financial system so caution at its removal is understandable. Financial conditions will become less supportive, a risk for markets that have fed on easy money for years.
There will be considerable changes of personnel at several G10 central banks this year, not to mention the ECB needing to find a (strong) successor for President Mario Draghi in early 2019, in addition to a new vice president this summer. Fed nominee Jerome Powell is familiar to markets, whereas for Japan, New Zealand and Switzerland there is uncertainty about central bank succession. Bank of Japan Governor Haruhiko Kuroda may secure a second term and could at least ensure policy continuity at one leading central bank. 
The Bund-Italy 10-year bond spread has widened as the Italian general election edges nearer. But nerves are increasing about the implications of a coalition outcome that may or may not be eurosceptic. There is even the prospect of another election later in 2018.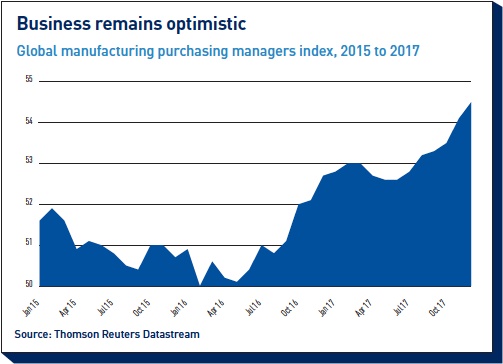 Bonds
December's higher than expected US core inflation print did push two-year Treasury yields to new recent highs, and the 10-year up to 2.50%, which added to the bearish undertone. There has not been a re-pricing of US rate expectations with two Fed hikes priced in for the rest of the year. 
Although this economic cycle seems to be returning to historical 'normality', it remains unusual in its lack of volatility in inflation expectations, which have rarely been so anchored. Historically during a hiking cycle, the Fed has typically raised rates seven or eight times over a year, which makes 2018's expectations of two or three hikes look paltry.
The anchoring of inflation, coupled with the likelihood of increased Treasury issuance will be concentrated in the front and intermediate sectors of the curve, may lead to continued curve flattening.
For Europe, the release of the ECB minutes revealing a hawkish stance also saw rates sell off. It was interesting, however, that the Bund curve did not steepen, which might have been expected given a weakening of the anchoring of interest rates, and the healthy economic news. Instead long-end yields barely moved and Bunds flattened. 
As monetary policy is expected to move from loose, through neutral, and into tightening mode, a steepening phase might have been expected before the flattening.  It may be that the demand for long-dated bonds and especially Bunds is high enough that technical factors over-ride the economic ones. For now, one popular forecast that the spread between 30-year Treasuries and Bunds would narrow might have to be postponed.
Currencies
The dollar disappointed bullish observers when it failed to rally on the passage of Donald Trump's tax reforms through the Senate at the end of 2017. This ought to give the economy a temporary boost at least. Instead, the lure of stronger growth in the rest of the world, as well as the lack of significantly higher pricing of forward US interest rates, leaves the dollar lacking appeal.
There is, however, scope for some risk correction, given stretched global valuations, as well as the strong consensus of a bullish narrative of strong economic growth, and any risk-off move could squeeze the dollar higher. 
The dollar may receive a boost once earnings season begins. The tax reforms mean it is less advantageous for US corporates to keep 'overseas' earnings, and also easier for them to bring these 'home'. There is debate, however, at the extent to which these overseas earnings are in non-dollar denominated assets, which could mean the repatriation does not trigger a surge of dollar purchases.
Towards the end of 2017, UK Gilts outperformed US Treasuries and euro-zone government bonds, as US tax reform was passed and Europe's growth picked up.  This year it seems that the UK economy is picking up momentum and this could be the time for sterling to enjoy a bounce.
Certainly there is bad news priced into UK assets, and from a variety of sources, either tense Brexit negotiations, or an economy only now showing signs of stronger growth. The Bank of England is reluctant to turn hawkish. And while sterling might be deemed cheap on some 'fair value' models, with the future of Britain's access to the EU's Single Market still in focus there may be a little scope for the currency to strengthen.
Low inflation persists across the developed world
A key question for 2018 is where core inflation could be heading. Its persistent absence confounds the accepted economic theory that as spare capacity is utilised, inflationary pressures ought to increase. However, though unemployment levels have been falling throughout the developed world –indeed they reached new historical lows in Canada recently – inflation has yet to take hold. 
Last autumn, Fed Chair Janet Yellen admitted that, although heartened by the big improvements in the (US) labour market, the continued failure of inflation to reach 2% remained 'something of a mystery'. She also said it would become "a concern, particularly if that were to translate into lower inflation expectations." 
In the plethora of analysis carried out, there are some arguments that central bank inflation objectives should be lowered to more 'realistic' levels in this disinflationary, technology-driven world. A counter argument suggests a higher level to enable policy leeway, being less constrained by the zero lower bound.
Central bankers have been at pains to maintain their existing objectives, attempting to retain some of their credibility. Instead they have suggested that they are prepared 'look beyond' the present – and implicitly temporary – phase(s) of low prices. Alternatively, they have put forward reasons as to why inflation seems to have unhinged from economic activity.
The ECB watches 'supercore inflation', a stripped-down prices index containing factors deemed most sensitive to output gaps. Also, recent research from the Federal Reserve Bank of San Francisco suggest US inflation numbers might be depressed by factors insensitive to overall economic conditions, such as healthcare which has been suppressed by mandated cuts to the growth in Medicare prices.
The Phillips curve relationship, linking inflationary pressures and diminishing labour resources, may or may not have broken down in today's world. Getting a good handle on inflation trends is critical but it could be tricky.