Martin Steward finds European equity managers disagreeing on how to position for the business cycle – but also carrying idiosyncratic positions that seem to stand out against their current style biases
Why are some fund managers apparently more consistent in their performance than others? Sometimes it is just a freak of the statistics. Sometimes it reflects the dominance of one style in the market over an extraordinarily long time. More often it reflects either genuine diversity of style in the portfolio, or an ability to time or adapt quickly to style rotations.
Performance numbers quickly show that the Man Investments GLG and Capital Group portfolios are the two that require the explanation this month.
Style buckets
Capital Group's European Growth and Income was flattered somewhat in 2014 by the one-off proceeds of a court battle with the French government over withholding tax payments.
| Strategy | Inception date | Portfolio manager(s) | Key positions |
| --- | --- | --- | --- |
| JP Morgan – JPM Europe Dynamic Strategy | December 2000 | Anis Lahlou-Abid, John Baker, Jon Ingram | Quality cyclicals, idiosyncratic value; Orange, Delhaize Group |
| Capital Group – European Growth and Income | October 2002 | Mark Denning, David Riley, L Alfonso Barroso | High level of cash; value in non-cyclical sectors; British American Tobacco, Fortum |
| Man Investments – GLG European Equity Fund | February 1999 | Ben Funnell | Defensiveness, quality in utilities and telecoms; idiosyncractic deep value; Enagás, Vodafone, Tesco, Unicredit |
Overall, the strategy leans towards what lead portfolio manager Mark Denning describes as "seasoned", dividend-paying companies. Preservation of capital is also a stated "priority". These attributes will have done no harm over the past three to five years of outperformance from high-quality growth stocks.
But this is really three independently-managed portfolios in one. Only two stocks – Novartis and Fortum – are held in common by more than one of the three managers.
That does not mean that they are hugely distinct in style. Denning calls his style 'Stairway to Heaven' after its pursuit of unappreciated growth potential. L Alfonso Barroso, on the other hand, is a value investor, but he prefers higher-quality, strong balance sheets and high free cash flow to deep value. Their colleague David Riley takes more of a top-down view and builds diversified portfolios with a tilt towards quality growth at a reasonable price – Nestlé is a major holding.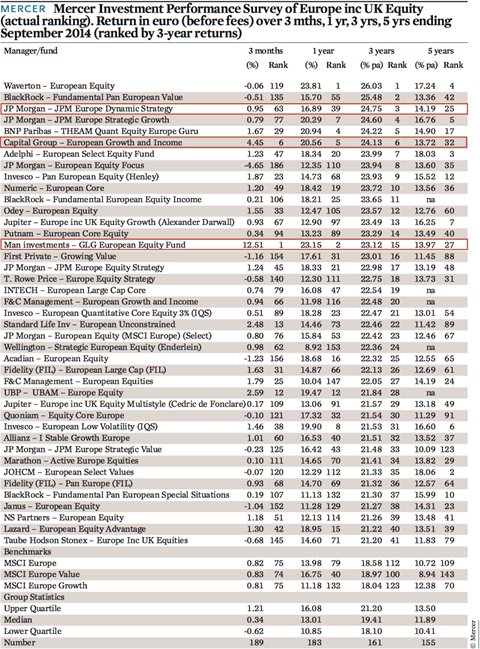 www.mercerinsight.com
Data published in these tables and references to asset managers in IPE's accompanying text should in no way be considered to constitute an opinion on any asset manager or product from Mercer or MercerInsight.
"The overall style tilt really does vary as we go through the cycle," says Martyn Hole, investment specialist at Capital Group.
"At the moment the P/E is about 14.9-times and the market average is 14.1, reflecting our slight tilt to growth at the moment."
So, there is a natural bias towards quality growth, which is particularly pronounced at the moment. Even value-focused Barroso – "quite bearish on economic growth in Europe", according to Hole – is today finding that value in sectors not exactly renowned for their cyclicality. British American Tobacco and Imperial Tobacco, for example, were picked up because he believes the negative impact of e-cigarettes on the industry has been over-stated. Cash makes up almost 10% of portfolio assets.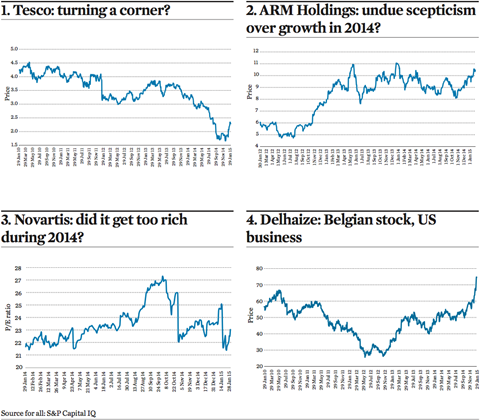 At Man Investments, while the GLG strategy does not sport three independent portfolio managers, it arguably features three 'style buckets' that are more distinct than those at Capital Group.
The lion's share of assets will always be held in 'Sustainable Competitive Advantage' – at least 50%, currently 60%. These are quality-growth stocks. Bucket two is 'Growth Cyclicals', where mispricing is more common as markets under-estimate operating leverage inflection points, for example in industrial companies with pronounced capex cycles. The third bucket is deep-value 'Restructuring and Recovery'. These two account for about 20% each of the rest of the assets and 'Restructuring and Recovery' would never exceed 30%.
Lead portfolio manager Ben Funnell's background as the fund's strategist means he is comfortable taking a top-down approach to dynamic style rotation. Turnover is high, with an average holding period of 12-18 months, as significant rotations are implemented roughly once a year. The last of these rotations occurred around May 2014, when he went defensive as he became more and more convinced of disinflation and strong dollar themes in the economy. This undid a rotation into cyclicality implemented in early 2013.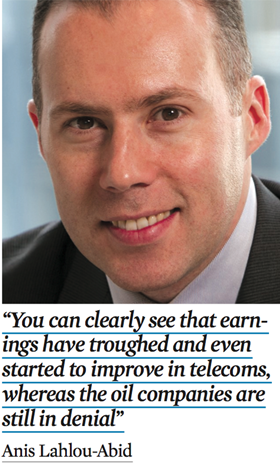 The result can be seen in underweights to the consumer sectors and to emerging market revenues. This finds an echo in the Capital Group portfolio where emerging market exposure is underweight despite a big overweight in consumer discretionary: the position reflects holdings in media and TV businesses Daily Mail & General Trust in the UK and ProSieben in Germany.
But Funnell's defensiveness is also evident in the overweight in utilities, an unlikely value play in companies like EDF , which was offering a 9.5% dividend yield back in 2012 because the market expected both dividends and tariffs to be cut. Funnell took the view that government ownership made both of these outcomes unlikely and was proved right. Elsewhere utilities express defensiveness as consumer-aversion.
"Everyone has been focused on a long period of underperformance by the likes of E.ON and RWE , on power-generation prices, and on politically-driven consumer protection rhetoric," he explains. "We like firms such as National Grid , Enagás and GDF precisely because they don't face the consumer."
More generally, Funnell is looking for companies trading on free cash flow yields in excess of their dividend yields – which leads to his current overweight in telecoms and is essentially a tilt to quality over value, or cash today over the promise of cash tomorrow.
Compare the sector exposures of these two strategies with those of JPMorgan Funds' Europe Dynamic and the contrast is clear. Capital Group and Man GLG both have big underweights in energy and materials and big overweights in utilities. Anis Lahlou–Abid, portfolio manager at JPMorgan Asset Management, is overweight materials and underweight defensive sectors like healthcare, staples and utilities. Its returns for Q3 and the year leading up to it show the results.
Lahlou-Abid describes this as a "fund for all seasons" that maintains a "barbell" of value and growth stocks that can be tilted one way or the other. That said, Morningstar categorises it as leaning to value, and the firm's presentation material describes an "aggressively managed" quality-value strategy. Lahlou-Abid himself calls it "quite a high-risk fund". Looking for the culprits for the downside exposure in Q3 of 2014, we find heavy industry and cyclical industrials like Vestas, Renault and BMW .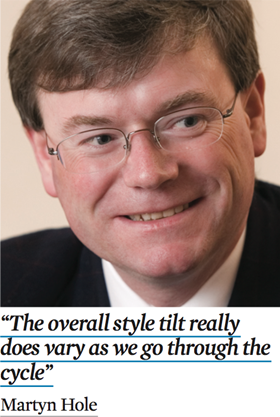 These positions exemplify the sort of positioning the portfolio has favoured for the past three years, to exploit the cyclical recovery from the depths of the euro-zone crisis. Lahlou-Abid singles out Irish packaging business Smurfit Kappa as a good example of earnings growth potential that languished under-appreciated because of its location in the periphery.
"After 2013, which was a terrific year for European stocks, everyone was expecting earnings growth to justify that multiple re-rating," Lahlou-Abid recalls. "January and February was fine, but then there were a couple of downgrades and sentiment turned. Now we think we are back on the right earnings track. It's clear that we are in a context of low inflation, but that is also a context of a low oil price, low bond yields and unprecedented central bank action."
Bottom-up
In short, Capital Group and Man GLG are defensive, while JPMAM is more pro-cyclical. However, the top-down style biases are far from the only story here. Bottom-up stock selection results in some overlaps that would be unexpected based on this premise alone.
The energy sector is a great example. It is no surprise to find both Man GLG and Capital Group underweight. Less obvious to predict is Lahlou-Abid's lack of interest.
"The oil majors will have to close production facilities, write-down assets, increase de-commissioning costs, and little of this negative spiral is factored into analysts' earnings forecasts yet," he reasons. He holds Royal Dutch Shell in his top-10, but that is because it was already engaged in cost cutting long before the oil price fell off a cliff.
"We put a lot of effort into avoiding value traps," Lahlou-Abid continues. "Look at dividend yields: telecoms are still yielding 5-7%, the same as the oil majors. You can clearly see that earnings have troughed and even started to improve in telecoms, whereas the oil companies are still in denial – their dividend yields are fake."
The telecoms sector is another where we find disagreement cutting across the obvious style biases. This is the JPMAM portfolio's biggest sector overweight, based on industry consolidation and on value – it has been unloved thanks to regulatory and competitive pressures and the burden of capital spent chasing spectrum that failed to deliver earnings growth.
"A lot more people seem to be taking up 4G than 3G, and consolidation is starting to make pricing more rational," Lahlou-Abid argues. "Orange is one of our biggest longs and is at the centre of that consolidation process, rationalising its portfolio abroad. In its home market Numericable is buying SFR and there's speculation around Bouygues and Iliad – all of a sudden we could be going from six players to three. That makes everyone focus on synergies rather than price wars."
Funnell offers precisely the same rationale for his overweight. Indeed, there are no holdings in his portfolio's top-10, despite the sector overweight, because he maintains "a good spread because the entire industry is in play" – Orange, Deutsche Telekom and Vodafone among them.
"There are plenty of analysts out there who still say that data doesn't drive anything, but to my mind 4G changes everything," he says. "You can now download and watch video in the back of a taxi. The marginal utility of that to the consumer has got to be huge. And then our tech team is telling me that 35% of Tele2's Swedish customers are paying up for additional data bundles, all driven by 4G."
At Capital Group, despite the growth style, the view is that it is too early to see the benefit of these developments. This offers some indication of how close to the earnings trough Funnell is prepared to buy certain stocks and industries: telecoms would seem to fall most naturally into his 'Growth Cyclicals' bucket, with its focus on operational-gearing inflection points, but some could also qualify for 'Restructuring and Recovery'. "Telcos have had close to double-digit free cash flow yields for five years – but they overpaid for spectrum and saddled themselves with debt," as Funnell argues. "Now they have de-leveraged shareholders will at last start to see some of that cash flow."
Divergent
Value positions like this can be pretty extreme. Funnell says that he bought Tesco "when there were literally no sell-side buyers". The company was labouring under an accounting scandal and debt at 4.5-times EBITDA. Dave Lewis, the new CEO, had just joined. "Then the new CFO was hired and the first thing he said, which was very encouraging, was that Tesco is over-leveraged at the number-one priority is to take down some of that debt," Funnell recalls.
Tesco's sustainability was an important cushion for what looks like a risky value opportunity. Despite the success of the discounters it still had a 28% UK market share when Man GLG bought, as well as a substantial property portfolio.
"The sum of the parts was also interesting: the biggest bears on Tesco did not seem to have a clear view on what the Asian parts of the business were worth, but our Asia long/short team in Hong Kong thought these operations were worth 30% more than the analysts' consensus," says Funnell.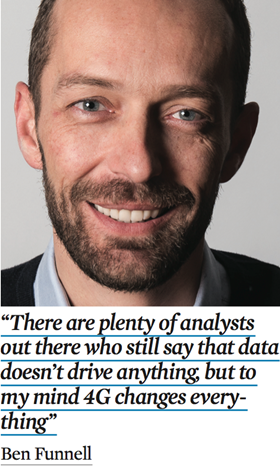 Financials follow a similar story to Tesco and Telcos in this portfolio. Although the sector is a slight underweight, UBS, Unicredit, ING and Banca Populare are all in Funnell's top-10 stock overweights.
As far as Funnell is concerned, after the Asset Quality Review – "the biggest due diligence exercise ever undertaken" – one can finally trust European banks' book valuations. If some trade at half that value and can cover their cost of capital within a couple of years, it is difficult to make a case against owning them.
"The AQR and the moral suasion of Mario Draghi, who wants to see borders come down between Europe's banks, has been a strong influence," Funnell adds. "We were seeing certain banks being over-capitalised; but the regulators wouldn't allow that capital to be repatriated in this portfolio [from foreign subsidiaries]. Until the AQR it was very difficult to see that and be sure about it."
At Capital Group, value has less to do with finding under-priced opportunities than with avoiding over-priced growth. Its top holding, Novartis, is being trimmed back after a great 2014, and an off-benchmark holding, Israel's Teva Pharmaceuticals, has gone from 2.3% to 0.3% of the portfolio after enjoying its own run-up. These concerns come to the fore when the managers look at the technology sector – where they see richness in stocks like ARM and ASML that, counter-intuitively, the more value-tilted Man GLG team is happy to hang on to in its 'Sustainable Competitive Advantage' bucket.
Funnell concedes that ARM trades on "a hefty multiple", but adds that his current position was reached on the one day during 2014 when the stock hit a low of under £8 (€10.82), on the back of growing scepticism about the firm's ability to maintain its stellar earnings growth. He is happy to hold it as a 3.5% position in the portfolio.
"I don't have a particularly strong or informed view on whether their new chip design is going to be a great success," he admits. "I am fortunate to be sitting among a lot of sector specialists and analysts working on long/short strategies – and they do have a strong view."
This bottom-up approach built upon some kind of research edge is important for all three strategies, and goes some way to explaining these divergent views on different stocks and sectors, and how individual stock positions can play an important role even though they are in underweighted sectors.
At Capital Group value is sought out in utilities, but utilities like Finland's Fortum and the UK's SSE, on the edges of the EU, where analysts feel they have a particular insight. At Fortum, the market consensus is for zero earnings and dividend growth, but Capital Group's analyst estimates 5%.
"They are likely to sell some Swedish distribution assets soon which the market thinks will go for €4.5bn but which we think will get €6bn, which can then be re-invested in assets that are currently available on very low multiples," Hole explains. "That's where we see earnings enhancement."
There is also under-recognised value in Prudential , he argues, in the Asia business, which represents a small part of current profits but is growing at 15-20% per annum. Rather like Man GLG on Tesco, Capital Group thinks that Europe and US-focused analysts are missing this.
"Our financials analyst covers both European and Asian companies, so that's very useful," Hole observes. "Compare AIA, the Asia-focused AIG spin-off that's quoted in Hong Kong, and you see it trading at 18-20 times earnings."
Financials is a meaningful sector underweight in the Capital Group portfolio, but Prudential is the second-biggest holding. The same pattern can be seen in the JPMAM portfolio, where important positions include Belgian supermarket chain Delhaize Group (in the underweighted sector of consumer staples) and top-10 holdings Novartis, Roche and Shire (in the underweighted healthcare sector).
Again, these positions exemplify a research-led bottom-up process. Lahlou-Abid has a top-down view on the passing of the 'patent-cliff' problem in pharmas, but it does not influence the holding in, say, Shire, which is all about capturing the creation of new markets through the firm's rare diseases niche. Similarly, whereas Lahlou-Abid's top-down view on Europe is clearly much sunnier than that at Man GLG or Capital Group, this does not inform the Delhaize holding.
"It's perceived as the Sainsbury's of Belgium, exposed to deflation, competing against discounters, with a 7-9% free cash flow yield," he observes. "But 80% of the group's earnings come from outside Europe. Disposing of a lot of low-margin businesses focused it more on the US – which is suffering much less serious disinflation and which gives Delhaize great exposure to US dollar earnings."
There are clear top-down views informing portfolio positioning in our three featured strategies this month; combined with three distinct approaches to style bias, these have undoubtedly affected relative performance recently and will likely go on doing so as long as macro themes continue to dominate.
But the characters of these three portfolios are also strongly defined by bottom-up stock selection that is driven by the particular areas of expertise that each firm enjoys. Unexpected holdings like Tesco, Delhaize and Prudential are a healthy reminder that style is not everything in European equity strategies.
Cheap oil and weak euro: Impact on European equities
1

2

Currently reading

European equities: Recovery or retrenchment?

3