With the oil price shock and the sinking euro paired with geopolitical ructions to the east, and debt wrangling to the south, how can European equity portfolio managers find genuinely idiosyncratic stock risk amid the top-down noise? Christopher O'Dea investigates.
Active management is dead. Long live the stock-pickers. That's the message that emerges from discussions with European equity managers about how they're finding value in individual company shares at a time when top-down themes are driving stock correlations to record levels.
The high correlations would seem to indicate that idiosyncratic stock risk – and potential return – is a thing of the past. And with the European Central Bank only recently having started its own quantitative easing programme, it appears that top-down themes will dominate equity markets for years to come, fuelling broad movements in equity sectors most exposed to whatever macro factor happens to dominate headlines in a given quarter. This is leaving active managers on consultants' and pension funds' watch lists while cost-crunching smart beta and index strategies garner larger slices of the equity allocation.
But discussions with active managers yield one message for pension managers – do not stop studying stocks and the prospects for individual companies any time soon. It's eminently possible to generate equity alpha by distinguishing between the prospects of companies in the same industry, they say – including how management teams are dealing with those telling macro forces that affect every company.
Security selection
Managers say the key to alpha generation is the same as it's ever been – find value that hasn't been recognised by other investors. Although the impact of macroeconomic conditions, monetary policies and geopolitical events is as high as it's ever been, European equity managers are using a variety of increasingly sophisticated techniques and investment processes to sort through the fog and pick stocks with big upside potential.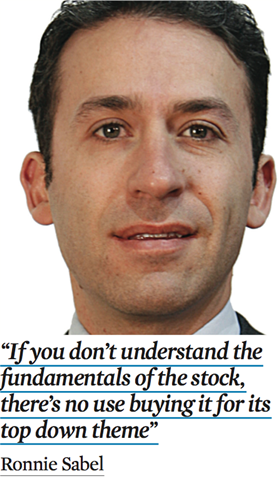 "European equities are more and more affected by movements in other assets," concedes Geoffroy Goenen, global head of European equities at Candriam. Extreme moves in government bonds, currencies, and commodities are magnified by the activity of macro strategy funds, while the long-term changeover to a low-yield environment has resulted in a risk premium reduction for companies with less volatile business models.
"There's no doubt top-down themes have dominated markets for some time," says Ronnie Sabel, portfolio manager for many of Russell Investment's European equity multi-manager funds. But that's starting to change, he adds.
"If you look at cross-sectional volatility for annual returns over longer periods, the numbers still look very low," Sabel continues. "But the more you shorten the period the more it looks like cross-sectional volatility is picking up, creating opportunities for stock pickers who know the fundamentals of the companies."
Sable looks for managers who haven't abandoned security selection. "If you don't understand the fundamentals of the stock, there's no use buying it for its top down theme," he says, citing Tesco as an example. "In order to understand the sustainability of a dividend, you need to understand the stock."
On the face of it, today's market offers ample alpha opportunities. Late in 2014, for instance, Goldman Sachs reiterated a buy rating on tyre manufacturer Pirelli, while at the same time downgrading Michelin to neutral from buy. Goldman says falling raw material costs will benefit both companies, but falling demand for replacement tyres in a weak European economy will hurt Michelin more than Pirelli, which is pursuing a premium-tyre strategy that offers better growth prospects globally. Michelin's earnings growth lags both Pirelli's and that of German competitor Continental, Goldman says, due to high fixed costs from having 59% of its workforce in the EU.
One way to avoid being impacted by macro themes is to minimise them in the investment process. The long/short Omni European ELS fund, which posts a negative 0.31 correlation to the Euro Stoxx 600 index, selects stocks with a market capitalisation of at least €5bn, using seven fundamental factors such as cash flow, return on equity and earnings quality.
The relative importance of the factors changes across the market cycle, and weightings are re-assessed monthly in light of 10 data series tracking sentiment, macro factors and other variables. "That discipline takes us to places the market doesn't go," says portfolio manager Hugh Selby-Smith.
In the current environment, Omni sees opportunities in stocks where "the volatility of earnings is not commensurate with the price being paid," Selby-Smith says. Christian Hansen, for example, a Danish manufacturer of natural food ingredients and biotech products, sold off by more than 10% in January after a disappointing results statement for its first financial quarter raised questions about whether it could deliver the earnings to justify its valuation.
At the UBS European Opportunity Unconstrained fund, Maximilian Anderl manages a concentrated, benchmark agnostic fund that can include small- and mid-cap stocks, and short positions. "This is one of the most active funds in Europe," Anderl claims.
Anderl and his 50-strong research team utilises the HOLT scenario analysis system to test potential risk and reward based on parameters such as new products or changes in weighted average cost of capital, which leads him to take major positions one or two years before macro trends drive the broader market into some sectors. From 2010 to 2012 the fund was overweight consumer staples, with considerable emerging market exposure. By early 2013, his quant valuation checks said those stocks were expensive.
"We didn't know emerging market economies would come under pressure [when the decision was taken to cut the consumer exposure]," he says.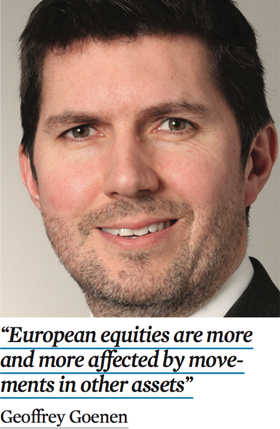 During 2013 the fund also built a position in pharma and life sciences stocks, which had lagged the market for nearly 10 years due to pricing pressures, the 'patent cliff' and low innovation. But the sector was also the only one that maintained or raised dividends during the financial crisis, and as yield-starved investors rushed into pharma stocks during 2014, the position in pharma was a strong outperformer. The sector now has a 12.1% active share in the fund, followed by insurance, which has an 8.3% active share.
The pharma stake, selected by a bottom-up process, now stands well-positioned to benefit from top-down themes dominating current news – it's the largest dollar-exposed sector in the Europe. And with 10-year Bunds paying about 0.4% as the ECB starts easing, Anderl expects the 3% dividend yield on the fund's pharma stocks to be an added attraction.
Innovation
Renewed innovation is also boosting pharma companies. In fact, technology utilisation and innovation are often the factors that differentiate a company and create an alpha opportunity despite top-down trends. Candriam has created the Equities L Europe Innovation fund to invest based on the premise that innovation is the basis of sustainable competitive advantage for any company.
Goenen's team seeks identify products, processes, marketing or cultural features that can give a company an edge across market cycles. Pharma is prime example, where disruptive and niche products, personalised medicine, and new ideas are creating alpha opportunities at companies including Novo Nordisk, Bayer, and Roche. Some of those stocks are also in Anderl's Unconstrained fund.
Technology can also redefine a traditional industry. Rob Radelaar, head of the Europe Core Equity team at ING Investment Management, is overweight Germany, but it is the result of stock-picking rather than a country allocation. Radelaar's fund is overweight in Daimler, and also owns Volkswagen shares.
Investors "are underestimating the profit improvements" the companies have made. "The auto market offers three years of growth potential," he argues. He also has a position in Continental, which has extended the concept of traction from tyres to become the leading supplier of electronic stability technology to automakers – gaining a sustainable edge over both Michelin and Pirelli.
As automakers outsource more technology to best-in-class suppliers, Continental's lead will only grow. The weaker euro will help tyre and technology exports, but as a global leader it also has significant operations outside the EU, avoiding the high labour costs borne by Michelin.
While Radelaar has positioned his portfolio to benefit as normality returns, patience will be required. "I have no doubt, looking at my screen, that we're still in a top-down environment," he says. But changes are afoot. "We've come a long way over the last couple of years."
Cheap oil and weak euro: Impact on European equities
1

2

3

Currently reading

European equities: The stock-pickers return